2 Russians charged over Novichok poisoning of ex-spy, used fake perfume bottle, British officials say
Authorities in Britain charged two Russian men on Wednesday with the nerve agent poisoning of ex-Russian spy and his daughter in the English city of Salisbury earlier this year, saying the pair used a fake perfume bottle involved in another poisoning that left a woman dead but offered little hope to bring them to justice.
The Crown Prosecution Service said the men, identified as Alexander Petrov and Ruslan Boshirov, are charged with conspiracy to murder, attempted murder and use of the nerve agent Novichok for the March attacks.
Sergei Skripal, 66, and his daughter Yulia were found unconscious on a public bench in the city of Salisbury on March 4, and spent weeks in critical condition. Officials suspect the father and daughter were poisoned with Novichok, a Soviet-engineered nerve agent.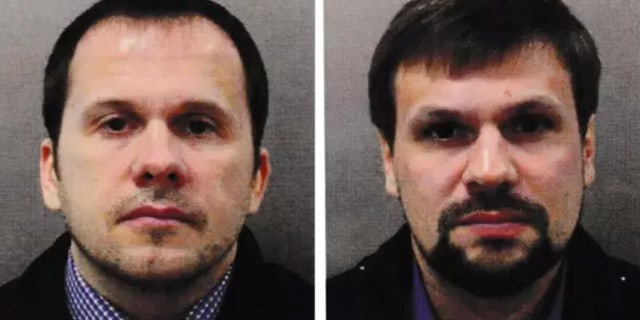 Prime Minister Theresa May told lawmakers that British intelligence has concluded that the two men are officers of Russia's GRU military intelligence service.
May said the attack "was not a rogue operation" and was almost certainly approved at a "senior level of the Russian state."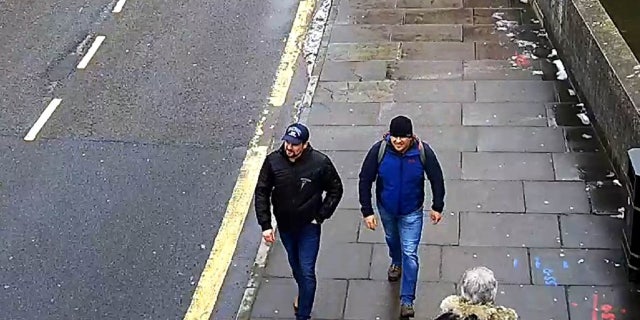 Prosecutor Sue Hemming said the U.K. is not asking Moscow to extradite the men because Russian law forbids extradition of the country's citizens.
"We have, however, obtained a European Arrest Warrant which means that if either man travels to a country where an EAW is valid, they will be arrested and face extradition on these charges for which there is no statute of limitations," Hemming said in a statement.
Police said the men, both about 40, flew from Moscow to London on Russian passports two days before the Skripals were poisoned. Assistant police commissioner Neil Basu said the men were probably using aliases. He appealed the public "to come forward and tell us who they are," but conceded it was "very very unlikely" police would be in a position to arrest them any time soon.
The nerve agent used to poison the Skripals was smuggled to Britain in a counterfeit Nina Ricci perfume bottle and applied to the front door of Sergei Skripal's house, according to Metropolitan Police.
UK MAN POISONED BY NOVICHOK NERVE AGENT NOT 'LOOKING GOOD,' BROTHER SAYS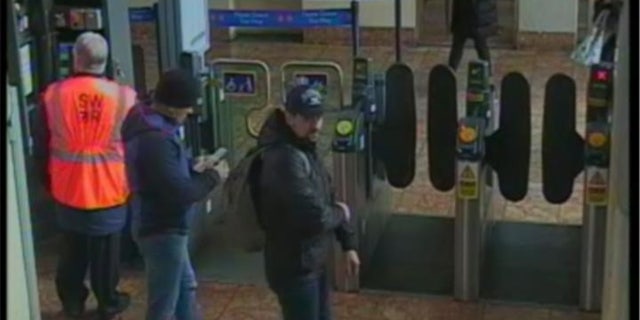 More than three months later, the bottle was found by a local man, Charlie Rowley. He was hospitalized and his girlfriend Dawn Sturgess died after being exposed to the contents. Met Police said it did not believe the pair were deliberately targeted, but "became victims as a result of the recklessness in which such a toxic nerve agent was disposed of."
"Let me be clear, we have no doubt these incidents are connected," Basu said during a news conference on Wednesday.
Police released a series of images of the men as they traveled through London and Salisbury between March 2 and March 4. Police say the two men flew back to Moscow from Heathrow Airport on the evening of March 4, hours after the Skripals were found collapsed on a park bench in Salisbury.
EX-RUSSIAN SPY SERGEI SKRIPAL'S POISONING: WHAT TO KNOW
Yulia, 33, recovered more quickly and was discharged in April. Her father was released from the hospital in May. The police officer who came to their assistance, and was hospitalized, has also been released.
The Skripals have been taken to an undisclosed location for their safety.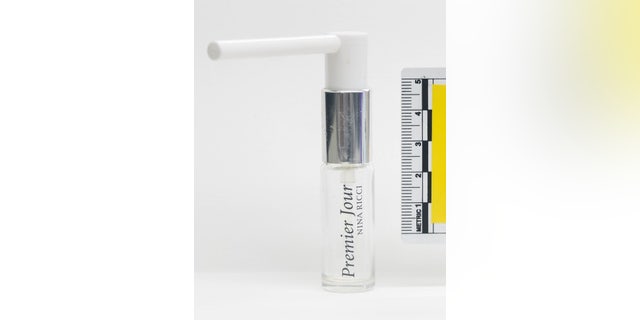 After the announcement by British authorities, the Russian Foreign Ministry said the names of the two suspects "do not mean anything to us," according to Sky News. Britain later summoned a Russian diplomat in London after naming the two suspects, according the RIA news agency reported.
Sergei Skripal served with Russia's military intelligence agency, often known by its Russian-language acronym GRU, and retired in 1999. He then worked at the Foreign Ministry until 2003, and later became involved in business.
DAUGHTER OF POISONED SPY SERGEI SKRIPAL TURNS DOWN RUSSIAN HELP
Skripal was arrested in 2004 in Moscow and later confessed to having been recruited by British intelligence in 1995. He also said at the time that he provided information about GRU agents in Europe, receiving over $100,000 in return.
In 2006, Skripal was convicted on charges of spying for Britain and sentenced to 13 years. However, he later was pardoned and released from custody in July 2010 as part of a U.S.-Russian spy swap, which followed the exposure of a ring of Russian sleeper agents in the U.S.
He had been living quietly in the cathedral city of Salisbury, 90 miles southwest of London, when he was struck down.
Britain blamed Russia for the attack while Moscow denied all allegations. In response, more than two dozen Western allies, including the U.S., ordered out over 150 Russian diplomats in a show of solidarity. In response, Russia ordered out 60 U.S. diplomats and closed the consulate in St. Petersburg in a tit-for-tat response.
Fox News' Kathleen Joyce and The Associated Press contributed to this report.