2 cops, musician among those killed in shooting in Canada
Three of the four people killed in Friday's shooting in the Canadian city of Fredericton, New Brunswick, have been identified as two police officers and a local musician.
The Fredericton Police Department identified the two slain offices as Sara Mae Helen Burns, 43, and Lawrence Robert Costello, 45.
Burns had been on the force for two years after previously serving as an auxiliary officer for two years, police said. She leaves behind a husband and three children.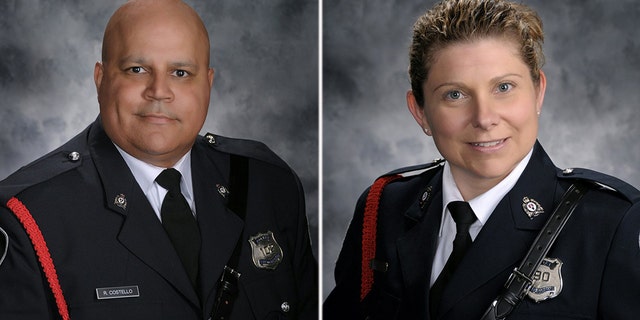 Costello was a 20-year veteran of the police department and leaves behind a partner and four children, police said.
The other victim, Donnie Robichaud, 42, was identified by family members, CBC News reported. Robichaud, a bass player and father of three, was said to be "the best guy you could ever meet," his cousin Sean Callahan told the media outlet. Robichaud moved into the building where the incident happened a few months ago.
2 CANADIAN POLICE OFFICERS AMONG 4 DEAD IN SHOOTING; 1 SUSPECT IN CUSTODY
A fourth victim, a woman, was not identified. A 48-year-old male suspect was arrested and was "being treated for serious injuries" related to the shooting. Dr. Everett Chalmers Regional Hospital said it was treating "multiple shooting victims" but further information was not immediately available.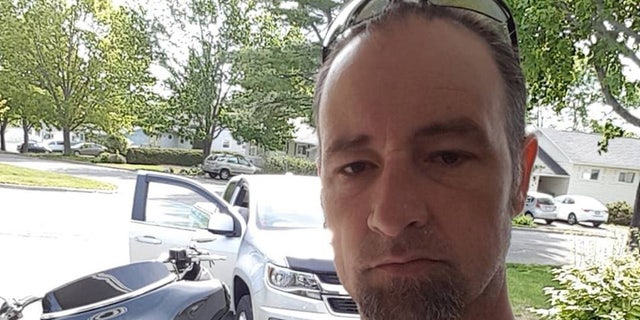 Fredericton police responded to calls of shots fired around 7:10 a.m. local time, Deputy Police Chief Martin Gaudet said. The two officers killed were the first to arrive at the scene. Gaudet said the suspect was arrested around 9:30 a.m. local time in an apartment. It was not immediately clear what caused the shooting. The incident was under investigation and it was not immediately clear if any people were wounded in the shooting.
"Obviously, this is incredibly difficult for our officers and for our community," Gaudet said. "No one ever wants to lose a colleague or friend, especially in this kind of situation."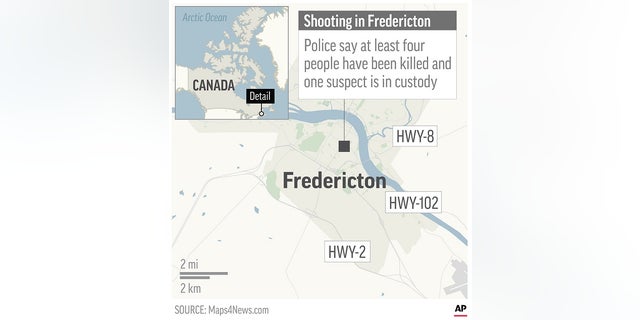 The residents who lived in the apartment building where the shooting occurred were told they could not return until a probe was completed. Neighbors discussed what they heard and saw at the time of the shooting.
David MacCoubrey, who lives in Fredericton, said he heard about 20 shots and was hiding on his kitchen floor.
POLICE CHIEF'S SON, 18, CHARGED WITH BEATING ELDERLY SIKH MAN, SMILES, FLIPS BIRD IN COURT: REPORTS
"I'm on my floor," he told The Associated Press in a phone interview. "The cops have come through my place. They have searched all the apartments in the building. It sounded like it started in the courtyard area."
MacCoubrey said police have been searching the buildings, and he's been sitting away from windows.
Travis Hrubeniuk said his fiancée had just left for work around 7:45 a.m. local time when he began hearing a steady stream of sirens.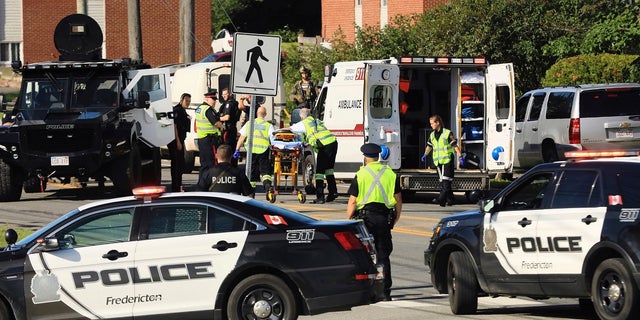 Hrubeniuk said residents have been advised to stay inside with their doors locked. The quiet residential neighborhood, which has houses, grocery stores, a church and an elementary school, is the last place Hrubeniuk said he expected to encounter a dangerous situation.
Fredericton has a population of about 58,000 and is located just northeast of Maine. The city is the capital of New Brunswick.
Fox News' Elizabeth Zwirz and The Associated Press contributed to this report.