2 Americans honored for catching terror suspect in Germany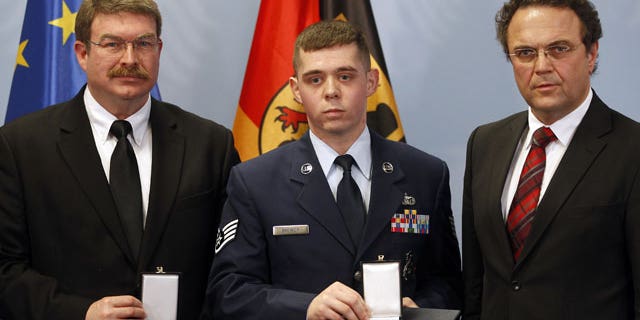 BERLIN – Germany's government presented the nation's highest civilian award Monday to two Americans who helped apprehend an Islamic extremist after he attacked a U.S. Air Force bus last year and killed two airmen.
Interior Minister Hans-Peter Friedrich awarded the Federal Cross of Merit to U.S. Air Force Staff Sgt. Trevor Brewer and civilian airport employee Lamar Conner, both of whom chased the suspect until police could apprehend him, saying their deeds "were an example for all of us."
Arid Uka, a 21-year-old Kosovo Albanian, is currently on trial for the March 2 slayings and has admitted to the charges. He faces up to life in prison, and a verdict and sentence are expected Thursday.
It was the first Islamic extremist act carried out on German soil, and Friedrich said Brewer and Conner set an admirable precedent.
"It was an important signal that in the first Islamic extremist act in Germany the suspect was stopped in the course of committing his crime by courageous people and arrested," Friedrich said at a small ceremony in the Interior Ministry attended by U.S. Ambassador Philip Murphy.
Uka gave a teary confession as his Frankfurt state court trial opened in August, saying that the night before the attack he had seen a video on Facebook that purported to show American soldiers raping a teenage Muslim girl. It turned out to be a scene from the 2007 Brian De Palma anti-war film "Redacted," taken out of context.
Uka told the court the video prompted him to do anything possible to prevent American soldiers from going to Afghanistan. Under German law, the court is still required to hear all evidence in the case, even though Uka has confessed.
The defendant had already killed two U.S. airmen when he turned his pistol on Brewer, a 23-year-old from Gray, Tennessee, who was on the bus waiting with others to be taken to nearby Ramstein Air Base to fly to Afghanistan.
Brewer has said Uka pointed the pistol at his head, said "Allahu Akbar" -- Arabic for "God is great" -- and pulled the trigger.
But the gun jammed due to a defective cartridge and Uka fled -- and Brewer chased out of the bus after him.
"I was definitely fearful, but I knew if I didn't take action the attack could have continued and someone else could have gotten hurt," Brewer told The Associated Press.
He said he was accepting his award on behalf of Senior Airman Nicholas J. Alden, 25, from South Carolina, and Airman 1st Class Zachary R. Cuddeback, 21, from Virginia -- the two airmen killed in the attack. Two others were seriously injured.
When Brewer emerged from the bus after Uka, Conner had already begun his own pursuit.
The 53-year-old former U.S. Army sergeant, who stayed in Germany after retirement and now works at the airport as a ticket agent, was outside on a break when he heard the shots, then saw Uka emerge from the bus with pistol in hand.
"I just fell in behind him, and followed him while warning passers-by away," said the Altha, Florida native.
At one point when he was about five yards behind Uka, the suspect turned to confront him but then saw police also giving chase and started running again, Conner said.
Conner said he had just been acting on instinct.
"I'm ex-military and you just react; you don't have time to think," he said.