12 dead in clashes between security forces and Muslim militants in Myanmar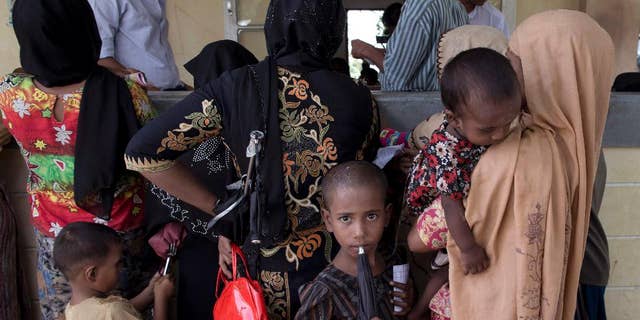 At least five police officers and seven Rohingya Muslim militants died overnight during a coordinated attack on police stations and an attempt to break into a military base, the government of Myanmar said.
The rebels attacked 24 police posts in Rakhine -- one of the poorest states in Myanmar and heavily populated by Rohingya Muslims – and some 150 Muslim militants tried to break into an army base, Reuters reported.
"The initial information is that at least five policemen were killed, two guns have been taken (from the police) and seven dead bodies of extremist Bengali insurgents have been seized," claimed an information committee connected to the office of country leader Aung San Suu Kyi.
The information described the militants as "Bengali" – reiterating the government's view that Rohingya Muslims are not legal residents of Myanmar but rather illegal immigrants from Bangladesh, Reuters notes.
The Rohingya Muslims are officially treated as Bangladeshi illegal immigrants, as the government ignores their claims that their community has existed in the country for centuries.
"The extremist Bengali insurgents attacked a police station in Maungdaw region in northern Rakhine state with a handmade bomb explosive and held coordinated attacks on several police posts at 1 a.m.," the statement added.
The committee, according to Reuters, claimed that the security forces were continuing operations against the militants at the time of the release.
The attack perpetrated by Muslims militants in Rakhine signals an increase of confrontation between the insurgents and the government.
Last October, following the murder of nine police officers, the government put the state under military lockdown and launched a counter-terrorism military effort to crush the insurgency, the Guardian reported.
The counter-offensive operation led to the fleeing of around 87,000 Muslims to Bangladesh avoiding the treatment that the United Nations describes as crimes against humanity as it allegedly includes torture and rape, the Independent reported.
Tensions rose further this month after the security forces started a "clearance operation" in the township of Rathetaung, where Buddhist and Rohingya communities live together, according to Reuters.
The latest attack occurred just a day after a commission led by former United Nations chief Kofi Annan said Myanmar is facing a "real risk" of radicalization if the government does not respond to the crisis over the Muslim population without excessive force, the BBC reported.
"Unless current challenges are addressed promptly, further radicalization within both communities is a real risk," the commission's report reads.
"What is needed is a calibrated approach -- one that combines political, developmental, security and human rights responses to ensure that violence does not escalate and inter-communal tensions are kept under control."