FOX NEWS FIRST: What Kim Jong Un wants from Trump; White House unveils proposals to stop school shootings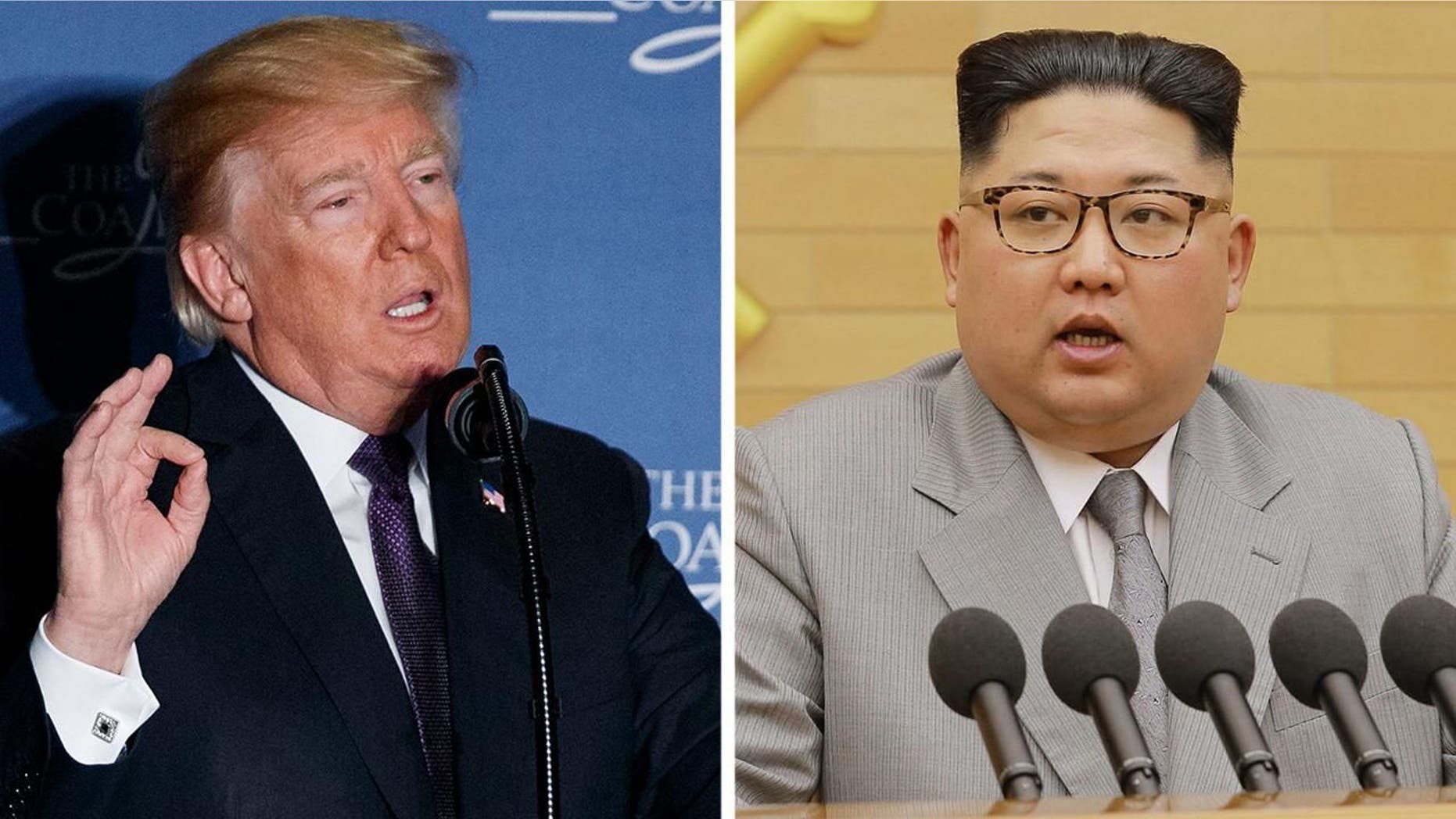 Welcome to Fox News First. Not signed up yet? Click here.
Developing now, Monday, March 12, 2018
North Korean leader Kim Jong Un hopes to reach peace deal with President Trump at upcoming meeting, report says
A helicopter crash in New York City's East River on Sunday kills all five passengers, leaving the pilot as the sole survivor
The White House announces a series a proposals to stop school shootings but backs off calling for an increase in the minimum age for buying long guns to 21
The Northern California treatment facility where a deadly hostage crisis took place last Friday reportedly remains closed and may never reopen
Pressure is growing on 'The View's' Joy Behar to go beyond her private apology to Vice President Mike Pence and to publicly apologize for her comments about Christianity
THE LEAD STORY - KIM SEEKS PEACE?: North Korean leader Kim Jong Un hopes to sign a peace deal after the upcoming meeting with President Trump, which is tentatively set for May, Bloomberg reported, citing a South Korea report ... Dong-A Ilbo, South Korea's national newspaper, spoke to an unidentified senior official from President Moon Jae-in's office, who said Kim will likely raise the possibility of the peace treaty. The report said Kim is also likely to voice his desire to establish diplomatic relations with the U.S. and consider nuclear disarmament, the report said. The regime wants a peace treaty to end the more than 60-year-old ceasefire between the two sides and to safeguard its sovereignty, Koh Yu-hwan, who teaches North Korean studies at Dongguk University in Seoul, told the outlet.
TRAGEDY ON THE WATER: A helicopter crash in New York City's East River Sunday killed all five passengers, leaving the pilot as the only survivor, officials said ... The cause of the crash is unknown as the National Transportation Safety Board (NTSB) and the Federal Aviation Administration (FAA) planned to investigate. The chopper's pilot managed to free himself, while two people were declared dead at the scene of the crash, NYPD Commissioner James O'Neill said at a news conference. The three other passengers died overnight at nearby hospitals. The group, which officials said was flying as part of a Liberty Helicopters tour, was on the private Eurocopter AS350 for a photo shoot when it crashed around 7 p.m.
BABY STEPS IN STOPPING SCHOOL SHOOTINGS: The White House announced a series of recommendations Sunday night meant to stop school shootings, including a full audit and review of the FBI tip line after warnings about a student who killed 17 people at a Florida high school last month were not acted upon ... But the administration did not call for immediately increasing the minimum age for buying long guns to 21, as President Trump had previously advocated. It announced that Education Secretary Betsy DeVos would chair a federal commission on school safety to study the proposal. DeVos said in a statement that the commission would look at a "wide range" of ideas in order to ensure that "no student or family should ever have to live the horror of Parkland or Sandy Hook ever again."
BULLET HOLE REMINDERS: The Northern California treatment facility where an Army veteran killed three woman and himself after a siege Friday remained shuttered over the weekend and may never reopen, the San Francisco Chronicle reported ... A spokesman for the privately run Pathway Home in Yountville told the paper that the program's six patients have been moved to various hotels in Napa County while law enforcement officials continue their investigation. "We don't know whether that building is going to be a place that people want to live in, want to work in, after what happened Friday," Larry Kamer told the Chronicle. "It's not like people can just forget what happened there, move on, and work and have their group sessions. It's got bullet holes in it." Investigators said 36-year-old Albert Wong, a veteran of the Afghanistan war, slipped into a going-away party for some Pathway Home employees Friday morning. He let some people leave, but made his three victims stay behind. Investigators were also looking at how Wong -- who had been expelled from The Pathway Home weeks earlier -- managed to get inside the building without being noticed.
JOY'S PRIVATE APOLOGY NOT ENOUGH: ABC News has maintained a stony silence amid increased pressure for its star Joy Behar to apologize on-air to the "millions of Christians" who watch "The View," leaving Disney boss Bob Iger to fend for himself when an angry shareholder asked him about the brouhaha at a recent shareholder meeting ... On Feb. 13, Behar criticized Vice President Pence's faith by saying that hearing from Jesus is actually called "mental illness." The resulting public outrage led scores of angry viewers to call or write ABC News demanding an apology. It wasn't until late last week that Iger, CEO of ABC parent Disney, finally revealed when questioned by a concerned shareholder that Behar had privately called the vice president to apologize. Multiple ABC sources told Fox News that ABC -- despite tens of thousands of formal viewer complaints -- has not subjected Behar's comments to review by the news division's Editorial Standards and Practices department.  The unit normally would rule on whether a public apology was required.
AS SEEN ON FOX NEWS WEEKEND
NO BUCKLING FROM TRUMP: "Kim Jong Un knows full well that he [will come] to discuss full-blown denuclearization... and he also knows he is not dealing with a Barack Obama, who buckles to dictators."–  Judge Jeanine Pirro, in her "Opening Statement on Justice with Judge Jeanine, arguing that President Trump's "genius" and his administration's "crippling sanctions" led North Korean dictator Kim Jong Un to consider negotiating with the United States. WATCH
'POCAHONTAS' ANSWERS HER CRITICS: "I know who I am because of what my mother and father told me. It's part of who I am and no one's ever going to take that away." –  Sen. Elizabeth Warren, on Fox News Sunday, standing by her identification as someone of Native American heritage, despite criticism from President Trump and others. WATCH
THE SWAMP
Ahead of midterms, Bernie Sanders addresses fired-up crowd in downtown Phoenix.
ATF investigating after Democrat seen on video sawing AR-15 rifle apart.
Here's how the Democrats' 'impeach Trump' obsession could backfire.
MAINSTREAM MEDIA MADNESS
Chuck Todd responds to Trump's 'son of a b---h' jab: 'It creates a challenge to parents.'
Trump slams NY Times' Haberman as 'Hillary flunky'; rips paper over Russia, lawyers story.
Outrage over 'terrible' Atlantic apologist piece on Louis Farrakhan.
ACROSS THE NATION
ICE seeks illegal immigrant in Colorado fatal hit-and-run who bonded out of jail.
Arrest made in cold case murder of Massachusetts teen more than three decades ago.
Missouri's laws are the most lenient for marrying child brides, report finds.
MINDING YOUR BUSINESS
Trump considers ex-Microsoft exec as top economic adviser: Official.
Dow Chemical's Andrew Liveris to Depart; Jim Fitterling to be CEO of New Dow.
Jobs jump by 313,000 in February | Stocks point toward adding to Friday's jobs report rally.
FOX NEWS OPINION
In Pennsylvania special election, the silence of Democrat Conor Lamb speaks volumes to Trump voters.
Rep. Lamar Smith: Climate change and the scientific method - we should welcome new research, not resist it.
Steve Hilton: Hey Gov. Jerry Brown, why won't you talk to me about illegal immigration?
HOLLYWOOD SQUARED
Tim McGraw collapses during Ireland concert, reports say.
O.J. Simpson's 'hypothetical' confession sparks social media frenzy.
Did Oprah's 'A Wrinkle In Time' tame 'Black Panther'?
DID YOU HEAR ABOUT THIS?
Free-falling Chinese satellite filled with corrosive fuel could hit lower Michigan.
Military encounter with UFO revealed in 2015 footage.
High school's Chick-fil-A dance video goes viral.
STAY TUNED
On Fox News:
Fox & Friends, 6 a.m. ET: Education Secretary Betsy DeVos on new White House proposals to stop school shootings; House Majority Leader Kevin McCarthy on President Trump's visit to sanctuary state California this week and upcoming meeting with Kim Jong Un; Campus Reform shines a light mandatory student fees that go to political causes; MercyMe will perform "I Can Only Imagine."
The Story with Martha MacCallum, 7 p.m. ET: Inside a new discovery that could solve one of America's biggest mysteries: the disappearance of Amelia Earhart. Special guest: Dorothy Cochrane, curator, Aeronautics Department, the Smithsonian National Air and Space Museum.
Tucker Carlson Tonight, 8 p.m. ET: Taxpayers fund Planned Parenthood, but where does that money really go? Rep. Diane Black sounds off!
Hannity, 9 p.m. ET: From Trump's upcoming Kim Jong Un meeting to Joy Behar's attack on Christian faith, Vice President Mike Pence speaks out.
The Ingraham Angle, 10 p.m. ET: What's next in the Russia probe? What's behind the Trump White House shake-ups? Former chief of staff Reince Priebus has insight.
Fox News @ Night, 11 p.m.: State Rep. Rick Saccone joins Shannon Bream ahead of Tuesday's critical special election for the Pa. congressional seat.
On Fox Business:
Mornings with Maria, 6 a.m. ET: Martin Feldstein, former economic adviser under President Reagan; John Negroponte, former U.S. ambassador to the U.N.; Rep. Ron DeSantis.
Varney & Co., 9 a.m. ET: Andrew Pollack, father of Parkland shooting victim; Rep. Dana Rohrabacher.
Cavuto: Coast to Coast, Noon ET: State Rep. Rick Saccone, Pa. congressional candidate; former Fla. Rep. Allen West.
Lou Dobbs Tonight, 7 p.m. ET: U.S. Commerce Secretary Wilbur Ross.
On Fox News Radio:
The Fox News Rundown podcast: The White House announced on Sunday that there will not be any more conditions imposed on North Korea before the meeting between President Trump and the nation's leader Kim Jong Un. Gordon Chang, a Daily Beast columnist and author, weighs in. Part 1 of "Forever in Debt," a special five-part series with Fox News' Eben Brown, takes a look at the effects of massive student debt and the fight to restore bankruptcy protections. Plus, commentary by Fox News contributor Charles Hurt.
Want the Fox News Rundown sent straight to your mobile device? Subscribe through Apple Podcasts, Google Play, and Stitcher.
The Brian Kilmeade Show, 9 a.m. ET: New York Post columnist Michael Goodwin on how the mainstream media continue to ignore President Trump's accomplishments; former Indiana Gov. Mitch Daniels on the NCAA corruption scandal and potential impact of Trump's tariffs; former Trump campaign manager Corey Lewandowski takes an early look at 2020.
The Tom Shillue Show, 3 p.m. ET: What does President Trump need to know before his historic meeting with North Korea leader Kim Jong Un? Michael Malice, author of "Dear Reader: The Unauthorized Autobiography of Kim Jong Il," joins Tom live.
#OnThisDay
1980: Chicago jury finds John Wayne Gacy Jr. guilty of the murders of 33 men and boys. (The next day, Gacy is sentenced to death; he was executed in May 1994.)
1933: President Franklin D. Roosevelt delivers the first of his 30 radio addresses that came to be known as "fireside chats," telling Americans what was being done to deal with the nation's economic crisis.
1912: The Girl Scouts of the USA has its beginnings as Juliette Gordon Low of Savannah, Ga., founds the first American troop of the Girl Guides.
Fox News First is compiled by Fox News' Bryan Robinson. Thank you for joining us! Enjoy your Monday! We'll see you in your inbox first thing Tuesday morning.