FOX NEWS FIRST: Watchdog investigating alleged FISA abuses; Anti-cop protests expected at Stephon Clark funeral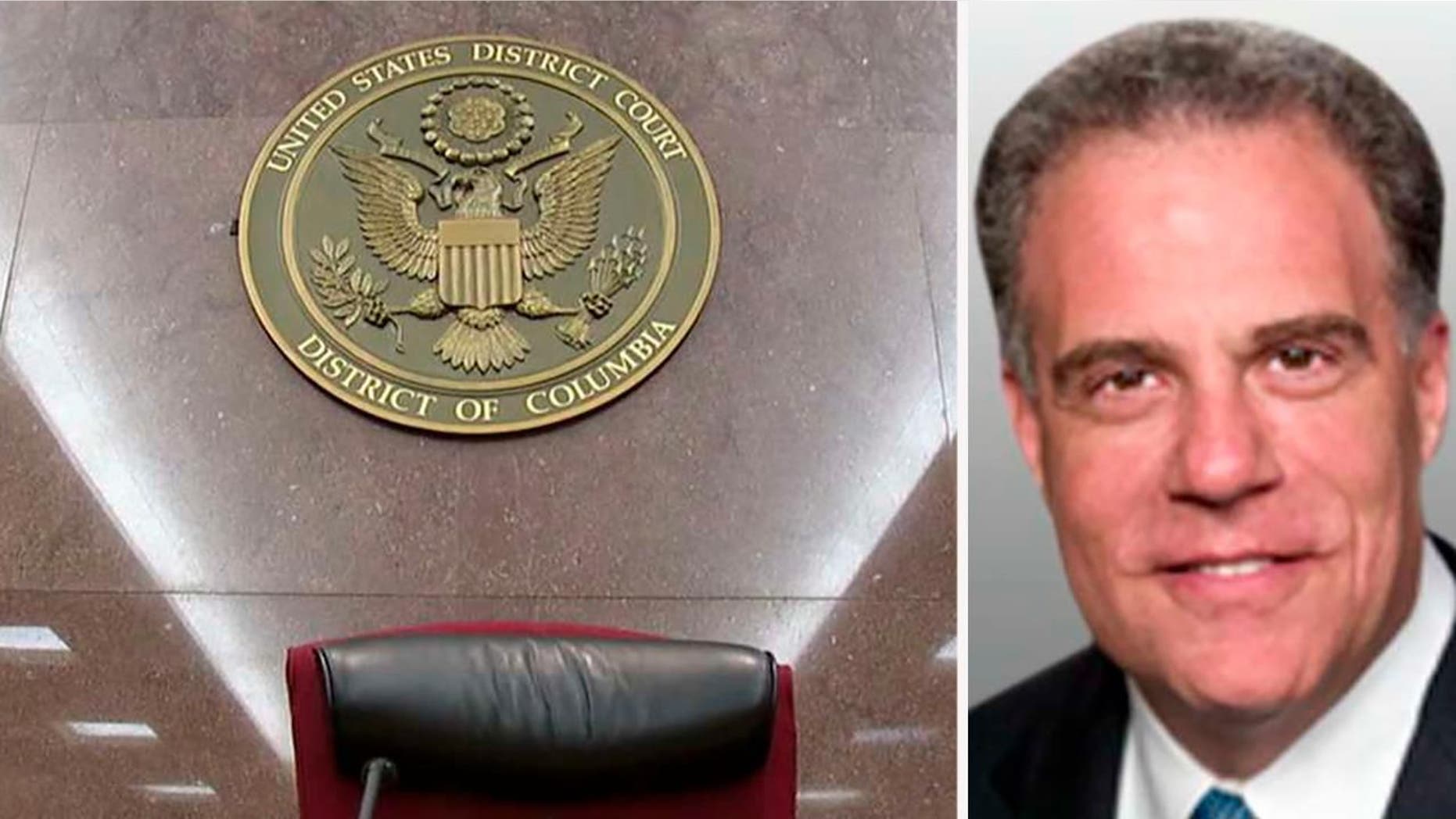 Welcome to Fox News First. Not signed up yet? Click here.
Developing now, Thursday, March 29, 2018
The Inspector General of the Justice Department announced he will review FISA abuse allegations against the Justice Department and the FBI
Text messages between FBI lovebirds Peter Strzok and Lisa Page suggest possible coordination between the Obama White House, CIA, FBI, Justice Department and former Senate Democratic leaders in the early stages of the Trump-Russia collusion probe, investigators tell Fox News
More protests are expected in Sacramento, Calif., Thursday during the funeral of Stephon Clark, an unarmed black man shot and killed by police earlier this month
President Trump fired Veterans Affairs Secretary David Shulkin and nominated presidential physician Rear Adm. Ronny Jackson to replace him - to the surprise of White House observers
An entire family, including all six children and their adoptive parents, is believed dead after an SUV plunged off a Northern California cliff; authorities are trying to figure out what caused crash
THE LEAD STORY - ALLEGED FISA ABUSE UNDER THE MICROSCOPE: The Justice Department's inspector general  announced he will review potential Foreign Intelligence Surveillance Act (FISA) abuses by both the Justice Department and the FBI, following requests from Congress and Attorney General Jeff Sessions ... The Office of the Inspector General Michael Horowitz released a statement Wednesday outlining the start of the review."The OIG will initiate a review that will examine the Justice Department's and the Federal Bureau of Investigation's compliance with legal requirements, and with applicable DOJ and FBI policies and procedures, in applications filed with the U.S. Foreign Intelligence Surveillance Court (FISC) relating to a certain U.S. person," the statement obtained by Fox News read. "As part of this examination, the OIG also will review information that was known to the DOJ and the FBI at the time the applications were filed from or about an alleged FBI confidential source." The OIG statement added that Horowitz also would "review the DOJ's and FBI's relationship and communications with the alleged source as they relate to the FISC applications."
WAS THE TRUMP-RUSSIA COLLUSION 'FIX' IN?: Newly uncovered text messages between alleged anti-Trump FBI officials Peter Strzok and Lisa Page suggest possible coordination between officials at the Obama White House, CIA, FBI, Justice Department and former Senate Democratic leadership in the early stages of the Trump-Russia collusion investigation, according to GOP congressional investigators ... The investigators say the information provided to Fox News "strongly" suggests coordination between former Obama Chief of Staff Denis McDonough, then-Senate Democratic Leader Harry Reid, and then-CIA Director John Brennan — which they say would "contradict" the Obama administration's public stance about its hand in the process.
NO JUSTICE, NO PEACE IN SACRAMENTO: Demonstrations in Sacramento, Calif., have been building over the deadly police shooting of a 22-year-old unarmed black man in his grandparents' backyard earlier this month and could reach a fever pitch Thursday during his funeral ... Stephon Clark was shot and killed March 18 after two Sacramento police officers were responding to a report of someone breaking car windows. Police said they believed Clark was the suspect and he ran when a police helicopter responded, then failed to obey officers' orders. Police said they thought Clark was holding a gun and feared for their safety. However, Clark was found only with a cellphone. Critics have questioned why the officers chose not to resolve the encounter in a manner much less lethal than a barrage of 20 bullets.
Clark's death has moved the Black Lives Matter movement back into the forefront. Protesters have disrupted fans trying to enter Sacramento Kings basketball games, interrupted a city council meeting, and were present Wednesday for Clark's wake. They are expected make their presence felt Thursday when the Rev. Al Sharpton plans to deliver the eulogy at Clark's funeral.
CHANGE AT THE VA: President Donald Trump fired David Shulkin as Secretary of Veterans Affairs on Wednesday and announced his intention to replace him with White House physician, Rear Adm. Ronny Jackson ... Shulkin's dismissal marked the latest in a string of White House shakeups in recent months. Trump also announced that Robert Wilkie, the undersecretary of defense for personnel and readiness, would serve as interim VA secretary, pending Jackson's confirmation. Jackson has served as the physician to the president since 2013 and gained a national profile earlier this year for holding a sweeping press conference on Trump's health. He is a surprise choice to succeed Shulkin, a former Obama administration official and the first non-veteran to head the VA. Trump had been considering replacements for Shulkin for weeks but had not been known to be considering Jackson for the role.
MYSTERIOUS DEATH PLUNGE: Investigators made a grim announcement in the hunt for a family after an SUV plummeted off a cliff in Northern California: six children were feared dead, along with two women ...  Jennifer and Sarah Hart, both 39, were confirmed dead earlier Wednesday, along with their children Markis Hart, 19; Jeremiah Hart, 14; and Abigail Hart, 14. Investigators believed the couple's three other children -- Hannah Hart, 16; Devonte Hart, 15; and Sierra Hart, 12 -- were inside the vehicle and also died. (The remains of these three children have not yet been recovered.)
Devonte made news after he was photographed at a 2014 protest in Portland, Ore., following a grand jury's decision not to indict a police officer in the shooting of a black man in Ferguson, Mo. The SUV plunged 100 feet from an ocean overlook on the Pacific Coast Highway about 150 miles north of San Francisco on Monday. It's unclear what caused the crash. "There were no skid marks, there were no brake marks" at the turnout on the Pacific Coast Highway where the vehicle went over, Mendocino County Sheriff Tom Allman said. Investigators have no reason to believe the crash was intentional, he said.
_________________________
Consider yourself an Influencer? Become a trusted advisor in our FOX News community and help guide our brand's future. Click here to find out how.
Members of FOX News Influencers:
Have the opportunity to be heard
Be part of a special network of peers
Get to influence new ideas and initiatives 
Receive updates on what we've learned and how your input has made impact 
Fill out our qualification survey and join us. Thank you for your continued support in our company's growth.
_________________________
AS SEEN ON FOX NEWS
'ROSEANNE' MAKING TV GREAT AGAIN: "['Roseanne'] replaced demonization with dialogue." – Greg Gutfeld, on "The Five," praising the premiere of ABC's reboot of "Roseanne" after a 21-year hiatus. WATCH
A HOSTAGE MOTHER'S GRIEF: "Part of the problem was [it seemed there was] no one whose job it was to help us." – Diane Foley, on "The Story with Martha MacCallum," speaking out on kidnapping and murder of her son, journalist James Foley, by ISIS militants in 2014 and the foundation created in his honor. WATCH
TRENDING
North Korea's Kim Jong Un to meet with South Korean president at border next month.
Parkland suspect Nikolas Cruz showered with fan mail, donations: report.
Former NFL star Jim Kelly recovering after 12 hours of cancer surgery.
THE SWAMP
Trump shares photos of border wall construction on Twitter.
California sets rules for cooperating with feds on immigration.
Wife of detained US citizen in Iran pleads with Trump: 'Make our family whole again.'
Judge rules suit against Trump over foreign gifts can move forward.
ACROSS THE NATION
Ransomware, other cyberattacks hit US cities, states, companies.
High school-aged student sexually assaulted at gunpoint in broad daylight, Palo Alto police say.
Human remains found in California confirmed as missing Hollywood model-actress.
Texas girl missing since 2016 discovered safe after viewer tips off TV show.
MINDING YOUR BUSINESS
Amazon CEO Jeff Bezos loses $5.2 billion after Trump report | Amazon enters correction
New York Auto Show: SUV frenzy takes center stage.
FirstEnergy plans exit from nuclear power business.
Tax deadline looms: Top tips for late filers.
FOX NEWS OPINION
Judge Andrew Napolitano: What does Easter mean?
Newt Gingrich: How Republicans can win the November elections.
U.S.-North Korea summit: How Trump can score a major deal.
No, the Second Amendment won't really be repealed, but our gun rights still remain at risk.
HOLLYWOOD SQUARED
Donald Trump Jr. tweets his support for 'Roseanne' while skewering late night hosts.
Ryan Seacrest accuser says NBC mysteriously canceled her scheduled appearance on 'Megyn Kelly Today.'
Susan Rice, ex-Obama official, appointed to Netflix board of directors.
DID YOU HEAR ABOUT THIS?
Oldest human footprints in North America suggest 'early entrance' into the Americas.
Dunkin' Donuts launches its first-ever running shoe.
Amazing Amazon discovery: 'Uninhabited' areas were once home to a million people.
Surgeons amazed after removing over 2,000 gallstones from woman.
STAY TUNED
On Fox News: 
Fox & Friends, 6 a.m. ET: White House principal deputy press secretary Raj Shah on the latest shakeup in the Trump administration; A closer look at a D.C. nonprofit group that has launched an ad campaign to deter the Pentagon from awarding Amazon a huge contract; a fair and balanced debate over Utah passing a "free-range" parenting law. And NRA spokeswoman Dana Loesch sounds off on former Supreme Court Associate Justice John Paul Stevens calling for the repeal of the Second Amendment.
Tucker Carlson Tonight, 8 p.m. ET: Model-actor Fabio takes on the crises facing California.
On Fox Business:
Mornings with Maria, 6 a.m. ET: Guests include: Steve Forbes; Amy Tarkanian, Republican strategist; Ed Rollins, "Great America Pac" chairman; David Stockman, former budget director under President Reagan; Rick Rieder, Blackrock Global chief investment officer of fixed income.
Varney & Co., 9 am, ET: Rep. Tom Reed; Missouri Attorney General and U.S. Senate candidate Josh Hawley; Art Laffer, former Reagan economist; Kevin Hassett, White House Council of Economic Advisors chairman; Sir Kim Darroch, British ambassador to the United States.
Cavuto: Coast to Coast, Noon ET: Scott McNealy, Sun Microsystems co-founder.
The Intelligence Report 2 p.m. ET: Dennis Gartman, editor and publisher of the Gartman Letter; Keith Fitzgerald, Money Map Press chief investment strategist; Ford O'Connell, GOP strategist.
On Fox News Radio:
The Fox News Rundown podcast: Six months after Hurricane Maria devastated Puerto Rico, only some residents have had power restored. Fox News correspondent Bryan Llenas spent several days in the U.S. territory and shares his insight. Deadly accidents with self-driving cars aren't stopping car company executives from testing the new technology. Fox Business's Jeff Flock talks about the latest and greatest at the New York International Auto Show. Plus, commentary from Judge Andrew Napolitano.
Want the Fox News Rundown sent straight to your mobile device? Subscribe through Apple Podcasts, Google Play, and Stitcher.
The Brian Kilmeade Show, 9 a.m. ET: Geraldo Rivera gives the inside story on his new book, "The Geraldo Show: A Memoir." Charles Payne on the potential impact of tariffs on China on the U.S. economy. Wall Street Journal columnist Holman Jenkins Jr. on how Big Tech companies are leading us to the great unknown - and why we should let them.
#OnThisDay
1992: Democratic presidential front-runner Bill Clinton acknowledges experimenting with marijuana "a time or two" while attending Oxford University, adding, "I didn't inhale, and I didn't try it again."
1973: The last United States combat troops leave South Vietnam, ending America's direct military involvement in the Vietnam War.
1962: Jack Paar hosts NBC's "Tonight" show for the final time. (Johnny Carson would debut as host the following October.)
Fox News First is compiled by Fox News' Bryan Robinson. Thank you for joining us! Enjoy your day! We'll see you in your inbox first thing Friday morning.