FOX NEWS FIRST: Mueller Russia probe hits 1-year anniversary; Giuliani says Mueller 'has nothing' on Trump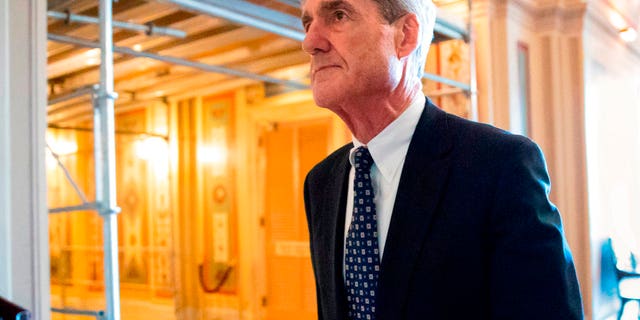 Welcome to Fox News First. Not signed up yet? Click here.
Developing now, Thursday, May 17, 2018
Robert Mueller's Russia collusion investigation hits the one-year mark Thursday; Republicans call for the probe to end, while Democrats argue the special counsel should be allowed to complete his work
In an exclusive interview with Fox News' Laura Ingraham, Rudy Giuliani says Mueller 'has nothing' on President Trump and that it's time for him to 'wrap up' the investigation
Trump's newly filed financial disclosure form includes confirmation that he reimbursed lawyer Michael Cohen for 'unspecified expenses' that apparently included the Stormy Daniels hush money
Trump praises 'rebellion' against California's immigration policies in roundtable discussion with state lawmakers opposed to the state's sanctuary laws
South Korean officials reportedly urge North Korea to stick to denuclearization agreements
THE LEAD STORY - ROBERT MUELLER'S RUSSIA PROBE, YEAR ONE: The long and winding special counsel Russia investigation that President Trump has routinely decried as a "witch hunt" hit the one-year mark on Thursday, giving Trump's legal team an opening to renew criticism of the probe's focus and its investigators ... Legal team member Rudy Giuliani told Fox News on Wednesday that Mueller already has assured them the president can't be indicted. And he said earlier this week that the president's lawyers would use the "anniversary" to double down on calls to wrap up the investigation. Expect vocal reminders from the president's team Thursday that the past year has yielded no collusion-related charges.
'INGRAHAM ANGLE' EXCLUSIVE: GIULIANI SAYS MUELLER SHOULD END PROBE TODAY: President Trump's lawyer, Rudy Giuliani, told Fox News' Laura Ingraham Wednesday night that Special Counsel Robert Mueller should wrap up his investigation into alleged collusion with Russia by the Trump campaign, saying that Mueller "has nothing." ... "It's been a year, he's gotten more than 1.4 million documents, he's interviewed 28 witnesses, and he has nothing," Giuliani said, "which is why he wants to bring the president into an interview."
Giuliani spoke to Ingraham the same day he said that Mueller told Trump's legal team he would follow Justice Department guidelines and not indict the sitting president. "They have only exculpatory information about us," he said. "I've been through the documents. So it's about time to get the darn thing over with. It's about time to say, 'Enough. We've tortured this president enough.'" Giuliani said the president's legal team wants Mueller's investigators to "tell us what you have to get from an interview that you don't already have, because he has all the facts to make a decision.
SINGLE LINE CONFIRMATION: President Trump's newly filed financial disclosure form includes confirmation that the president reimbursed attorney Michael Cohen last year for unspecified "expenses" – apparently the hush money paid to porn star Stormy Daniels before the 2016 election ... The single line, included at the bottom of a page in the middle of the latest financial report, helps explain why Trump legal team member Rudy Giuliani publicly acknowledged the payment for the first time earlier this month, during a Fox News interview.
At the time, Giuliani told host Sean Hannity that Trump reimbursed Cohen the $130,000 he paid to Daniels in exchange for her silence about an alleged sexual encounter with Trump in 2006. While Trump has denied the underlying allegations, a source told Fox News on Wednesday that Giuliani came forward regarding the payment because he knew it would be in the next financial disclosure report to the Office of Government Ethics.
TRUMP-ENDORSED 'REBELLION': President Trump praised local California leaders for standing up to "deadly and unconstitutional sanctuary state laws" and hailed what he called a "rebellion" against the state's immigration policies ... "Each of you has bravely resisted California's deadly and unconstitutional sanctuary state laws," Trump said at the White House roundtable of local officials on the issue. "You've gone through a lot, too, although it's become quite popular what you do." The roundtable featured a number of California Republican lawmakers and law enforcement officials who have pushed back against the state's sanctuary laws which limit cooperation with federal immigration authorities. Democratic Gov. Jerry Brown was unimpressed by the roundtable and accused Trump of lying about what is going on in California.
IS A DEAL A DEAL WITH NORTH KOREA? - A day after North Korea canceled a high-level meeting with their southern neighbor, South Korean officials urged them to carry out the denuclearization agreements made during their historic summit last month, Yonhap News reported ...
The remarks from the south came from their National Security Council (NSC) which met on Thursday, the report said, during which they talked about "future steps" regarding the called off meeting. Following the meeting in late April, a joint announcement from the two Koreas said that they would strive for a "nuclear-free Korean Peninsula" and try to officially end the Korean War.
North Korean leader Kim Jong Un and South Korean President Moon Jae-in attended the historic summit.
AS SEEN ON FOX NEWS
DON'T 'PLAY' TRUMP: "If you're not serious about doing a deal with the president -- if you're not serious about giving up nukes for a better life, don't meet with the president. If you try to play him, we're going to have a war and you're going to lose it." – Sen. Lindsey Graham, on "The Story with Martha MacCallum," warning North Korean dictator Kim Jong Un against canceling a planned summit with President Trump. WATCH
THE LOOPHOLE PROBLEM: "Congress has to take this seriously." – Acting Immigration and Customs Enforcement Director Thomas Homan, on "Your World with Neil Cavuto," calling on Congress to fix the provisions that are allowing illegal immigrants detained by authorities to escape into relative obscurity in the country. WATCH
THE SWAMP
Benson & Harf: Speaker Paul Ryan on 2018 agenda, Gaza violence and post D.C. plans.
Net neutrality vote: Senate advances bill to House.
Paris train hero Alek Skarlatos to run for local office in Oregon.
THE ROYAL WEDDING: PRINCE HARRY AND MEGHAN MARKLE
Prince Harry's paparazzi pain: From mom to Meghan, he thinks they're 'the enemy.'
Meghan Markle's father reportedly responsive and coherent after heart surgery.
Meghan Markle's half-sister reportedly hospitalized after encounter with paparazzi.
Royal family's cars: Meghan Markle will be motoring in style.
TUNE IN: Don't miss Fox News' live coverage of the royal wedding this Saturday, starting at 5 a.m. ET!
ACROSS THE NATION
ESPN to honor Nassar victims at ESPY Awards | Michigan State reaches $500M settlement with Nassar victims
Ten children removed from filthy California home were waterboarded, hit with crossbows and BBs, prosecutors say.
Conservative student's parting shot at college's anti-gun policies goes viral.
#ProudAmerican: Michigan WWII veteran hopes to receive 100 cards on his 100th birthday.
MINDING YOUR BUSINESS
Stocks point lower ahead of Walmart, JC Penney earnings.
Lachlan and Rupert Murdoch to lead new 'Fox.'
Kennedy: Turkey has become a shady authoritarian hellhole.
Ford to resume F-150, Super Duty production.
What Seattle 'head tax' will cost Amazon.
Elon Musk hires interns to 'problem solve' | Fast-food restaurant owner can't find teens fill jobs.
FOX NEWS OPINION
Tammy Bruce: Lincoln vs. Obama -- The incredible tale of two libraries.
Michael Goodwin: Cynthia Nixon's selective outrage could kill her career.
Newt Gingrich: Trump has already made real progress in controlling prescription drug costs.
HOLLYWOOD SQUARED
Pauley Perrette's ex-husband unable to file suit alleging she stalked him and broke into his home.
Rolling Stones song inspired 'Crossfire Hurricane' codename for Trump-Russia investigation.
Netanyahu does chicken dance with Netta Barzilai to celebrate Israeli singer's Eurovision win.
DID YOU HEAR ABOUT THIS?
'Yanny vs. Laurel' craze reportedly started with high school student studying for her literature class.
Chimpanzee nests have less fecal matter than human beds, study says.
Shipwreck mystery solved thanks to 800-year-old 'Made in China' label.
Chilling 'blood vengeance' discovery: 1,000-year-old skull tells grisly tale.
STAY TUNED
On Fox News:
Fox & Friends, 6 a.m. ET: Ainsley Earhardt is live from Windsor as England gears up for this weekend's royal wedding between Prince Harry and Meghan Markle. Kent State University graduate Kaitlin Bennett on her parting shot at the college's anti-gun policies that went viral; former federal prosecutor Andrew McCarthy reacts to Rudy Giuliani's interview on "The Ingraham Angle." Plus, Kellyanne Conway, counselor to President Trump, takes on the White House's hot topics.
Tucker Carlson Tonight, 8 p.m. ET: Tentative guests include Mark Steyn and Joe diGenova.
On Fox Business:
Mornings with Maria, 6 a.m. ET: Guests include: Corey Lewandowski; Rep. John Garamendi; Sen. Mike Rounds.
Varney & Co., 9 a.m. ET: Larry Kudlow, director of the U.S. National Economic Council; Kristin Gaspar, congressional candidate and San Diego County Board of Supervisors chairwoman; Rep. Lou Barletta; Montana Sen. Steve Daines.
Cavuto: Coast to Coast, Noon ET: Rep. Dave Brat.
The Intelligence Report, 2 p.m. ET: Rep. Andy Biggs.
The Evening Edit, 5 p.m. ET: Guests include: Lt. Col. Michael Waltz; Marc Lotter; Gordon Chang, author of "The Coming Collapse of China."
Lou Dobbs Tonight, 7 p.m. ET: Rep. Keith Rothfus.
On Fox News Radio:
Benson & Harf, 6 p.m. ET: Don't miss the new show hosted by Guy Benson, political editor at Townhall.com and Marie Harf, former senior adviser of strategic communications at the State Department.
The Fox News Rundown podcast: Thursday marks one year since Robert Mueller was appointed to special counsel in the Russian election meddling probe. But what progress has the investigation made? Thursday's podcast dives into the potential legal repercussions and political fallout. Plus, commentary by Media Buzz host, Howard Kurtz.
Want the Fox News Rundown sent straight to your mobile device? Subscribe through Apple Podcasts, Google Play, and Stitcher.
The Brian Kilmeade Show, 9 a.m. ET: Guests include: Vice President Mike Pence; Rep. Steve Russell on North Korea, Iran and the opening of the U.S. embassy in Jerusalem; plus Steve Doocy, Abby Huntsman and Carley Shimkus.
#OnThisDay
1954: The U.S. Supreme Court hands down its unanimous Brown v. Board of Education of Topeka decision, which holds that racially segregated public schools are inherently unequal, and therefore unconstitutional.
1875: The first Kentucky Derby is run; the winner is Aristides, ridden by Oliver Lewis.
1792: New York Stock Exchange has its beginnings as a group of brokers meet under a tree on Wall Street and sign the Buttonwood Agreement.
Fox News First is compiled by Fox News' Bryan Robinson. Thank you for joining us! Enjoy your day! We'll see you in your inbox first thing Friday morning.