FOX NEWS FIRST: Grammys get political as Hillary makes cameo; Trump preps for first State of Union address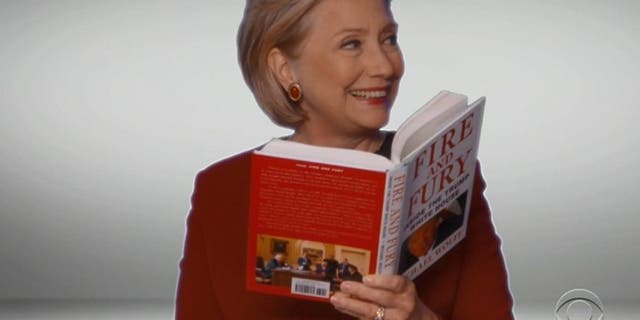 NEWYou can now listen to Fox News articles!
Welcome to Fox News First. Not signed up yet? Click here.
Developing now, Monday, Jan. 29, 2018
The 60th annual Grammys get political as Hillary Clinton mocks President Trump in a cameo appearance
President Trump is preparing for his first State of the Union address Tuesday and officials say he will focus on America's economic prosperity, bipartisanship and national security
House Oversight Committee Chair Trey Gowdy calls on two embattled FBI agents to testify about their anti-Trump text messages
New sexual harassment allegations surface against a campaign aide Hillary Clinton refused to fire
Outrage is growing over a video where a California teacher is heard slamming members of the military as the 'lowest of the low'
THE LEAD STORY - GRAMMYS SING THE BLUES OVER TRUMP, DACA AND MORE: At the 60th annual Grammy Awards the stars took the opportunity to voice their opinions on everything from President Trump to DACA to gender equality ... Famous faces like Kendrick Lamar, Camilla Cabello, Bono, Trevor Noah and even Hillary Clinton turned up to talk politics, with host James Corden poking fun at Trump. In the midst of all the political chatter, Bruno Mars came out a big winner for the night winning both Album of the Year, Song of the Year and Record of the Year for his album "24K Magic." Cabello had one of the more politically charged moments of the night when she took the stage to make a plea in favor of Dreamers, referencing the debate happening in Washington D.C. over the repeal of DACA.
A GLIMPSE OF TRUMP'S FIRST STATE OF THE UNION ADDRESS: President Trump is expected to take something of a victory lap Tuesday when he makes his first State of the Union address, where officials say he will hail a "roaring" American economy and promote policies for building a "safe, strong, and proud America" ... A senior administration official who briefed reporters Friday said that the address would be bipartisan, optimistic and "forward-looking," and will cover at least five topics: jobs and the economy, infrastructure, immigration, trade and national security. The speech will attempt to show that the American people had every right to be optimistic when Trump took office last year. Officials hope that it will allow Trump to communicate unfiltered to Americans about why his policies are part of a common-sense agenda. The speech comes at the end of a tumultuous first year for Trump, but one that has seen some victories as of late.
HOT SEAT IN STORE FOR FBI LOVE BIRDS?: The House Republicans' top investigator, Rep. Trey Gowdy, said that text messages between FBI officials Peter Strzok and Lisa Page show they "hated" then-presidential candidate Donald Trump, but the South Carolina lawmaker suggested the two testify to settle concerns on whether they were powerful enough to take down Trump or protect Democratic rival Hillary Clinton from criminal charges over her emails ... "I can't prove that they were the final decision makers," Gowdy, chairman of the House Committee on Oversight and Government Affairs, told "Fox News Sunday." "But I don't have to. Two really important people hated (Trump); would have done anything to protect" Clinton. Gowdy pointed out that Strzok interviewed Clinton about her use, as secretary of state, of private servers on which emails with classified information were discovered. And Strzok scrubbed language about Clinton's "grossly negligent" behavior from the final FBI report on the server-email investigation, he said.
HILLARY HYPOCRISY: New sex harassment allegations have surfaced against a campaign aide Hillary Clinton reportedly refused to fire in 2008 following a similar complaint that he harassed a young subordinate with inappropriate kisses and suggestive emails ... The report Saturday on the BuzzFeed News website accuses the aide, Burns Strider, 52, of sexually harassing two young subordinates at a pro-Clinton super PAC during an 18-month span that began in November 2013. BuzzFeed's report comes on the heels of a New York Times article Friday reporting that Clinton kept Strider on her 2008 campaign team as faith adviser even after a 30-year-old campaign staffer charged him with sexually harassing her.
DISRESPECT GOES VIRAL: A Southern California high school teacher could face punishment after he is heard on video slamming members of the military as "the frickin' lowest of the low" in a classroom rant that has gone viral ... El Rancho High history teacher Gregory Salcido -- who also serves as an elected Pico Rivera city councilman and was once mayor -- even goes so far as to refer to those who are in the military overseas as failed students who had no choice but to serve, "Fox & Friends" reported.
AS SEEN ON FOX NEWS WEEKEND
'THE BIGGEST SNOW JOB': "I'd like to know what country... that would let 1.8 million people [in] who violated their rules and disrespected their laws, but were still willing to forgive them and generously allow them citizenship." – Judge Jeanine Pirro, during her "Opening Statement on "Justice with Judge Jeanine," arguing that Democrats and illegal immigrants are trying to make citizens feel bad about the President Trump's offer to grant amnesty to millions of people. WATCH
PARTS OF CALIFORNIA, NEW YORK, SECEDING FROM UNION?: "[California] Gov. Jerry Brown is insane. He says he wants illegal aliens to be able to vote. That's crazy." – Ben Stein, on "Cavuto Live," ripping sanctuary cities and states, saying their position is akin to effectively seceding from the Union by openly violating federal immigration laws. WATCH
ACROSS THE NATION
Democrat hits Pelosi over 'make America white again' comment.
Dramatic video of girl being kidnapped off Illinois street released by FBI.
Men had enough fentanyl to kill entire population of New York City, New Jersey combined, police say.
MINDING YOUR BUSINESS
'Sunday Morning Futures': Trump's State of the Union: President working to save costs on infrastructure, Rep. McMorris Rodgers says.
U.S. trade chief sees hope for NAFTA talks, says congressman.
ATM makers warn of 'jackpotting' hacks on U.S. machines.
NEW IN FOX NEWS OPINION
Jason Chaffetz: Congress has options on #ReleaseTheMemo FBI investigation.
What Trump should say about opioids in his State of the Union address.
Michael Goodwin: Sorry skeptics, Trump's tax plan is actually working wonders.
HOLLYWOOD SQUARED
Omarosa joins 'Celebrity Big Brother.'
Ronda Rousey signs full-time deal with WWE.
Scott Baio denies sexual assault allegations by 'Charles in Charge' co-star Nicole Eggert.
DID YOU HEAR ABOUT THIS?
'Serial Stowaway' woman arrested again at Chicago O'Hare airport days after being released from jail.
Young couple contracts hookworms in feet at beach resort.
Gambler who won millions on World Series bets big on Eagles in Super Bowl.
STAY TUNED
On Fox News:
Fox & Friends, 6 a.m. ET: Newt Gingrich weighs in on key points Trump could make in his State of the Union address; a look at how celebrities like Whoopi Goldberg are planning to counter Trump's address with a gathering for a 'People's State of the Union.' Plus, a closer look at Trump's latest immigration proposal.
Tucker Carlson Tonight, 8 p.m. ET: Tucker breaks down the immigration debate and gets insight from Mark Steyn.
Hannity, 9 p.m. ET: Sean has a must-see State of the Union preview with Sean Spicer and Judge Jeanine Pirro.
The Ingraham Angle, 10 p.m. ET: As outrage over alleged surveillance abuses grows, do Americans have the right to know? Laura gets expert reaction from Rep. Chris Stewart and former U.S. attorney Joe DiGenova.
On Fox Business:
Mornings with Maria, 6 a.m. ET: Will.I.Am, I.Am.Plus founder & CEO; Mark Penn, former senior adviser to the Clintons; Lara Trump, President Trump's daughter-in-law and Trump for President senior adviser; and Alessandro Farmeschi, COO of Lamborghini America.
Varney & Company, 9 a.m. ET: Sean Landeta, former NFL great.
Cavuto: Coast to Coast, Noon ET: Doug Holtz-Eakin, former CBO director and Robert Ray, former Whitewater independent counsel.
On Fox News Radio:
The Fox News Rundown podcast: President Trump is set to deliver his first State of the Union address on Tuesday night. Fox News' Eric Shawn speaks with Fox News contributor and presidential historian Doug Wead about what the president will say during his speech. Plus, commentary from Karl Rove.
Want the Fox News Rundown sent straight to your mobile device? Subscribe through Apple Podcasts, Google Play, and Stitcher.
The Brian Kilmeade Show, 9 a.m. ET: New York Post columnist Michael Goodwin talks Trump's first State of the Union address and why his tax plan is working; Howard Kurtz gives the inside story on his new book, "Media Madness;" Bret Baier previews Trump's State of the Union address.
#OnThisDay
2013: BP PLC closes the book on the Justice Department's criminal probe of its role in the 2010 Deepwater Horizon disaster and Gulf of Mexico oil spill, with a U.S. judge agreeing to let the London-based oil giant plead guilty to manslaughter charges for the deaths of 11 rig workers and pay a record $4 billion in penalties.
1936: The first inductees of baseball's Hall of Fame, including Ty Cobb and Babe Ruth, are named in Cooperstown, NY.
1845: Edgar Allan Poe's famous narrative poem "The Raven" is first published in the New York Evening Mirror.
Due to a server outage, many subscribers did not receive last Friday's edition of Fox News First. We apologize for any inconvenience and are working hard to ensure these kind of outages don't happen again.
Fox News First is compiled by Fox News' Bryan Robinson. Thank you for joining us! Enjoy your day, and we'll see you in your inbox first thing Tuesday morning.