Florida school sells stadium naming rights to prison company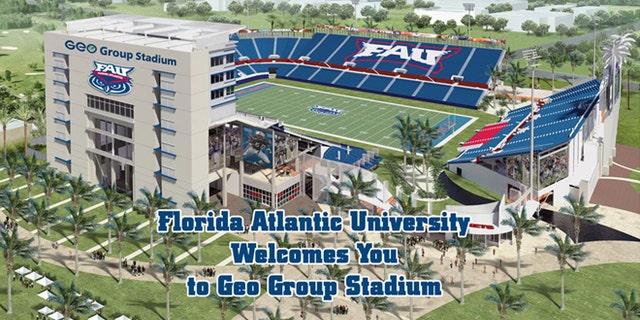 Florida Atlantic University is christening its football field GEO Group Stadium, but fans on Twitter have a catchier moniker: 'Owlcatraz'
The Boca Raton school, home of the Owls, sold naming rights to its 29,000-seat stadium to a private prison corporation, a change that has brought the school criticism, controversy and $6 million - the biggest gift ever made to the school's athletic department. GEO Group, a billion-dollar company which operates an immigration center in nearby Pompano Beach, as well as prisons elsewhere in the U.S., South Africa and the United Kingdom, will pay for the honor in $500,000 yearly installments over the next 12 years, University Press, the school's paper, reported.
"We are incredibly grateful for this wonderful gift," Mary Jane Saunders, FAU's president said. "It is so exciting to now have a name for our beautiful stadium, and I couldn't think of a better way to do that than by way of philanthropy."
GEO's boss, and the school's most deep-pocketed booster, George Zoley, is an alum and a former chairman of the school's Board of Trustees.
"We couldn't be more local," Zoley told the student paper. "This is the finest example of community outreach our company has activated in its history."
Fans know professional and college sports teams rename their fields and arena's for sponsors who pay for the privilege all the time. The Central Florida Knights kick off at Bright House Networks Stadium, named after a cable provider, and the NFL's Miami Dolphins play in Sun Life Stadium, named for the financial services company. But some critics question why a school for higher education would want to be associated with a private prison company.
"How many FAU football fans are going to see GEO Group Stadium and think, 'Oh, next time I need to find someone to run my immigrant detention center, I'll definitely give them a call!'" quipped Sun-Sentinel columnist Michael Mayo.
GEO is also reportedly facing a multimillion-dollar lawsuit about its treatment of prisoners. A phone call from FoxNews.com inquiring about the lawsuit to the company was not immediately returned.
Dream Activist, which calls itself an "undocumented student action and resource network," started an online petition asking the school to reconsider the move.
"FAU should not be associating itself with a prison," the group said on its website, DreamActivist.org.
FAU is building a name for itself on the gridiron, despite being in a state with perennial powerhouses like Florida State, Florida and Miami. Despite struggling to a 3-9 record in the Sun Belt Conference this past season, Owls fans did have the pleasure of seeing former star Alfred Morris star as a rookie for the Washington Redskins after being selected in the sixth round of the 2012 draft.
FAU's Athletic Director Pat Chun told the University Press that securing a naming partner was his chief goal this year. At least one pundit thinks the new name - and sponsor - suits the Owls.
"For years, football players and jail have carried bad connotations," wrote Mayo's colleague at the Sun-Sentinel, Dave Hyde. "Now FAU is being paid millions to change that. Good for them. Who says crime doesn't pay? And who says sports doesn't have a sense of humor?"