Obama's Chicago library is going to be a little bit flashy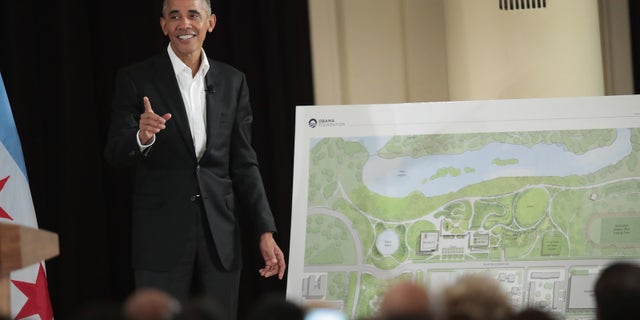 Former President Barack Obama and first lady Michelle Obama will visit Chicago on Wednesday to review a design for his upcoming presidential center in Jackson Park, in Chicago's South Side, according to the Chicago Tribune.
The Obamas plan to host a roundtable discussion with an estimated 300 people on Wednesday to update the community on the progress of the Obama Presidential Center, the Associated Press reported. Chicago Mayor Rahm Emanuel, Obama's first White House chief of staff, will also be on hand for the discussion.
"More than a building or a museum, the Obama Presidential Center will be a working center for civic engagement and a place to inspire people and communities to create change," a release about the round table discussion said. "President Obama will host a roundtable discussion to update the community on the progress of the Obama Presidential Center in Jackson Park and hear directly from members of the community on their ideas for the Center."
Though the design of the center has remained a closely guarded secret, husband-and-wife architects Tod Williams and Billie Tsien of New York told ArchDaily that Obama critiqued an early plan of theirs as a bit bland.
More From Travel + Leisure
"He said it was too unflashy," Tsien said. "He looked at what we did and he said, 'I said you could be sort of quiet, but I think you're a little too quiet.'"
According to the AP, Ralph Appelbaum Associates will head a team of design firms with expertise in media, lighting, and acoustics in designing exhibits for the presidential center. The Obama Foundation also said that nearly half of the design work expected to be displayed at the center will be performed by minority- and women-owned businesses.
However, the creation of the center has not come without controversy.
"Whenever you have a project of this scale and scope, the fear is that it will cause property values to rise and displace long-term residents," Amara Enyia, a public policy consultant and organizer, told Chicago's WTTW in April. "How do we prepare for or create businesses that make sense five years from now? Who's going to do job training? Who can usher entrepreneurs through the process of getting a license? The community needs to be very proactive about that. Otherwise it's just another thing that displaces population."
The center will likely cost nearly $500 million to create and is expected to be completed in 2021.