Don't Be a Turkey, Follow These Thanksgiving Travel Tips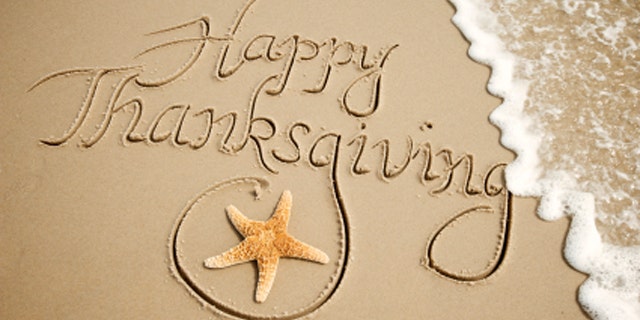 Almost as old as Thanksgiving itself is the tip to avoid traveling on the Wednesday before and the Sunday after the holiday. And year after year, it remains the best advice of all.
Flying on those days is particularly bad as that's "when airports will be the most crowded and security lines will be longest," says Jami Counter, senior director of TripAdvisor Flights. "By traveling on alternate dates you can expect to have a smoother experience from check-in to boarding," he says.
Avoiding the Wednesday departure-Sunday return scenario will also save you money -- the average round-trip domestic airfare for those travel days is $472, according to Travelocity senior editor Genevieve Shaw Brown, who says booking data for Thanksgiving weekend shows that this year "the cheapest flight combination is a Thanksgiving Day departure and a Tuesday, Nov. 30 return [yielding an average domestic round-trip fare of $287]. Regardless of your departure day, Sunday as well as Monday returns are very expensive and should be avoided."
"The average price of a round-trip domestic ticket is $378 over Thanksgiving," Brown adds. "Consider that the price to beat if you're still shopping."
Wednesday and Sunday are likewise peak travel times for Amtrak, says Matt Mitchell of the Delaware Valley Association of Rail Passengers, so if you don't ride the rails on those days you'll not only "avoid the worst crowds, but you may also find lower fares." Mitchell adds that "most trains will run slower than usual because of the crowds of passengers at each stop [and while Amtrak] will operate dozens of extra trains running in advance of normal schedules," selected trains, including some traveling between New York and Philadelphia "will operate with commuter-type equipment," which means more plentiful but tighter seating and no café car.
For many motorists like Monique Evers "the key has been to travel well before and return after the Thanksgiving rush. This year, we're leaving Tuesday and staying for a week rather than just a long weekend. Since we travel with pets and small children, we can take our time driving and stopping along the way to minimize stress." And if you need further incentive to not drive or to drive more carefully on the Sunday after Thanksgiving, bear in mind that the day has been recognized as Drive Safer Sunday with the help of Road Safe America, an organization co-founded by Steve Owings, whose son Cullum died on Virginia's Interstate 81 when a truck hit Cullum's car from behind on the Sunday after Thanksgiving in 2002.
Whether you're still planning your trip or just mentally preparing for it, here are some other things to keep in mind if you're traveling over the Thanksgiving holiday.
Get your seat assignment before you go
If you're flying over Thanksgiving "one of the easiest and most-overlooked tips for reducing stress at the airport is simply to check in online up to 24 hours before your flight," says Brown. "This allows you to select your preferred seat assignment, get a discount on any bags you plan to check, reduce the time waiting in check-in lines at the airport, and reduce your risk of getting bumped off your flight." Adds Mathias Friess, CEO of WebJet.com North America, "even if the airline charges you for an advanced seat reservation, it's probably worth it just to be on the safe side."
If you want to park and fly, try to reserve a spot
Attorney and Thanksgiving traveler Natalie M. Lucas notes that "the thing that stresses me out the most about Thanksgiving travel is parking at the Denver International Airport. I have learned, though, that several off-airport parking lots allow you to register online in advance for parking reservations, which will guarantee a parking spot. Also, some of them will give you a discount for registering online."

Ship what you can
When your voyage home obligates you to bring gifts or food or otherwise pack more than usual, avoid checking baggage with the airline and "ship bags and presents ahead of time using FedEx Ground or UPS," says JohnnyJet.com founder John E. DiScala. The tactic will not only get you "in and out of airports quicker but will likely be cheaper" than checked baggage fees, he says. Travel Smart blogger Nicole Hockin adds "both family members and hotels are usually glad to receive such boxes and store them for your arrival." Or, suggests Brown, if you need to get gifts or foodstuffs to your Thanksgiving destination "your best bet is probably to ship directly from the store you purchase from."
Consider Thanksgiving overseas
If you want to say you're in on a trend slowly gaining traction, think about "taking the family on an international trip this Thanksgiving if your dates are flexible," Counter says, "as flights tend to be relatively empty during this time since it's off season for leisure travel and many business travelers are home for the holiday." Consider "Canada or Mexico for Thanksgiving and enjoy discount flights, lower hotel rates and less frenzy at your destination," says Dan De Grandpre, CEO and editor at dealnews. He notes for example that a typical flight from "New York to Mexico City over Thanksgiving is $360 while New York to Los Angeles is $613. Adds Brown, "the average round-trip overseas airfare over Thanksgiving is $688 -- nearly $100 less than at any other time this fall."