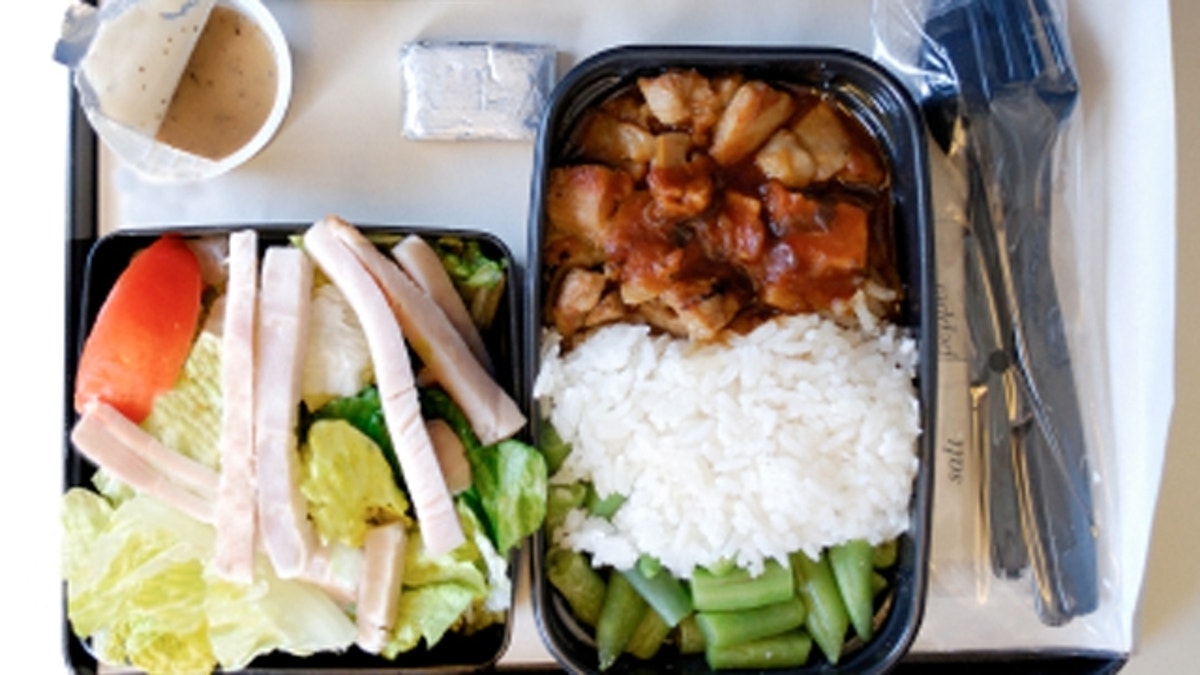 Let's face it: Airplanes are traumatic environments — the turbulence, the terrorists, the 2-year-olds — and we travelers are left to eat our way to comfort. (When else in life would you voluntarily eat sugar-dusted pretzels washed down with two cans of bloody mary mix?)
And though we passengers tend to enjoy eating at regular intervals, airline meals often come at too high a caloric price. To add insult to injury, many airline meals, particularly the ones we'd never choose ourselves were we on the ground, are no longer included in the price of a ticket.
Not until recently did airlines begin to consider the health and dietary risks of their complimentary snacks and in-flight meals. A decade ago, the average coach dinner contained 1,054 calories! But even now, many companies fail to make nutrition one of their primary concerns.
Luckily, there are people like Dr. Charles Stuart Platkin, better known as the Diet Detective, who, each year, surveys most of the major air carriers, requesting the nutrition facts of all the food they serve on their economy-class domestic flights.
He rates these airlines from zero stars to five — five being the healthiest — and offers some interesting tips regarding nutritious sky eating. Platkin is the first to say that many of the airlines, as well as their typically overseas-based catering companies, have come a long way toward providing healthier options for passengers.
Still, as evidenced from the recent lawsuit filed against American Airlines and Sky Chefs for allegedly serving a Miami passenger a chicken dinner contaminated with deadly bacteria, they've got miles to go.
Air Canada
With the help of a Montreal-based company called Food with a Conscience, Air Canada's in-flight offerings are top-notch in the nutrition department — they even named their food "Air Canada NutriCuisine." Instead of just pretzels, enjoy cashews or celery and carrot sticks. And the vegetarian sandwich — just 390 calories — is not just for vegetarians.
Virgin America
The high-tech award goes to Virgin America, where you can order your food on-demand via a touch screen on every seat back. This way, there's no need to wait for the cart to come squeaking by to nosh on Virgin's extra-healthy "Protein Meal" snack box, consisting of crackers, Craisins, hummus, nuts, and tuna. On flights longer than two hours, consider the edamame and portobello mushroom wrap (lots of fiber, but also lots of sodium).
United/Continental
United was once a forerunner in providing healthy food choices, but after their merger with Continental, the snack options on both airlines are now mainly limited to calorie-rich concoctions. Their in-flight meals, however, are their saving grace; they include a grilled chicken spinach salad, which is just 360 calories, including the dressing.
US Airways
Amidst the Pringles, huge bags of salted almonds, and a brand-new bacon and egg breakfast croissant, there are a few health-conscious gems, such as the "Late July Organic Sea Salt Multigrain Chips & Frontera Chunky Tomato Salsa" or the Cobb salad. As for the other choices…well, that's what New Year's resolutions are for, right US Airways?
Delta Airlines
Calorie-wise, Delta's snacks are not snacks at all. The "Flight Delight" snack box is healthy for the amount of food you get, but should be shared or considered a meal. Speaking of which, the Delta meal choices are mostly high in calories, except for the yogurt parfait (breakfast only), or the fruit and cheese plate. Otherwise, it's straight to the chicken and turkey Cuban (estimated at 552 calories).
More from The Daily Meal:
Celebrities' Favorite Sun-Drenched Getaways
Best Mountain Side Eats for Ski Season