ZTE launches foldable dual-screen smartphone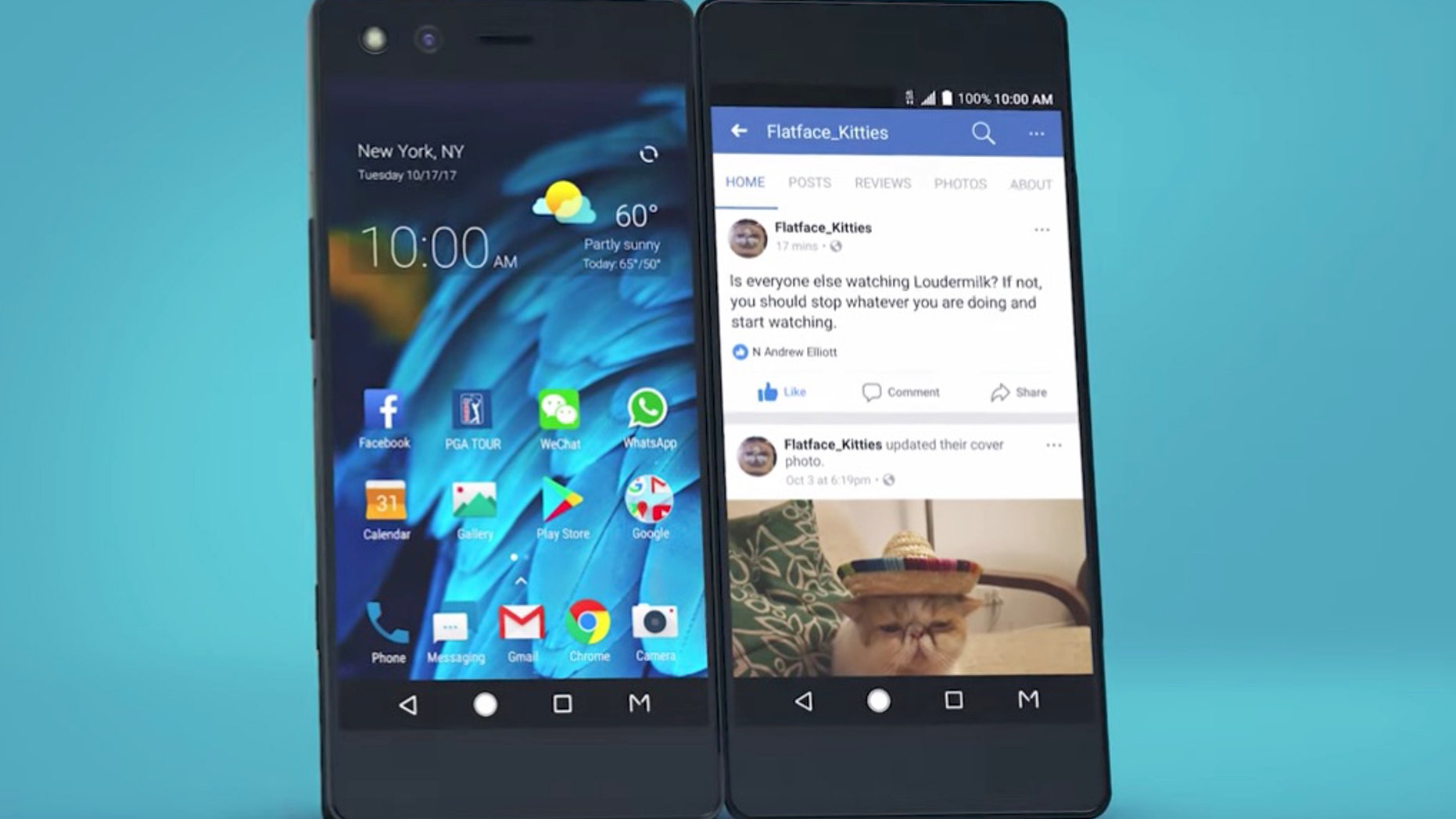 The ZTE Axon M announced this week offers two adjoining displays that can fold out, turning a ho-hum 5.2-inch Android smartphone into an impressive 6.75-inch tablet.
The Axon M's Extend Mode combines the two screens into one virtual space, allowing you to have a larger Android home screen or multitask: for instance, watching a video on one screen while typing on the other.
You can also place the phone lengthwise on a desk in a "tent" configuration then play a game with another person or even do a PowerPoint presentation.
APPLE'S NEXT BIG THING IS HERE: IPHONE X'S 5 BEST FEATURES
ZTE has optimized common apps for Extend Mode, including Google Docs, Photos, Chrome, Maps, Gmail, Facebook, Twitter, and Pandora. Apps that haven't been optimized won't recognize the gap -- where the hinge that connects the two displays is -- in the middle. So there will be some space that's arbitrarily broken up between the two displays for non-optimized apps.
The Axon M, running Android 7.1.2 (Nougat), has one 20 megapixel camera – serving as both a front "selfie" and rear camera since the phone doesn't have a front or back like a typical smartphone – all-day battery life, and packs 64B of storage (expandable up to 256GB) and 4GB of RAM running on top of a quad-core Qualcomm Snapdragon processor.
It also comes with a headphone jack (an increasingly rare spec these days on new smartphones) and a fingerprint sensor.
Foldable Future
ZTE phones further in the future and phones from Apple and Samsung likely won't have two displays that swing on a hinge. Instead, they will have a single display that is bendable.
IPHONE X: HOW DOES IT STACK UP AGAINST THE GALAXY S8?
So, ZTE is simply telegraphing the future. The Axon M, with two displays connected by a hinge, is the interim solution until the future arrives.
"Consumer device manufacturers will eventually move from conventionally designed flat and rectangular form factors to … curved, foldable or rollable screens" said Jerry Kang, an analyst at IHS Markit, in a research note.
"Foldable smartphones have been technically possible for quite a while," Raymond Soneira
president of DisplayMate Technologies, told Fox News earlier this year.
FACEBOOK'S 'LIKE' BUTTON CREATOR HAS SECOND THOUGHTS, CALLS IT A TIME-WASTER
"For the last several years both Samsung and LG have been showing flexible, bendable, and rollable OLED displays [privately]" at display conferences, he said in an email. "Technical [challenges] aside, whether consumers will want to return to a clamshell style smartphone is the great unknown," he added.
In the next month AT&T customers will be able to get the ZTE Axon M for $24.17 per month for 30 months on AT&T Next.