Timeline Ultra M3 Hands-On: Acer's 15-Inch Ultrabook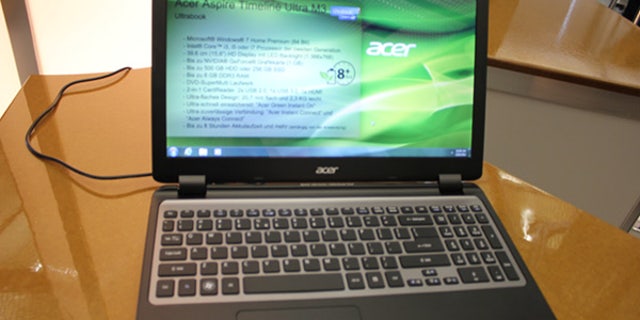 NEWYou can now listen to Fox News articles!
Acer announced a whole slew of new notebooks at its presser this morning, and the Timeline Ultra M3 continues the company's Ultrabook ambitions with a relatively low price point (starting at 799 euros) and strong specs that include both a hard drive and optical drive, Nvidia GeForce graphics and a promised 8 hours of battery life.
When we got our hands on the Timeline Ultra M3, one thing about this Ultrabook quickly became clear: it's quite heavy for its class. The M3 weighs a whopping 2.3 kg (5 pounds), which makes it one of the heaviest systems we've encountered in this category. Will HDMI, USB 3.0, Nvidia graphics and the budget-conscious price sway those who are Ultrabook-curious?