This could be Amazon's Fire phone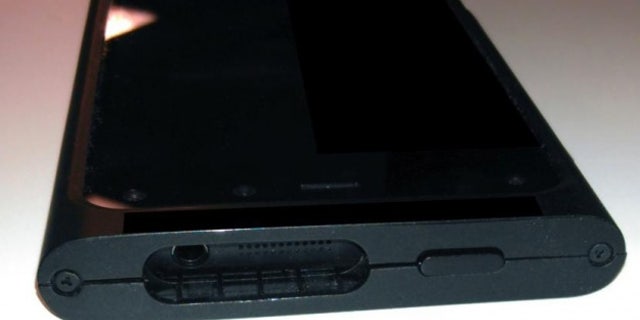 It's still a rumor, but it looks like Amazon's Fire phone (not an official name) is getting close to release. BGR has posted leaked photos of what it claims is the phone along with a host of details about the device, many of which confirm earlier rumors. Let's get right to the details. And yes, we agree that this phone looks oddly ugly. It could easily be a prototype, but Amazon is also not known for great-looking devices.
Amazon's Smartphone (Fire phone) will have:
3D screen and six cameras: In March 2014, we learned that the device may have six cameras. From these pictures, it appears to have four extra front-facing cameras, each on a corner of the screen. These cameras work with the internal gyrometer, accelerometer, and "other sensors" to help produce a 3D depth effect without the need for 3D glasses. The phone will track your eyes/face and adjust the position of items on the screen as you move them. Previous attempts at glasses-free 3D (see: Nintendo 3DS) haven't worked out well because they required a parallax barrier, which hurts the visual quality of the screen (and your eyes after you stare at it).
3D interface: Amazon will supposedly include some nice 3D wallpapers and include the effect in its book, music, and other digital stores. By adjusting your phone, you can see objects you want to buy from different perspectives and angles. A source also tells BGR that Amazon is working to secure several high-profile 3D apps/games.
4.7-inch screen: Like many high-end Android phones, and the upcoming iPhone 6, the Amazon phone will probably have a 4.7-inch screen. The resolution won't break records, though. It's said to have a 1280 x 720 pixel LCD screen.
Decent specs: BGR believes it will have a "Qualcomm Snapdragon processor," 2GB of RAM, and a heavily modified version of Google's Android OS, like the Kindle Fire tablets. This seems plausible. Previous rumors have pointed toward a high-end Snapdragon 801 processor (this is what the Galaxy S5 uses).
Amazon may show it this June:
We don't know Amazon's plans for release, but many sources claim it's coming this summer, likely in june. BGR, Wall Street Journal, and Recode are the loudest voices saying it could be revealed in early summer and released around September.