The other, other laptop: New $199 Chromebooks a holiday hit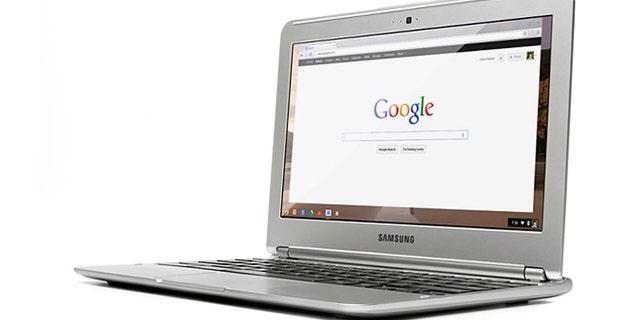 Tablets and laptops are great. You already know that.
What you might not know, is that Google has been quietly pushing something you might end up using a whole lot more than either of the above.
They're called Chromebooks. And like an iPad, they boot-up, sleep, and resume in seconds—no more walking around with your laptop lid open. They automatically update themselves, so there's no need for extra virus software. And they're stocked with keyboards, so you can be more productive.
But the real kicker: Chromebooks now start at $199. And they're good. Despite a bumpy start, they're popular enough that some models are even selling out at popular retailers like Best Buy. You'd be ill-advised to ignore them any longer. Here's why:
Versatility. my family reaches for our Chromebook more than the iPad. That's not a knock on the latter, which is admittedly better at leisure-time computing. It's just that we can get more done on the Chromebook, including play, work and heavy research. Sans keyboard, tablets still struggle with that trifecta.
What's more, newer Chromebooks feature HDMI outputs, making it easy to stream all those great web videos to your TV.
Instant-on. Chromebooks are the fastest booting machines I've ever used. And once on, they hibernate and resume in a second or two. In that sense, they're like a poor man's MacBook Air. But the comparisons don't stop there.
The new Samsung Chromebook looks an awful like a Macbook Air: It's ultra thin, and super lightweight. That's because it's plastic, of course, rather than titanium. But they're a fifth of the price for a comparable web experience.
Dispensable. I've never treated a computer with as little regard as I treat my Chromebook -- not because I dislike it but because it's cheap, so it can be easily replaced. Secondly, since everything I do on is saved in the cloud, I don't have to worry if something happens to my hard drive. There isn't one.
In that sense, Chromebooks aren't really things or devices that need to be protected. They're just one of many available windows into the wonderful world of the Internet, provided that's where you do most of your computing.
Long-lasting. I'm rarely required to charge my Chromebook. When used in short bursts, it can go several days without a charge. No, it's not as long-lasting as a Kindle or an iPad. But a lot more so than smartphones and traditional laptops, which makes it easy to complete a quick online task and forget about it.
The only exception to that is the new Acer C7 Chromebook. At $199, it still comes highly recommended and is a bit faster than the new $250 Samsung Chromebook. But with a battery life of just 3.5 hours, you'll need to keep a charger handy.
Cut-rate affordability. While the $200 starting price of entry Chromebooks is certainly the draw, it's not why they come recommended. In fact, using a Chromebook feels a lot like using a $600-800 computer.
The keyboards and trackpads are better than expected. The HD screens are more than adequate. And although loaded with power-saving processors, they feel fast and responsive, especially in stop-and-go situations. In that sense, buy one and you'll feel like you're getting more than you paid for, especially with the hassle-free and web-centric operating system.
That said, Chromebooks aren't "for everyone," as Google claims. If you're like my mother-in-law -- still somewhat intimidated by keyboards and mice -- stick with an iPad. You'll get a lot more use out of the Internet that way.
Second, if you're someone who relies heavily on software like Photoshop, Final Cut, iPhoto, or other specialized programs, don't expect to use a Chromebook as your primary computer.
But for most people, Chromebooks are a great secondary computer. All three recent models, ranging in price from $200-450 come highly recommended. You really can't go wrong.
About the author: Blake Snow is a writer-for-hire, technology critic, and content developer from Utah. He first book, Finding Offline Balance in an Online World, is due next year.