Teeing off with the first smart golf club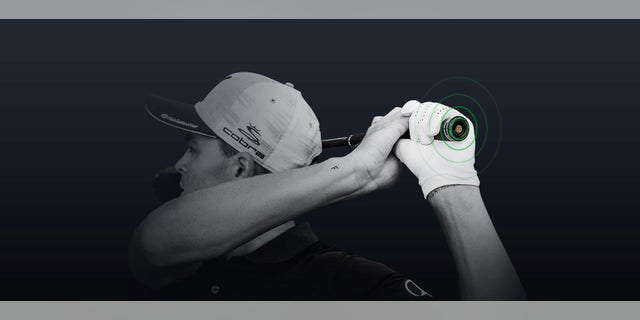 Sports data is not just for the pros anymore. Weekend warriors and aspiring athletes alike are tapping into smart footballs, basketballs, and data-rich golf lessons to improve their game.
Now Arccos Golf, a startup led by Ivy-league grads and avid golfers, has teamed up with Cobra Golf to introduce the first smart golf club.
The golf club maker's King LTD Driver debuts Friday. It's the first of three different drivers all featuring the Cobra Connect feature: an embedded sensor that pairs with a free app on iOS or Android smartphones.
Arccos claims it has mapped some 40,000 global golf courses so your phone's GPS will likely identify the course you're on and the app will then serve as a range finder, and after studying the data, it may become a club selector.
"The reality is, people don't know exactly how they're playing the game," notes Mike Yagley, director of innovation, research and testing at Cobra Golf. "They don't know how often they use a club, or how far they hit a golf ball or they hit it to the right. The more data you can give someone so they understand how they play the game…the more you're aware of where your ball is going, the better you can be."
WEARABLE TRANSLATION DEVICE PROMISES A SCIENCE-FICTION FUTURE, ALMOST
In addition to keeping track of your length off the tee, the new clubs feature social sharing and gamification options.
The three Cobra driver models will all ship with the data tracking system as standard, and Yagley says the embedded sensors, the size of a watch battery, will not affect a player's swing or the cost.
Arccos 360: New add-on sensors for any club
The Cobra club launch comes as Arccos has teed off sales of its newest add-on sensors—the Arccos 360. The sensors easily screw into the end of any golf club's grip.
They are then paired with a free app for iOS or Android smartphones. Each club must be identified so that the app knows which club is paired with which sensor.
So how well does the tech work?
For this article, both a Cobra F7 Driver with Connect and the Arccos 360 add-on sensors were tested on course. Setup was a breeze for all clubs, and downloading the app and using the camera to sync the sensor with an iPhone took very little time.
Users need to make sure the app can access location and microphone. Both are key for recognizing where you are on a course—and the sound helps confirm you struck the ball and didn't take a practice stroke.
THE CRITICS HAVE SPOKEN: SNAPCHAT'S GLASSES ARE A HIT
The 360 sensors come in a 14-pack, one for each club in the bag, plus you can purchase an extra putter sensor for players wavering between two putters. It puts them to the test for empirically seeing which one you play better with.
The sensors can tell you've taken a full swing, the phone's mic confirms you made contact, and the GPS tracks you to where you set up and take your next shot.
The sensors did not register any erroneous strokes on this outing even if clubs banged together in the bag or carrying multiple clubs for an approach or bunker shot. There's no dongle or anything to touch before swinging.
Aside from a dead battery, the only hitch for some golfers is the requirement to carry the phone in a pocket to register strokes. The sensors will keep collecting data in airplane mode and Arccos officials say wearables like the Apple Watch Series 2 will eventually eliminate the need to carry your phone.
EHUD BARAK WANTS TO REVOLUTIONIZE EMERGENCY SERVICES WITH STARTUP REPORTY
The Cobra Driver data was useful to see the dispersion of tee shots, as well as the range in distance and fairways hit. Perhaps the most interesting revelations came from looking at which clubs were used most often, most efficiently, and seeing precisely how far each one carried.
The app and web dashboard break down the stats into driving, approach, chipping, sand game and putting so golfers can see their strengths and weaknesses.
Arccos CEO and cofounder Sal Syed claims this type of data helped him improve from a seven handicap to scratch. "If you have data, it's hard to dispute it," he says. "It makes a huge difference when you know how far your club goes."
Syed loves golf, and says crunching the numbers will help players concentrate on the right areas for practice and to make better on-course decisions.
"Every time you play golf you make decisions on data you have, but often it's not good data," he says. "The more accurate the data is in your head, the better decision you make."