Sweet chariot: Arizona man's love for paralyzed wife makes him king of custom wheelchairs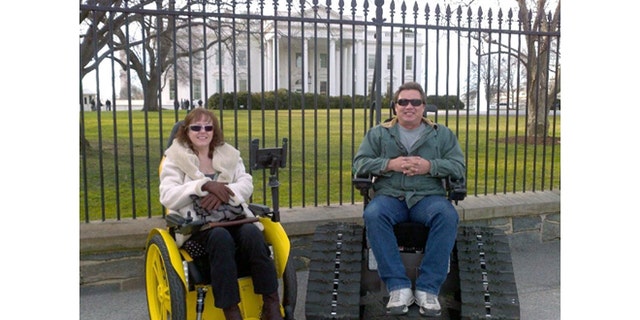 NEWYou can now listen to Fox News articles!
When an auto accident left Liz Soden paralyzed, she told her then-fiance to leave her. He proposed instead, and then disappeared into the garage and began a lifelong quest to build a better wheelchair.
Actually, calling the creations Brad Soden turns out of his Arizona garage "wheelchairs" doesn't do them justice. There's the Tank Chair, with half-track treads that allow it to move through sand or ice. Another chair can carry Liz Soden at speeds of up to 30 miles per hour and still another has a .50-caliber gun mounted on it. Those vehicles are a long way from the prototype Soden made - a modified golf cart - so his wife could zoom down the aisle and then mingle with guests at their wedding in March, 2000.
"Most of the time, when you are in a wheelchair, you are put someplace and people have to come to you," Liz Soden said. "But with the golf cart, I was able to move around and see everyone. I wasn't stuck in one place."
The golf cart was only the beginning for Brad Soden, a volunteer firefighter who was unhurt in the accident that nearly cost Liz her mobility, but didn't.
"We ended up walking away from it, but she ended up paralyzed," he said, referring to the three sons from a prior relationship who were in the car. "Between the two of us, we have five kids. We are a very active family. We go camping a lot. After she got hurt, we tried with the wheelchair and to keep everything as normal as we could."
Since their marriage, it seems every time Liz runs into a barrier, Brad heads for the garage and starts tinkering. On a family camping trip in 2005, he realized that the golf cart wasn't enough.
"We were out there one day and a herd of elk came through the campgrounds," Brad Soden recalled. "We tried to get her in the chair and get her out with the kids, and the chair kept getting stuck. She was crying, saying, 'Just go on without me,' and I just found that unacceptable. So I told her I would build her something."
Without any background in engineering or physics, Brad set out to design a better wheelchair for Liz. One that would provide no limits.
"I did not [have any experience]. What I did was, with my concept, I went around to a lot of people and the first thing they asked me is if I was an electrical engineer," Soden recalled.
"I'm just a dumb ol' hillbilly, but I wasn't going to take no for answer so when a lot of people turned me down...it didn't stop me. I just kept working at it."
Soden began devouring books on electrical engineering, and he began tinkering.
"I made my first Tank Chair in 2007," Soden said. "And I basically pushed the limits on what you can do with electricity. Started a lot of fires, met a lot of resistance. But from what I learned, with the applied science, we've done some pretty cool things."
The original Tank Chair, an off-road wheelchair that easily goes over any terrain—from snow to mud—featured rubber tank treads stretched over wheels and two high-torque electric motors. Later that year, the family visited the Grand Canyon, and Brad took Liz to the North Rim for her first "hike" since the accident.
"She just had this big, million- jumbo-watt smile," he recalled. "She got to go on a hike with her two little girls side by side. She got to go by herself. It was freedom that she had not had since the accident. I got to sit at the camp with the boys and I could watch go off, and she got to enjoy herself."
Liz said the trip showed her that she never had to be immobilized, as long as she had Brad for a husband.
"The freedom was just…awesome," she said. "It was like I was handed my legs back again.
"[Prior to the accident,] we were always camping and being outside and being a mom with five kids, I would set up the camp," she said. "After the accident, I got put next to the fire and everyone else went off and did everything. I tried so hard not to cry. The kids wanted to go on hike and I couldn't go with them."
Still, the Tank Chair had some limitations—mainly that she couldn't use in indoors. So Brad then set out to build a tricked-out electric wheelchair. His Speedster is outfitted with motorcycle tires and can top out at 30 miles per hour. Its battery can hold a 10-day charge.
When their home was vandalized, Brad made sure his wife never had to feel helpless.
"We called the police and the dispatcher asked if anyone got hurt. I said no and she gave me a number to call to file an incident report," Brad recalled. ""I said, 'Here's a thought, how about you send a police officer out and I dunno, dust for prints? At least try to look for somebody.' She said, 'Sorry, we don't have the manpower for that.'"
"I thought that was wrong. So I said I would handle it myself. I spent a whole weekend in the garage, took a .50-caliber [Browning machine gun] and put it on a Tank Chair chassis.
"I unloaded [the gun] and had my 7-year-old son with cameras from inside the house to operate it and I was sitting in my front yard with my hat on and my beer. Then I moved and my son moved the chair and mirrored me. The whole precinct showed up on our block. Cop cars filled the entire cul-de-sac."
These days, whenever Liz is out and about in one of her custom chairs, people stop and ask questions as to where they could get one. That led the couple to start the Liz Soden Foundation in 2011, to provide Tank Chairs or Speedsters to needy paralyzed folks, as well as police officers, firefighters and soldiers injured in the line of duty. It cost's an average of $7500 to produce each chair.
Bill Weigt, an investigator for the Peoria, Ariz., police department, who was paralyzed after being shot in the chest while chasing a murder suspect in 2005 got a one-of-a-kind "Cop Chair" which was outfitted with lights, a siren, and iPad interface.
"It's amazing. Words can't even describe it," Weigt said to local media at the time. "It still blows me away that it's been so long and people still want to do nice things, which is amazing."
Another recipient, from the Sodens' hometown of Parker, Jessie Schifo, 29, received his chair three months ago after being paralyzed for 11 years.
"I've wanted one ever since Brad told me he was building them," he said. "Before I even saw a sketch.
"It gives me the ability to things I haven't been able to do for a long time," he also said, adding that he recently rode the Tank Chair through four feet of snow at a ski resort near Flagstaff, Ariz., and was able to attend an off-road race in the Las Vegas desert.
"It gives you a warm feeling to be able to have the freedom to do all things you want again," he said.