SpaceX CEO Elon Musk teases launch of 'world's most powerful rocket'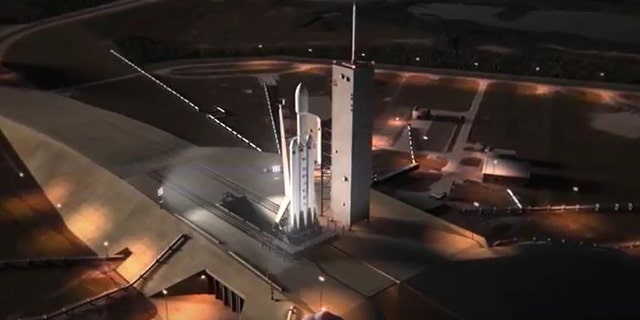 SpaceX CEO Elon Musk teased the debut launch of the company's Falcon Heavy rocket in an Instagram post.
The posted video is a shorter version of one SpaceX published a while ago, outling how the Falcon Heavy would look and react when firing its engines.
"[Falcon Heavy] is twice the thrust of the next largest rocket currently flying and ~2/3 thrust of the Saturn V moon rocket," Musk wrote in the post.
NASA SHOWS OFF BATMOBILE-LIKE MARS ROVER PROTOTYPE
The video starts with the Falcon Heavy, which has three boosters, leaving the launchpad prior to the separation process. It ends with two of the boosters coming back to Earth, with the third landing later.
By comparison, the Space Shuttle had two Solid Rocket Boosters, carrying "more than one million pounds of solid propellant," according to NASA.
The ultimate purpose of the Falcon Heavy is "to carry humans into space and restores the possibility of flying missions with crew to the Moon or Mars," according to SpaceX's website.
Though there is much excitement about the Falcon Heavy, Musk cautioned that a "[l]ot that can go wrong in the November launch." SpaceX has experienced a number of setbacks with its Falcon 9 rocket in recent months, as it tries to perfect the idea of reusable rockets in hopes of cutting the cost of space flight considerably.
In September 2016, a Falcon 9 exploded during the propellant filling part of the trip, causing the destruction of a $200 million communications satellite it was scheduled to launch. After identifying the cause of the explosion, SpaceX returned to flights four months later, including the first ever relaunch and landing of a used orbital rocket in March 2017.
NASA SEARCHES FOR PLANETARY PROTECTION OFFICER TO SAVE EARTH FROM ALIEN CONTAMINATION
Despite the setbacks, SpaceX has become one of the country's most valuable private companies. In July, The Wall Street Journal reported SpaceX had raised $350 million, valuing the company at $21 billion.
On its website, SpaceX describes the Falcon Heavy as "the most powerful operational rocket in the world by a factor of two." It is designed to lift more than twice the payload of the next closest vehicle, the Delta IV Heavy, with SpaceX claiming it will do so at "one-third the cost."