See a Deal, Share a Deal With the Black Flyday App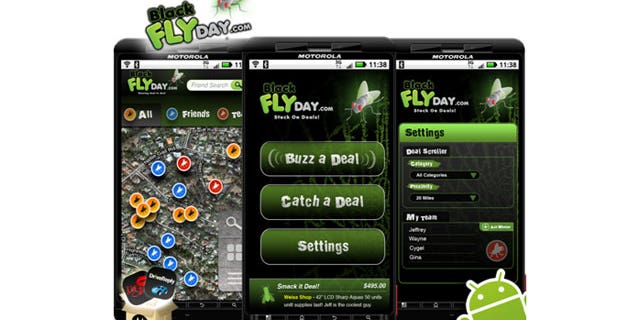 NEWYou can now listen to Fox News articles!
Shoppers of the world, unite!
The day savers salivate over (and your wallet dreads) is fast approaching: Black Friday is nearly here. Go into the day armed and ready with the knowledge of bargains at your finger tips, thanks to the new Black Flyday app.
Black Flyday enlists the help of your Facebook friends to get real-time updates on daily Black Friday deals going on in your area, so you can go straight to the store without wasting time searching the circulars or running back and forth to compare prices.
"In this stumbling economy, the idea of deal hunting has been reborn in daily deal offering from innovative companies like Groupon, Monster Offers and others," said Wayne Irving II, creator of Black Flyday and Iconosys CEO. "Tiny victories are won every split second as another shopper lands the deal that gets them what they wanted."
You can search for a particular item or browse the revolving ticker at the bottom of the app to see the savings others have discovered. Using GPS, the app locates the hottest deals -- based on item, price and location -- within a certain geographical radius, directing you on a map to the store.
And conveniently with a touch of a single button on your smartphone, you can "buzz" and share the bargains you found with a pre-set group of fellow bargain hunters on Facebook called your "Team Members," or share with all of your friends by posting onto your wall.
By clicking on the map at the location of other "Black Fly'ers," you can see the deals that the other team members are excited about.
Black Flyday, for Android OS smartphones and tablets, is free of charge through Black Friday, or can be purchased for $9.99 thereafter for full lifetime license.
"We think that this Black Flyday app will pay for itself countless times over, by putting daily deal-type shopping control directly in your hands. You don't have to guess where the deals might be and lose precious time because you were in the wrong place and got stuck talking to that salesperson that spotted you, sunk his teeth into your purse or wallet and wouldn't let go," Irving said.
"Our new and improved app puts you, the shopper, in charge."
Download Black Flyday: Iconsys website.
Here's how it works: