Sea lion takes selfie stick for a swim in cool video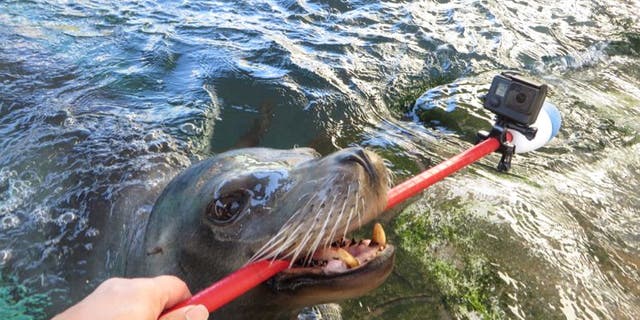 Even animals are getting in on the selfie stick craze – a video posted to YouTube by the Aquarium of the Pacific shows a sea lion taking an improvised selfie stick for a swim.
The stick brandished by sea lion Milo was made by aquarium volunteer Hugh Ryono. " I just thought it would be neat to see a swimming sea lion from the same selfie stick perspective that surfers and other action sports athletes use to give a 'you are there' feel to their shots," he explained, in a blog post.
Related: Sickly sea lion pup found sleeping in California restaurant
An avid photographer and videographer, Ryono used an old aquarium target pole and mounted a GoPro camera on the end where the float is. "The float actually neutralized the weight of the camera and mount which made it easy for a sea lion to hold while swimming underwater," he wrote. "I had Milo try out the rig during an early morning training session. After checking out the feel of the selfie stick Milo proceeded to take the camera on a quick but exciting circuit of the front pool of the exhibit."
The result is a short but fascinating video of Milo's trip around the pool.
Related: Why 10,000-plus sharks are hanging out in Florida waters
"One of the major tasks for our animal caretakers is providing enrichment for our animals," an Aquarium of the Pacific spokeswoman told FoxNews.com, via email. "This can include toys, puzzles, and any other activities or items that are mentally stimulating and keep them physically active."