Samsung unveils Galaxy Note8 at New York event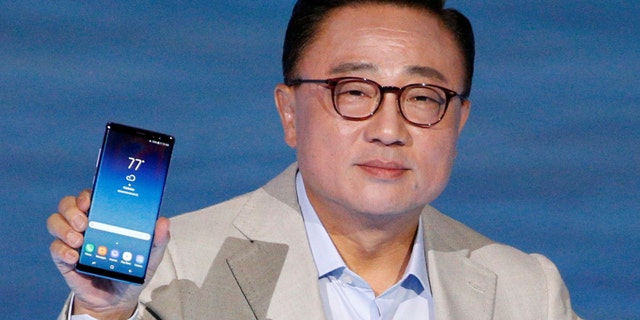 NEWYou can now listen to Fox News articles!
Samsung unveiled its eagerly-anticipated Galaxy Note8 device, the successor to its ill-fated Note7, at a glitzy event in New York on Wednesday.
Last year the South Korean tech giant's launch of the Note7 smartphone quickly degenerated into a PR nightmare of epic proportions. Forced to end production of the troubled phone following users' reports that the phones were catching fire or exploding, Samsung has been working hard to rebuild its smartphone brand.
"None of us will ever forget what happened last year, I know I won't," said D.J. Koh, president of Samsung's Mobile Communications business, at the start of the Wednesday's Unpacked event at Park Avenue Armory. "I will never forget how many millions of Note loyalists stuck with us – let me express my deepest gratitude to the incredible Note community around the world."
SAMSUNG'S GALAXY NOTE 9 MAY DOUBLE AS A BREATHALYZER
As expected the Note8 has a 6.3-inch display, the largest screen on a Note device. Like the Samsung S8 and S8+ phones that were introduced earlier this year, the Note8 has an Infinity Display that curves at the edges of the phone.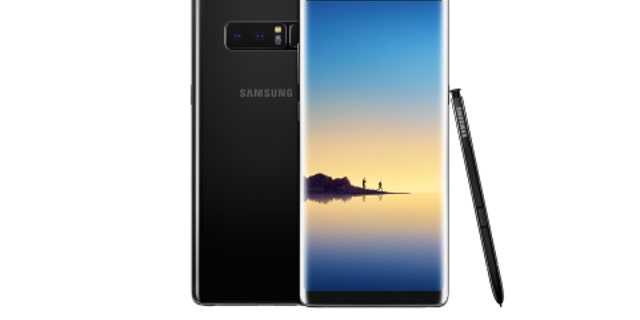 "With its signature large-screen display, the Note8 allows you to bring big ideas to life," explained Justin Denison, Samsung's senior vice president of product strategy, during the launch event.
The Note8 is also the first Samsung phone to have dual cameras, with two 12 MP cameras on the rear of the device. One camera is wide angle and the other is telephoto, with two times optical zoom. Both cameras have Optical Image Stabilization and Note8 has a Live Focus feature that lets users control depth of field.
HERE'S HOW GALAXY NOTE 8'S CAMERA WILL BEAT THE IPHONE
Like other phones in the Note series, the Note8 comes with an S Pen stylus, which has been enhanced with a finer tip and improved pressure sensitivity.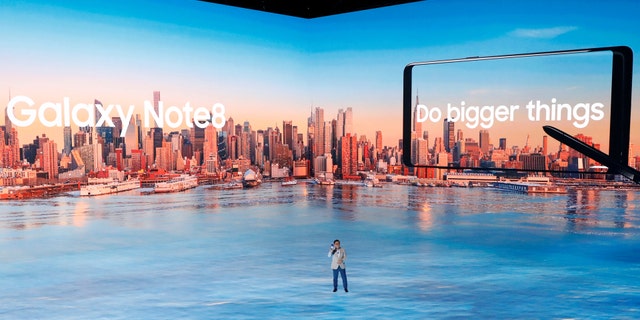 The Note8 also comes with 6GB of RAM, a 10 nanometer processor and 64GB of storage and expandable memory, up to 256GB.
For security, the Note8 offers both biometric and iris scanning. The company's Knox security technology is built into both the phone's hardware and software, with a secure folder for keeping personal and professional information separate.
FIRST LOOK REVIEW: SAMSUNG GALAXY S8
In the U.S. the phone will be offered in midnight black and orchid black for carrier and Unlocked by Samsung versions. Stores including AT&T, Cricket Wireless, Sprint, T-Mobile, U.S. Cellular and Verizon Wireless will carry the Note8 starting Sept. 15, with pre-orders beginning Aug. 24. The Note8 will also be available at Samsung.com, Best Buy and Target.
The Note8 will cost $960 on Verizon, $950 on AT&T and $930 on T-Mobile.
Samsung first launched its Note series in 2011. Jan Dawson, chief analyst at Jackdaw Research, believes that there are plenty of Note loyalists ready to get their hands on the Note8.
APPLE UNVEILS NEW IPHONES: THE IPHONE 7 AND 7 PLUS
"The new Note8 launches into a market with significant pent-up demand from loyal Note users who had to forgo last year's upgrade cycle because of the recall," he explained, in a note. "Given that Note users tend to be a pretty loyal bunch given the stylus and other unique features, the combination of pent-up demand and that loyalty means this should be a really solid upgrade cycle for Samsung."
However, the Note8 will face stiff competition from Apple, which is expected to launch its iPhone 8 next month. "Samsung should see strong upgrade activity from among its base of Note customers, and it may win some converts from other Android vendors now that its massive screen comes in a smaller package," wrote Dawson. "But it's less likely to win share from iPhone, given that Apple will announce its biggest upgrades in several years before this device goes on retail sale in the US."
Follow James Rogers on Twitter @jamesjrogers
This story has been updated with pricing information from the carriers.