Pencils survive and sales thrive, even in a digital age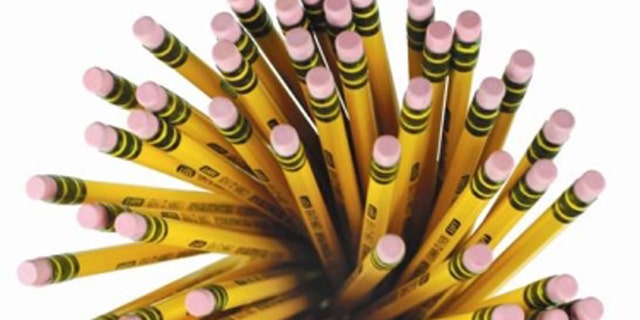 In spite of the consumer love affair with high-tech tablets and other digital devices, people are still enthusiastic about making their mark using low-tech, graphite-lead pencils. That gave pencil manufacturers something to write home about on March 30 -- National Pencil Day.
Pencil sales in the United States increased 6.8 percent last year, according to a study by the NPD Group. A major beneficiary of this low-tech uptick is Dixon Ticonderoga, the world's largest pencil manufacturer. Each year, they produce an estimated 1.5 billion pencils, the bulk of which— about 1 billion—are those beloved yellow No. 2 pencils that are near and dear to the hearts of standardized test-takers around the world.
Placed point-to-eraser, those 1 billion No. 2s would circle the globe nearly five times.
7 Cool Things You Didn't Know About Pencils
"It far outshines the others," Kristen-Lee Derstein, Dixon Ticonderoga's national marketing manager, told BusinessNewsDaily.
Pencil sales, in fact, have been growing even in a down economy, Derstein said. Some of the growth can be attributed to aback-to-basics movement during tough economic times. Unlike pricey iPads and other tablets and electronic devices, a new pencil is a guilt-free indulgence that provides high quality at a low cost.
"Wood case pencils are trending up at a slightly higher rate than mechanical pencils in the marketplace," said Jason Shockley, communications director for Office Depot, an office supplier. "Even wood case accessories like sharpeners and erasers are trending up."
But the main driver of growth may well be the pencil's everyday utility and ubiquity, Derstein said.
"Everybody still needs a pencil," she said. "It's a staple in education and the first thing we write with. A pencil you can use all the time."
They're also user-friendly.
"We think about people chewing their pencils," Derstein said.
As a result, all their products are tested to make sure that they are completely nontoxic, she said. But a common misconception is that what we call the pencil lead is actually made from lead, which can cause lead poisoning. In fact, she said, lead has never been used in pencils. It's always been a graphite compound.
"The first pencil was a lump of graphite," she said.
Over the years, we've also developed an emotional relationship with pencils. Roald Dahl, author of "Charlie and the Chocolate Factory," was so attached that he couldn't begin writing until he had sharpened six No. 2 pencils. He was not unique in his attachment.
"We get hundreds of emails each year from people who love their pencils," said Derstein.
Copyright 2012 BusinessNewsDaily, a TechMediaNetwork company. All rights reserved. This material may not be published, broadcast, rewritten or redistributed.