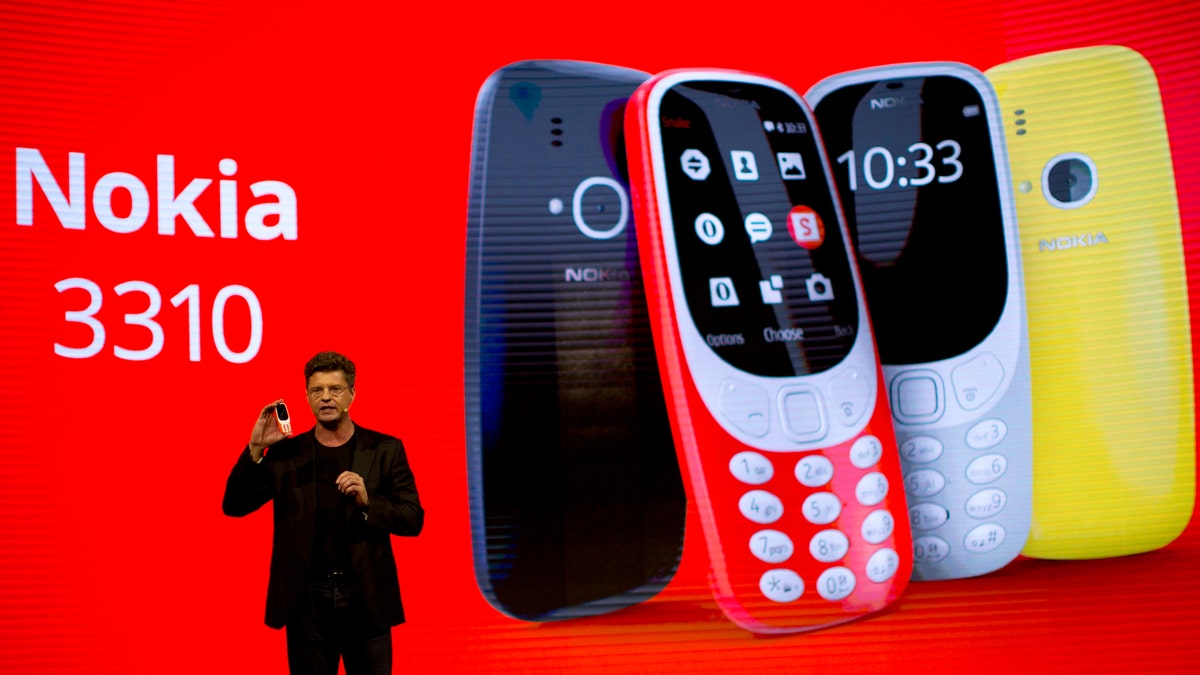 The Nokia brand returned with a bang at Mobile World Congress (MWC) while Samsung offered a teaser of its upcoming Galaxy S8.
The major technology conference, which is underway in Barcelona, is where the biggest mobile device companies – sans Apple – make some of the biggest announcements for the coming year. A number of
The one big exception this year was Samsung, which did not announce -- as it typically does – its next-gen flagship phone at MWC. But it did offer a teaser called "Unbox your phone," which seems to imply that Samsung will minimize the "boxy" borders (aka, bezels, or borders) on the Galaxy S8's display at the top and bottom of the device.
APPLE EYEING REDESIGNED IPAD, ANALYST SAYS
The Galaxy S8 will be announced on March 29, the company said Sunday.
NOKIA 3310 REBORN
The iconic Nokia brand made a splash by reentering the phone fray with a bevy of new models. Most notably the Nokia 3310, a barebones cell phone originally introduced in 2000 and mostly known for being practically indestructible and racking up sales of 126 million worldwide.
The famous phone is being released by HMD Global, which now has the rights to make Nokia phones.
GALAXY S8 VS. 'IPHONE 8': SAMSUNG GETS FIRST CRACK AT NEXT-GEN PHONE
The new 3310 -- which some observers have called a PR stunt -- has been updated with a bigger screen, a more svelte/lightweight design, and lots of colors to choose from. The phone also features an updated version of the Snake game that was on the original phone.
"The launch of the new re-imagined Nokia 3310 featurephone threatens to overshadow HMD's modern smartphones," said Ian Fogg, an analyst at IHS Markit, in a research note. "HMD is a start-up company, with a start-up culture, despite its use of the established Nokia brand. The structure of this new Nokia operation is closer to the model of Apple than it is to the Nokia of old," Fogg wrote.
In addition to the 3310, the Nokia 3, Nokia 5, and Nokia 6 smartphones also made their debut at MWC. Unlike the 3310, these are contemporary Android smartphones with large high-resolution displays ranging up to 5.5 inches, the latest camera tech, and fast Qualcomm processors.
APPLE'S IPHONE 'X' MIGHT COST AS MUCH AS A MACBOOK
The Nokia 6 starts at 229 Euros ($242) and the Nokia 3310 is priced at 49 euros ($52).
SAMSUNG GETS TABLET RELIGION
Samsung held nothing back, however, when announcing new tablets, the Galaxy 9.7-inch Tab S3 and two Galaxy Book tablets with 10.6-inch and 12-inch displays.
The Android-based Tab S3 comes with quad speakers, the latest Qualcomm quad-core processors, Samsung's S Pen stylus, and a high-resolution AMOLED (active-matrix organic light-emitting diode) display.
WHAT TO EXPECT WITH APPLE'S 2017 IPHONE 'X'
The Samsung Galaxy Book tablets run Windows 10 and integrate laptop-class Intel processors. The larger 12-inch Galaxy Book uses an AMOLED display, a 7th Gen Intel Core i5 processor, and a 128GB or 256GB solid-state drive.
U.S pricing was not given.
LG ANNOUNCES THE G6, GOES ALMOST BORDERLESS
The LG G6 is a reset after the company failed to win over consumers to its highly-modular G5, which allowed you to plug in add-ons to like a snap-on camera accessory and speakers.
2017 WILL BE THE YEAR OF ANDROID APPS ON LAPTOPS
"Modularity failed for LG, now it's all about ergonomics with the new G6," said Wayne Lam, an analyst at IHS Markit, in a research note.
The LG G6, which jettisons the modular strategy, sports a large 5.7-inch display with almost no bezels (borders) top or bottom. A trending smartphone design that should also show up in the Galaxy S8 and Apple's 2017 iPhone.
The G6 is also the first smartphone brand outside of Google to offer Google Assistant, a well-received artificial intelligence technology like Apple's Siri.
No pricing was announced.