Military to Test Floating Seaport During Culebra Koa Exercise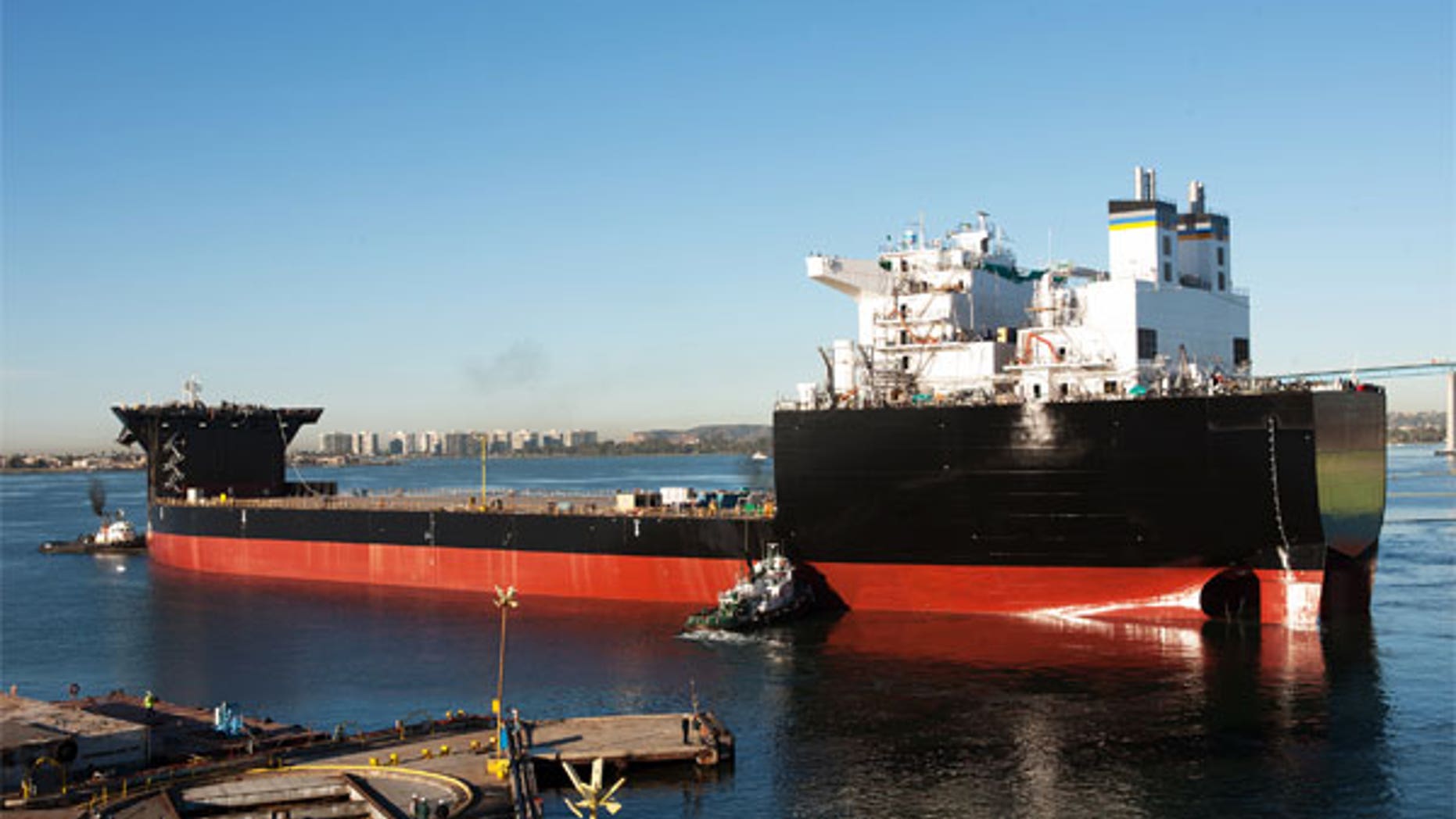 Just as aircraft carriers are floating U.S. air bases, a new approach to basing forces offshore will be tested this month off Oahu.
Thousands of sailors and Marines, but also Army and Air Force personnel, will participate in exercise Culebra Koa, May 18-21, to practice large-scale expedition- ary operations.
The centerpiece of the test is an unlikely Navy vessel: the 785-foot USNS Montford Point, a "mobile landing platform" based on an existing commercial design, an Alaska-class crude oil carrier, but with the center section removed to provide a submersible deck.
Described as a floating port at sea, the Montford Point has the ability to mate up with supply ships to offload equipment. Material can be moved across the Montford Point's deck to big waiting hovercraft known as "landing craft, air cushion," or LCACs, for delivery ashore.
Participating ships also will include the helicopter carrier USS Essex, amphibious ships USS Rushmore and USS Anchorage, the Pearl Harbor-based cruiser USS Port Royal, the cargo ship USNS Dahl and the joint high-speed vessel USNS Millinocket, Navy officials said.
"Sea-basing provides the means to generate Marine Corps forward presence and facilitates rapid response to emerging crises without the need to establish bases ashore," Marine Corps Lt. Gen. Kenneth Glueck said in a December report.
The Montford Point was launched in 2012. Last July the ship practiced docking and launching with 87-foot hovercraft and 26-foot Marine Corps amphibious assault vehicles off San Diego.
In late October, meanwhile, the Montford Point linked up with the cargo ship USNS Dahl to practice humanitarian assistance operations.
"In Culebra Koa we'll be expanding to mate different kinds of ships to it," said Lt. Russ Wolfkiel, a spokesman for Expeditionary Strike Group 3 in San Diego.
Besides the Dahl, the joint high-speed vessel Millinocket will mesh up with the Montford Point, Wolfkiel said. The exercise will include practice supply deliveries to Marine Corps Training Area Bellows by hovercraft, he said.
The word "Culebra" pays tribute to the first fleet landing exercises conducted by the Navy and Marine Corps between 1935 and 1941 on the beaches of Culebra Island off Puerto Rico, Wolfkiel said, while "koa" means warrior in Hawaiian.
Navy cargo ships are deep-draft vessels, but in the case of littoral, or nearshore, waters or a natural disaster such as an earthquake, a port might not be available.
"After (Marines) go in and take the shore, now you've got to move in material to support the war effort, or, in the case of (humanitarian assistance), how do you get that material ashore if your ports are not up to speed?" Wolfkiel said.
That's where sea-basing comes in. A Marine Corps artist's rendering of a big sea-basing employment shows two mobile landing platforms tied up with supply ships; five other amphibious ships operating nearby; helicopters and tilt-rotor Ospreys ferrying troops, artillery and other equipment by air; and an F-35 fighter zooming overhead.
Culebra Koa will demonstrate the "sea-based rapid buildup of combat power ashore," the Navy said.
An attractive feature of sea-basing is that it offers an overseas base of operation located close to or in a crisis area that remains under the sovereignty of the United States, noted a 2011 analysis of sea-basing in Naval War College Review.
Sea-basing can provide deterrence effects and sustained security cooperation and humanitarian relief.
"All of this can be achieved without long-term violation of anyone else's sovereign territory under international law," the report said.