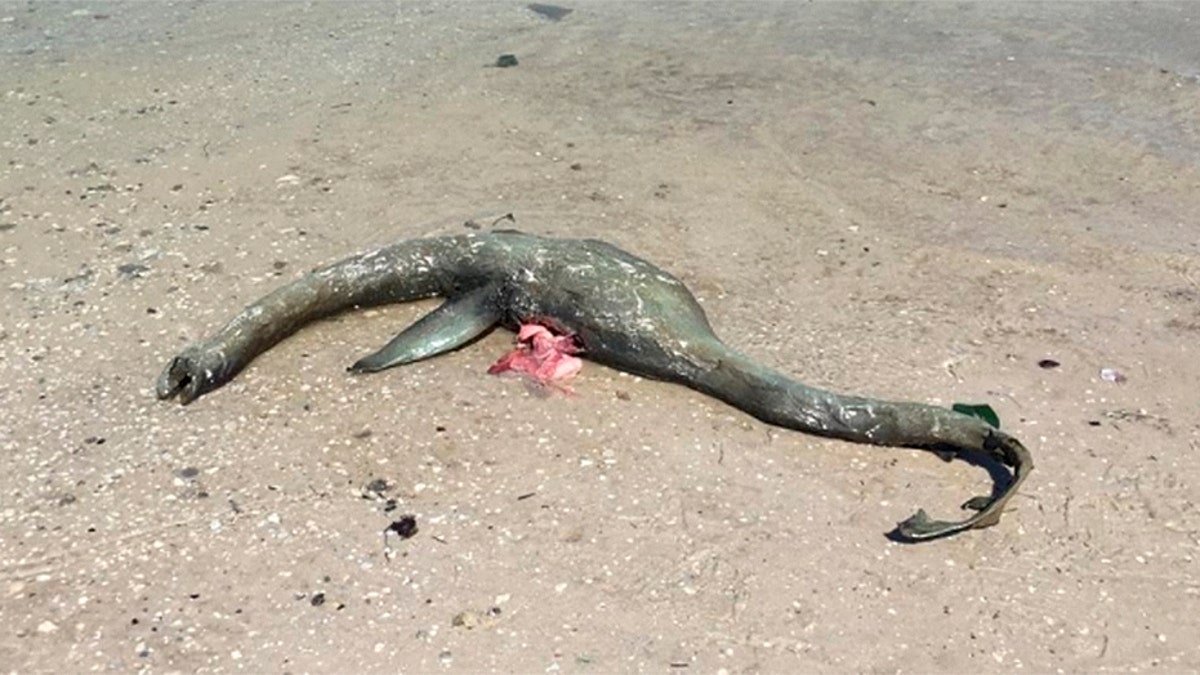 Shocking pictures of a Loch Ness Monster-type beast found on a U.S. beach have sparked talk Nessie could have moved stateside.
The mystery creature was reportedly found on Wolf Island, Georgia, by a father and son who were out on a boat trip, The Sun reported.
Father Jeff Warren spotted what he said he thought was a dead seal lying in the surf, according to First Coast News.
But upon closer inspection, Warren said it became clear he had no idea what the animal was.
Images show the supposed carcass, which Warren said was being eaten by birds when he arrived, lying in the sand.
It appears to have a long tail and two fins, as well as a long neck and a tiny head — features usually associated with Nessie in popular culture.
The creature was reportedly about 1 or 2 meters in length.
Experts have so far been unable to positively identify the animal from the photos and video footage.
Dan Ash, director of the Fish and Wildlife Service, told Action News Jax that some sea animals have a way of decomposing where they can resemble a prehistoric creature.
He said a 9-meter basking shark can end up looking like it had a long neck and tiny head.
Alternatively, the "creature" could also be a simple hoax.
Warren said he was later told about a local legend named "Alty", or Altahama — Georgia's own version of the Loch Ness monster.
The creature is used in advertisements to attract people to the area.
There are legends of monsters living in a number of places around the world, including Morag, in Loch Morar, Scotland; Lagarfljot Worm, in Lagarfljot, Iceland; Ogopogo, in Canada's Okanagan Lake; and Lariosauro, in Lake Como, Italy.
This story originally appeared in news.com.au.