Lawmakers Defend F-22 Whistleblowers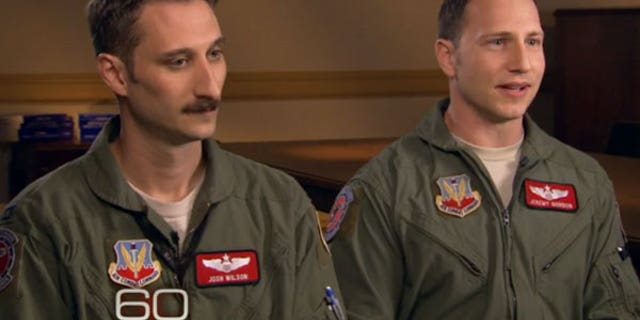 Two prominent lawmakers have sent a letter to Defense Secretary Chuck Hagel asking him to order the rapid completion of a nearly two-year long investigation into an Air National Guard pilot who publically spoke about safety concerns with the F-22 Raptor.
"We're two years down the line and the Inspector General's report has still not been issued," Sen. Mark Warner, D-Va., told reporters May 1.
Warner sent the letter along with Rep. Adam Kinzinger, R-Il., to help ensure that the two F-22 pilots that brought attention to the issue do not receive retaliation for speaking publically about oxygen problems with the aircraft.
Capt. Joshua Wilson and Maj. Jeremy Gordon, two F-22 pilots assigned to Langley Air Force Base, Va., appeared on CBS 60 Minutes in 2012 to describe chronic pilot health and safety concerns surrounding the F-22.
In particular, they cited problems with the fighter jet's oxygen system and said pilots at times had trouble breathing.
Warner and Kinzinger told reporters that Wilson's career has essentially been put in limbo as a result of his efforts to speak publically and correct the problems with the F-22.

"One pilot has borne financial and professional harm for stepping up and doing the right thing.
We think this sends a bad message to other men and women who serve. We want to have a culture where if people see something wrong they report it," Warner said. "If it (the inspector general's report) shows that these men were reprised against we want to make sure their records are clear."
Warner, who has been following the issue with Kinzinger for several years, said the two Air Guardsmen came forward publically after they had expressed privately within the chain of command concerns about the safety of the F-22.
Kinzinger said the F-22 oxygen problem is now corrected because of Wilson and Gordon.
"The problem has been mitigated because of the heroic actions of these two pilots," Kinzinger said.
Kinzinger specifically addressed the career problems experienced by Wilson following his public remarks, saying he lost his full-time job as an F-22 pilot on Air Combat Command orders.
Kinzinger said he hopes to see Wilson get back to flying status.
Warner referred to a temporary fix put in place by the Air Force wherein pilots were asked to breathe through a charcoal filter in order to breathe successfully.
"They were basically told to use charcoal filters which didn't work," Warner said.
Air Force officials told Military.com the oxygen problems with the F-22 have been repaired.
"Since September 2012, F-22 pilots have not experienced any hypoxia-like physiological events with an unknown cause," an Air Force official said.
The Air Force also said it is on schedule to complete the installation of an automatic backup oxygen system for the F-22 combat force by the end of this year. The remainder of the fleet will have their systems installed by May of 2015.
"For those aircraft with ABOS, to date there has not been an oxygen system malfunction during an operational or training mission that would have resulted in the activation of the system," an Air Force official said.
-- Kris Osborn can be reached at kris.osborn@monster.com