Last, Last, Last Minute Tech Christmas Gifts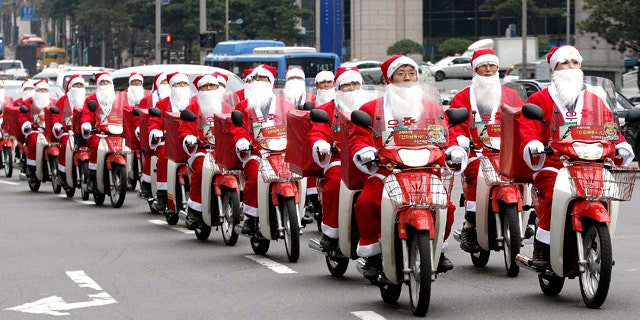 It's never too late to get your Christmas shopping done. You just have to know a few tricks to procure the right procrastinator's presents. Here are a few really last-minute suggestions.
Sending Out Cards
Those who think e-mailed greeting cards are tacky and impersonal certainly aren't going to like the latest twist in holiday cheer, text messages with graphics. Initially intended to spice up mundane ASCII text emoticons with goofy graphics, messaging company Zlango is taking advantage of the silly season to offer Santa and Christmas themed mini digital cards. The texts plus graphics have fun or flirty icons and are sent directly to the recipient's phone. No envelopes, and no stamps, but regular messaging charges do apply.
Much Music
How does $9.99 for 14 million songs sound? That's the price of a one-month subscription gift card to the online music service MOG. It's a great idea for snobby music lovers who--let's face it--were never going to play that Katy Perry CD you were planning to give them. With this gift card they can satisfy their own musical tastes from Frank Sinatra to Frank Zappa and even download songs to a mobile phone or music player. The tracks expire when the subscription does, but you can also purchase a two-month card for $19.99. Competing music service Rdio is also offering gift cards, including a $10 offer for 6 weeks of access to its service. Best of all for tardy shoppers, you don't have to wait for them to be mailed out; the MOG and Rdio cards are available at Target stores around the country (so you could pick them up on Saturday).
Gamers Get It
Hollywood may have turned out some duds this year (The Green Hornet, yikes), but there were plenty of good video game releases to fill the entertainment vacuum. For kids, my resident 9-year-old reviewer recommends Super Mario 3D Land ($39.99) for the Nintendo 3DS. She loves it and points out that if you don't like the 3D effect, it can be turned off.
For teens and up, there is one must-have title: The Elder Scrolls V: Skyrim. Available for Windows PCs ($49.99), the Xbox 360 and PlayStation 3 consoles ($59.99), Skyrim finally delivers on something video games have promised for years: a completely absorbing virtual fantasy world where you are the main character. In Skyrim you can mold that character to suit your desires, imbuing it with a variety of skills, super powers, and characteristics that you can mix and match. There's an epic fantasy-style plot, but you can ignore it and spend dozens of hours infiltrating secret guilds, exploring the countryside, and slaying monsters. One warning: the PlayStation version has some glitches.
A Box Instead of a TV
The big flat panels with streaming online video services like Netflix and Hulu Plus may make shoppers drool, but who can afford one as a gift? Instead of upgrading the entire TV, just get a set top box that can deliver all those services -- and more -- for a fraction of the price of new set. Among the dozen or so different streaming media players you'll see in electronics stores, the best is the Roku 2 XS. For just $89.99 you'll get over 330 video and media services, from free services like Pandora to special interest channels like "Trigger Talk" for gun enthusiasts. It even comes with a game controller and a free version of Angry Birds to play on the big screen.
Different Digital Cameras
Photos from an iPhone or simple point-and-shoot camera are fine for posting incriminating Facebook shots, but if you want to get some really good photos of your kids or of that incredible sunset, you need to use a real camera. That used to mean spending a lot--and learning a lot--to use a digital single lens reflex (DSLR) camera, but no more. There's a growing category of smaller, less technical but just as capable models called compact interchangeable lens cameras (or ILCs).
These models are a step up to more serious photography, with better sensors, optics, full manual control, and, as the name suggests, lots of lens options should it turn into a hobby. Two of the best models in this category are the Olympus PEN E-P3 ($899.99 with a 17mm lens package) and the Samsung NX200 ($899.99 with a 18-55mm i-Function lens). Olympus has a faster processor for quicker auto focusing and shooting better HD video. It also has a built-in flash, and can use some compatible Panasonic lenses. The Samsung NX200 boasts a larger APS-C size sensor (the type favored in full DSLRs) that delivers some excellent image quality and color accuracy, but it doesn't have the number of optional lenses or accessories as the Olympus model.
So now you have no excuse. There's a great last-minute tech gift available in every price range, and if you hurry, you might even make the cutoff for overnight shipping.