Is Facebook's Revamped Safety Center Good Enough?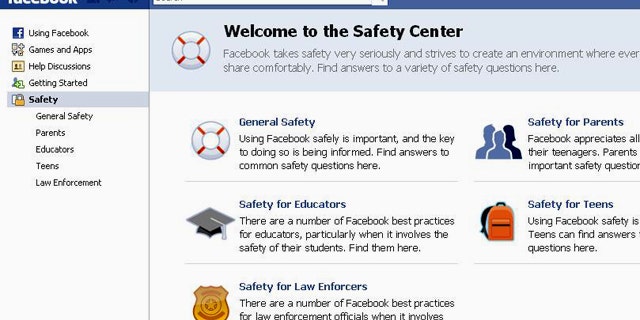 NEWYou can now listen to Fox News articles!
Facebook has announced an overhaul of its online safety measures that include the redesign of its abuse reporting system. But British users are concerned the new features still don't go far enough.
Facebook's "Safety Center" features new tools for parents, teachers, teens and law enforcement; it's the first major endeavor from the social networking site and its four-month-old global safety advisory board.
Some new features of the safety center include four times more content on staying safe, such as dealing with bullying online, an interactive portal and a simpler design. But the company has not announced the installation of a panic button on every page as British officials had urged it to do.
Facebook officials and members of Britain's Child Exploitation and Online Protection Center held a four-hour meeting in Washington. Facebook says it will improve cooperation with police and invest $7.7 million in education and awareness.
CEOP's Jim Gamble said the Web site did not agree to his demands at the meeting. But he felt Facebook was moving in the right direction.
"I am more optimistic than when I came. They are not saying, 'No,' that is very clear. But they were equally direct and they came with their own agenda. There is no doubt they are looking to improve their position around child safety and we recognize that. What I am looking for is turning words into action."
The showdown came after Facebook refused to include a panic button on its pages following the conviction of a serial rapist who used the site to meet an unsuspecting teenage girl. Peter Chapman posed as a young boy to lure 17-year-old Ashleigh Hall to her death in the North East.
Calls have since grown for the inclusion of the buttons -- which allow youngsters who feel threatened online to quickly contact a number of sources of help, like CEOP or anti-bullying help lines.
Politicians, police and anti-bullying groups are outraged that the online giant has so far ignored demands to include the system.
Facebook says its "comprehensive initiative" is designed to better protect its 23 million British users and to give them greater control over their safety online.
Director of policy Richard Allen told Sky News, "It's not just about a button. There needs to be a safety net, and each Web site does it in the way that works for them.
"There are bad people about and we want to get them off our site. And we are going to put CEOP messages right across our site.
"We know how to build Web sites," he added.