Iran touts new torpedo technology, test-fires domestically developed system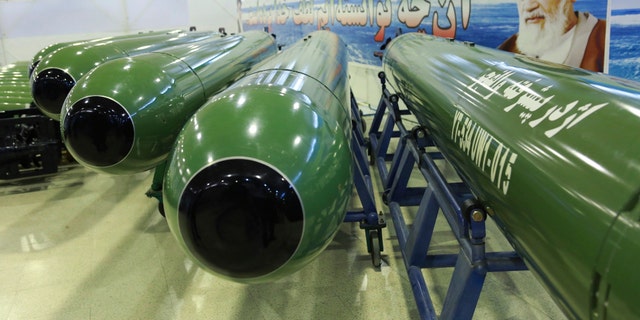 NEWYou can now listen to Fox News articles!
Iran's state TV says the country has successfully test-fired an advanced torpedo system.
The domestically developed torpedo system dubbed "ValFajr,"or dawn in Farsi, has a 485-pound warhead that can be used against heavy vessels. It can travel at high speeds and operate in deep or shallow waters.
Citing Iran's Defense Minister Brigadier General Hossein Dehghan, the country's Mehr News agency reports that the torpedo system contains "anti-deception" technology.
"What makes Valfajr torpedo stand apart from other similar products in the world is the short preparation time in the supporting and firing units; a characteristic which leads to a remarkable increase in tactical capability and a quick response from surface and subsurface combat units," said Dehghan during a Valfajr inauguration ceremony on Tuesday.
Related: Russia's small ships pack plenty of cruise missile heat
Navy Commander Habibollah Sayyari said that Valfajr improves the range of Iran's torpedo arsenal, according to the Mehr News Agency report, as well as offering more precision and explosive power.
Valfajr was originally unveiled in 2011 and the state TV report said Iran has opened a production line to mass-produce the torpedo. The report Tuesday did not give the range or say when the test took place.
Iran occasionally announces production of new weapons, which cannot be independently verified.
Since 1992, Iran has begun a military self-sufficiency program that produces weapons from mortars and torpedoes to missiles and jet fighters.
The Associated Press contributed to this report.