High tech ways to avoid traffic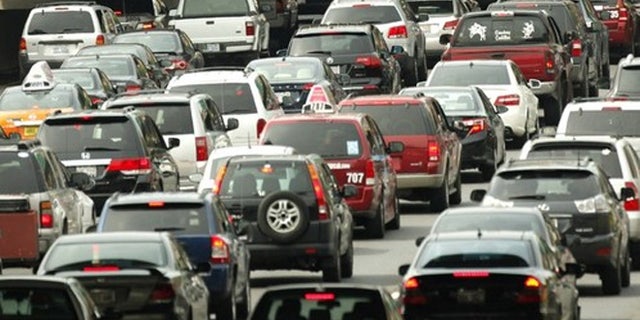 NEWYou can now listen to Fox News articles!
As we head into the summer holiday season, most of us are also heading into traffic. Fortunately, there are a few technological tools you can use to help you circumvent tie-ups, gridlock, and frustration.
Usually, when the economy is down, so is traffic. People are buying fewer goods and making fewer trips to the mall, which in turn means fewer delivery trucks are needed on the road. Last year, according to the Traffic Scorecard, an annual report from the traffic analysis firm Inrix, traffic congestion across the country dropped 30 percent compared to 2010. But that hasn't solved our gridlock woes.
Traffic snarls continue to thwart drivers, wasting time and fuel. Based on Urban Mobility reports from the Texas Transportation Institute, the average driver will twiddle their thumbs for more than 30 hours a year sitting in traffic. Furthermore, lower gas prices and an extra long weekend is expected to bring on a jump in traffic this holiday week, according to the AAA.
But there is some good news: Now there are better tools to help you avoid staring at brake lights.
Already popular in parts of Europe and enjoying a growing fan base in the U.S. is a new app called Waze. Available for iPhones and Android phones, this free app relies on status updates from other Waze users to apprise you of traffic conditions. You can get turn-by-turn driving directions and then see other Waze users on the road ahead, represented by cartoonish icons. You can see traffic speed information ahead, and should you still fail to avoid a traffic jam, watch the progress of other Waze users on the road to see if congestion is clearing ahead or if the best strategy is to leave the highway.
By awarding different icons to users based on how often and how reliably they warn other drivers of accidents or police check points, Waze tries to turn beating the traffic into a game. You can even ping other Waze drivers in your vicinity. (I've had people message me just as I was barreling up an on-ramp and duking it out with other New Yorkers funneling onto the highway. Definitely a distraction.)
The accuracy of traffic information on Waze depends soley on how many other Waze drivers there are on the road in your location, which means that your mileage may vary. Rival app Inrix takes a broader approach, incorporating not only location and speed information from its app users but also from local transportation departments, first responders, fleet operators, and now owners of built-in telematics systems including Ford Sync and Toyota Entune.
All this data is collected and presented in the company's Traffic app for Android and iPhone users.
Roads around you are color coded -- green is good, red is gridlock -- and construction and accident sites are marked. The app is free; a premium $24.99 version adds traffic camera locations that you can access to see current conditions.
The best feature of Inrix Traffic is its forecasting option. Pick any time within the next 8 hours, and the program will predict--based on current and historical traffic data--how long it will take you to reach your destination. It's perfect for traffic obsessed drivers intent on making good time. Unfortunately, it doesn't couple this information with turn-by-turn navigation, so to get the complete package, you'll still need a separate nav app or standalone navigation device.
Fans of dedicated navigation devices can turn to TomTom for live traffic information. Its line of Go Live devices, starting at around $180, have two-way data connections so that the GPS units can send anonymous information about their traffic status back to the company and then share it with other TomTom owners. TomTom adds construction, accident and historical data into the mix to create a broad picture of traffic conditions.
The main advantage of TomTom's HD Traffic is that when it sees congestion ahead it will automatically offer to reroute you. It will even tell you how many minutes changing your route might save you. During my tests, it managed to save me from an hour-long back up on Interstate 95 in Connecticut and offer accurate alternatives when I failed to heed its initial warnings. However, HD Traffic isn't free. A one-year subscription is included when you purchase a compatible TomTom navigation device, but after that it's $59.95 a year.
While I found all three live traffic solutions helpful -- I won't travel without at least one at my fingertips now -- none of the warning systems is perfect. The principle reason is that the data each collects is far from complete. Not every car on the road is able to report on its status (yet), and local municipalities do not consistently publish information about road problems.
If you're thinking of trying the Waze or Inriz app approach, remember that you'll need a dashboard cradle for your phone ($20 to $30). I also recommend a 12-volt adapter; running these apps will drain your phone's battery in short order.