GPS technology keeps kids safe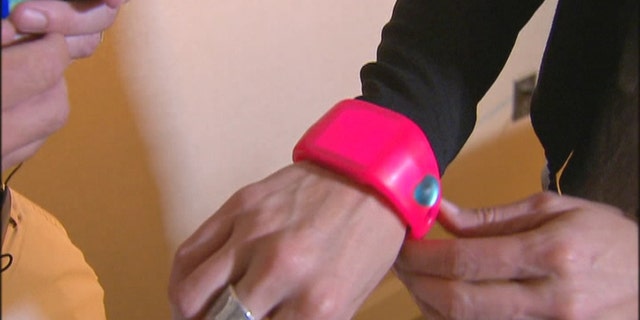 NEWYou can now listen to Fox News articles!
Brian Sullivan will never forget the nightmare scenario that unfolded before his eyes, while sitting on a beach, vacationing with friends. A child in their group, who was playing in the water, vanished for a few agonizing hours.
"A parent's greatest fear is losing their children," he said. The missing child was eventually found, but the experience inspired him to invent a product he hopes will give kids more freedom to safely roam.

As a parent, he noticed many kids wear decorative bracelets, while a lot of parents are armed with smartphones. After returning from the trip with the close call he got together with business partners Jason Hicks and Eric Long to figure out how to pair the two. The result: kidsport GPS, a sportsband bracelet with a built-in cell chip for GPS tracking. Parents can check an app on their phones to pinpoint their child's whereabouts to within about 10 ten feet. The technology works anywhere in the world.

Precise Innovation's kidsport GPS band has a tamper resistant mechanism which will send an alert if it is cut off. There's also a button to send a text signal for help. Parents can set up boundaries – they can be notified if children stray beyond the "geo-fence." For example, they can be automatically alerted if a child leaves the backyard.

Sullivan says kids like his own embrace the technology because they're free to explore, whether it's in the neighborhood, a water park, ski slopes and so on. "I want her (his daughter) to live a little bit like we did as kids growing up," he said.
The technology is not 'helicopter parenting,' in his view. "I think those who say 'this is sort of killing the civil liberties, we're being oppressive,' I just don't think they've studied it enough," he said. "There's not a lot of studying that has to be done. If they can go, if you can find them, aren't you going to let them go further than you normally would?"

What the developers didn't expect was the outpouring of interest they received from special needs communities. The company has since developed the Gabriel GPS for Autism or Alzheimer's patients who tend to wander and may not be able to ask for help.

A third product for older kids is a watch which looks like a normal watch. However, it can dial pre-programmed numbers and if parents need to speak to their children, the device automatically picks up (no ignored calls).

The company expects to offer rentals in ski resort areas this winter. Big box retailers are expected to begin carrying the technology in late October and in the meantime, pre-orders are being accepted online.