Going green: Navy vessels head to Asia powered by cattle fat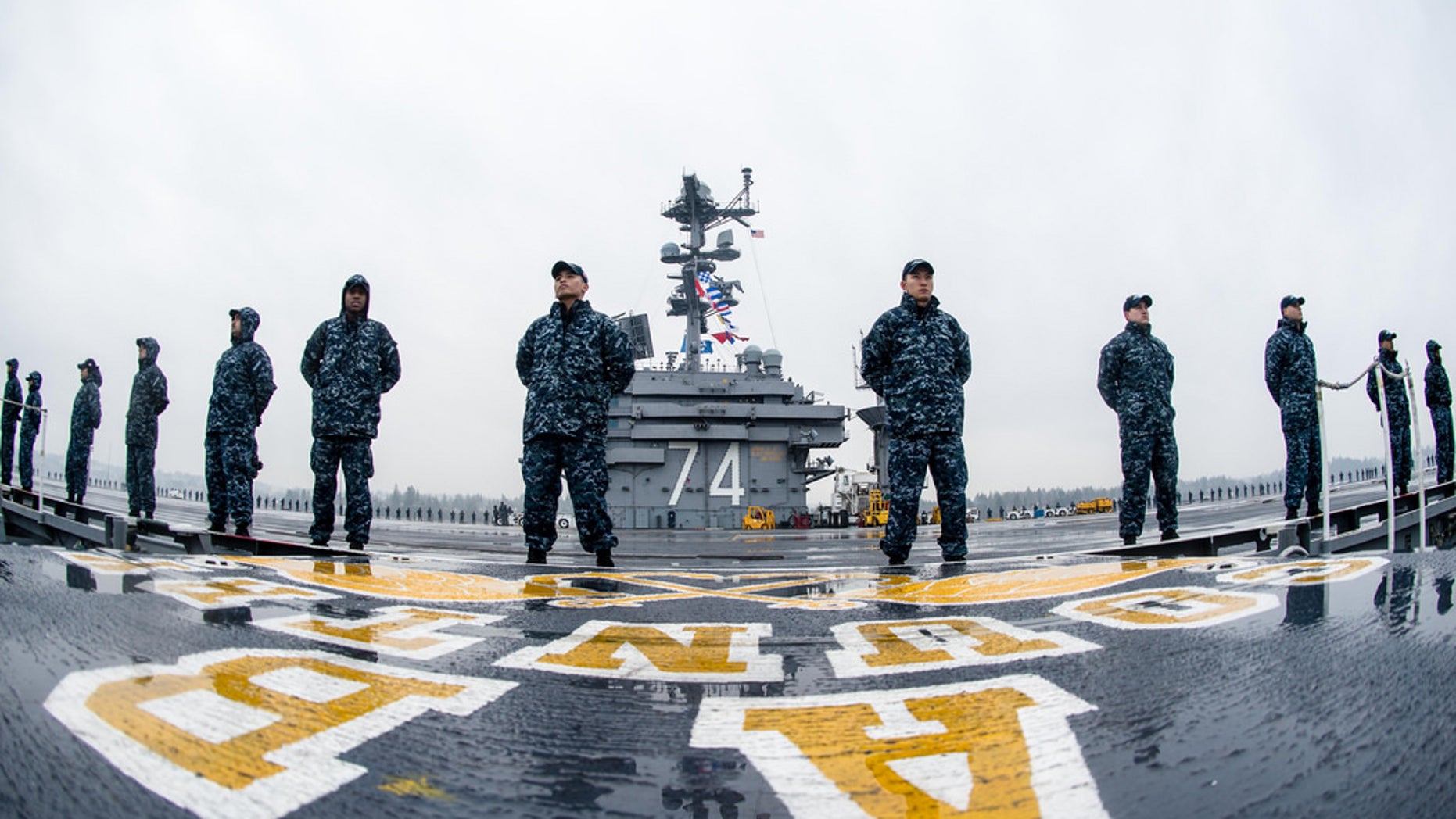 The first Navy fleet of Navy warships partly powered by biofuels will launch today from San Diego, as part of the service's long-running efforts to reduce its dependence on foreign oil and derive almost half its energy from alternative sources by 2020.
Carrier Strike Group 3 and its flagship, the nuclear-powered supercarrier USS John C. Stennis, will deploy to the Western Pacific area of operations. Navy Secretary Ray Mabus and U.S. Agriculture Secretary Tom Vilsack were expected to be on hand for the launch, according to Reuters.

Called the Great Green Fleet, the initiative was launched in 2009 by Mabus as part of an effort to boost its use of alternative fuels, improve the energy efficiency of its operations and reduce the amount of non-tactical petroleum use.
The program is named after President Theodore Roosevelt's Great White Fleet, a convoy of destroyers that circled the globe at the beginning of the 20th century in a show of American naval strength.
Related: Navy's powerful Poseidon spy plane deploys amid South China sea row
"The 'Great Green Fleet' highlights how the Navy and Marine Corps are transforming our energy use to increase our combat capability, operational flexibility and resiliency so that we can go farther, stay longer and deliver more firepower," Lt. Chika Onyekanne, a Navy spokesman, said in a statement.
In a video interview posted on the Navy's Twitter account, Mabus said a shift towards greener fuels produced in the United States would only make the Navy more effective.
"It gives us a war fighting edge," he said. "Energy can be used as a weapon. We need an American home grown source of alternative energy. We need one that is not subject to the wild price swings of conventional fuel, which are set in the world market. We need ones that can't be used against us."
Some Republicans have complained in recent years that the Navy should spend its limited resources on building new ships, instead of developing fuel alternatives. Republicans were especially angry in 2012, when the Navy, Department of Energy and Agriculture Department announced they were spending $510 million to jump start commercial development of the advanced alternative fuels industry.
Their argument has gained traction, now that oil prices have fallen below $30-a-barrel.

Related: Navy secretary defends spending $510M on development of biofuels
But supporters argue that the Navy's scheme is in line with President Obama's efforts to reduce the country's dependence on foreign oil and, because of its size, can inspire more investors to get into the nascent market.
"What the Navy is doing here is catalyzing and driving an industry that will have far broader applications than the theater of war," Michael McAdams, president of the Advanced Biofuels Association, a trade group, told the San Diego Union-Tribune.
Of all the armed forces, the Navy has gone furthest in its push to transition away from fossil fuels.
Related: America's new high-tech aircraft carriers are more important than ever, experts say
According to Stars and Stripes, the Navy in 2012 experimented with alternative fuel blends on about 40 ships, six submarines and 200 aircraft that took part in the Rim of the Pacific exercise in Hawaii. The hydro-treated diesel used consisted of a 50-50 blend of traditional petroleum-based fuel and biofuel made from waste cooking oil and algae oil.
For the fleet departing Wednesday, the Navy has obtained almost 80 million gallons of cost-competitive, biofuels made from the fat of Midwestern cattle, according to Biofuels Digest and other publications.