'Final Fantasy XV' review: A long-awaited masterpiece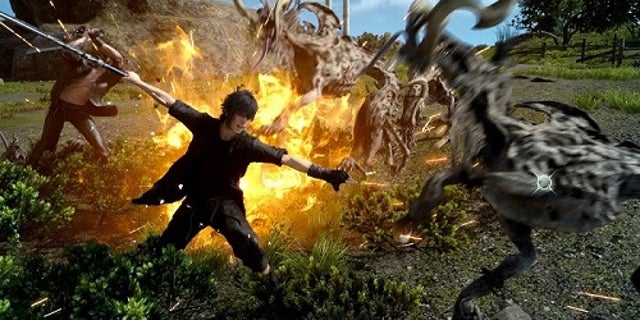 NEWYou can now listen to Fox News articles!
"Final Fantasy" is one of longest franchises in the history of gaming industry, and for a good reason. It has sculpted the role-playing game genre and is one of the best-known titles of all time.
"Final Fantasy XV" is out; showing its fans why it was worth the wait. Square Enix has taken its time working on this game, and it shows in gameplay and storytelling. Join the game's heroes on a journey that you will never forget.
The game starts slowly, but steadily gains pace. Our four heroes - Prince Noctis, Gladiolus, Ignis and Prompto find themselves having to push their car to the nearest gas station. After a few hours of gameplay you will soon discover that the last remaining crystal was stolen after a raid on the kingdom. Noctis and wife-to-be Lunafreya are both reported dead after the attack. Now it is up to you, and your entourage, to collect weapons from your ancestors and take back the crystal, as well as your kingdom.
'POKEMON SUN AND MOON' REVIEW: GOTTA CATCH EN' ALL ... OVER AGAIN
"Final Fantasy XV" is a complicated game with plenty of things to keep you busy. Fighting as a group of four is not that bad (unless you are also fighting a swarm of goblins). Once you have worked out how everything works you will be dying to get into the next fight. Some battles can last a minute and some could last hours. This can leave you completely drained from the amount of stress and action the game just put you through. Luckily, you can take a break and work out your posse a different way.
Once you've had enough action, you can always undertake calmer side quests or work on your team's skills, such as fishing, cooking, exploring and taking photos. These tasks can prove beneficial to the team throughout the game. By the time you have had enough of the slower side of the game, you will want to get right back into the heat of combat.
Aesthetically, "Final Fantasy" is a beautiful game full of intricate detail. Sure, the monsters and enemies are usually ugly, but that will not detract from stunning sights such as ice caverns. Beautiful graphics and outstanding gameplay make for an amazing title to play.
'DISHONORED 2' REVIEW: FUN AND THRILLING
Playing an open world game can be tricky with the amount of in-game traveling players have to do. However, "Final Fantasy" players can use a car named Regalia to get around the game. The player is given the option to drive, or to allow the non-playable character, Ignis to drive for you. You can then shop, or just enjoy the view as you are on your way to your objective. Chocobos, a massive ostrich-like bird, can also be used for your quest.
Verdict: 9/10
Being new to the "Final Fantasy" franchise gave me a different perspective on the game than longstanding players. While the "Final Fantasy" learning curve is steep with regard to new information and gameplay, it simply added to my enjoyment of the game. "Final Fantasy XV" is an absolutely beautiful and addictive role-playing game that will keep you in your chair for hours on end. I would recommend this game to anyone who is a fan of the genre or just loves a well-made game.