Experts: Apple has changed the face of watchmaking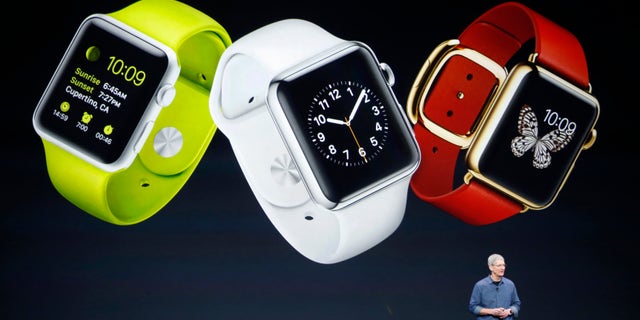 The arrival of Apple Watch early next year will send shockwaves through the watchmaking industry, experts predict, forcing some big-name manufacturers to rethink their strategies.
Companies that build watches costing $500 or less, such as Fossil, Movado, Suunto, and Casio, are now under real pressure, according to Benjamin Clymer, executive editor of wristwatch magazine Hodinkee.
"I think that Apple will pose a real problem for them – the level of design and build quality of on an Apple Watch is leagues above what you find elsewhere," he told FoxNews.com. "A $350 analog watch will look like a piece of junk."
Clymer noted that shares of Fossil and Movado fell after the Apple Watch was announced at a glitzy launch event in on Tuesday. "It's embarrassing for the other manufacturers, how much more this watch can do for its price point," he added. "If I was the CEO of Movado, I would get together the most creative people I know, and say 'how do we combat Apple'?"
Movado has not yet responded to a request for comment on this story from FoxNews.com
The tech giant unveiled three versions of its smartwatch at the Flint Center for the Performing Arts in Cupertino, Calif. – Apple Watch, Apple Watch Sport and Apple Watch Edition, a high-end version of the technology built using 18-karat rose or yellow gold. The watch will also be available in two sizes – 38 mm and 42 mm.
Despite plenty of pre-event chatter that the device would be available in time for the holiday season, Apple Watch will not be out until early next year, priced from $349.
Although packed full of features such as health monitoring sensors, mobile payment technology, and a slew of apps, the device's battery life and aesthetics have come in for criticism.
Clymer acknowledged that Apple Watch is "not the most beautiful thing in the world," but added that it's still the best looking smartwatch on the market.
Rivals such as LG, Motorola and Samsung already sell smartwatches, although the technology has hardly set the world alight.
Experts are also weighing the impact of Apple Watch overseas, most notably in Switzerland, which is famed for its watch industry. René Weber, an analyst at Zurich-based bank Vontobel, echoed Clymer's comments, describing Apple's latest offering as a "breakthrough" in smartwatches.
In a research note released on Wednesday, Weber predicted that Apple Watch will impact Swiss brands Swatch and Tissot. However, the analyst believes that the new gadget will primarily affect the low and mid-end of the Swiss watch market, and cause minimal disruption to the high end. Swatch Group, which owns both the Swatch and Tissot brands, will likely come up with its own offerings in the smartwatch space, he added.
Clymer also believes that high-end watchmakers such as Patek Philippe and Rolex have little to worry about when Apple Watch arrives. "They are not in any direct competition," he told FoxNews.com, but added that some people may buy an Apple Watch and wear it just for certain activities, such as trips to the gym or the beach, saving their high-end watch for other occasions.
The expert also thinks that Apple's smartwatch is just the tip of a much larger wearable tech strategy from the Cupertino, Calif.-based firm. "This is the first generation," he said, adding that Apple's next move into the wearable space could be some sort of 'smart' bracelet.
Follow James Rogers on Twitter @jamesjrogers