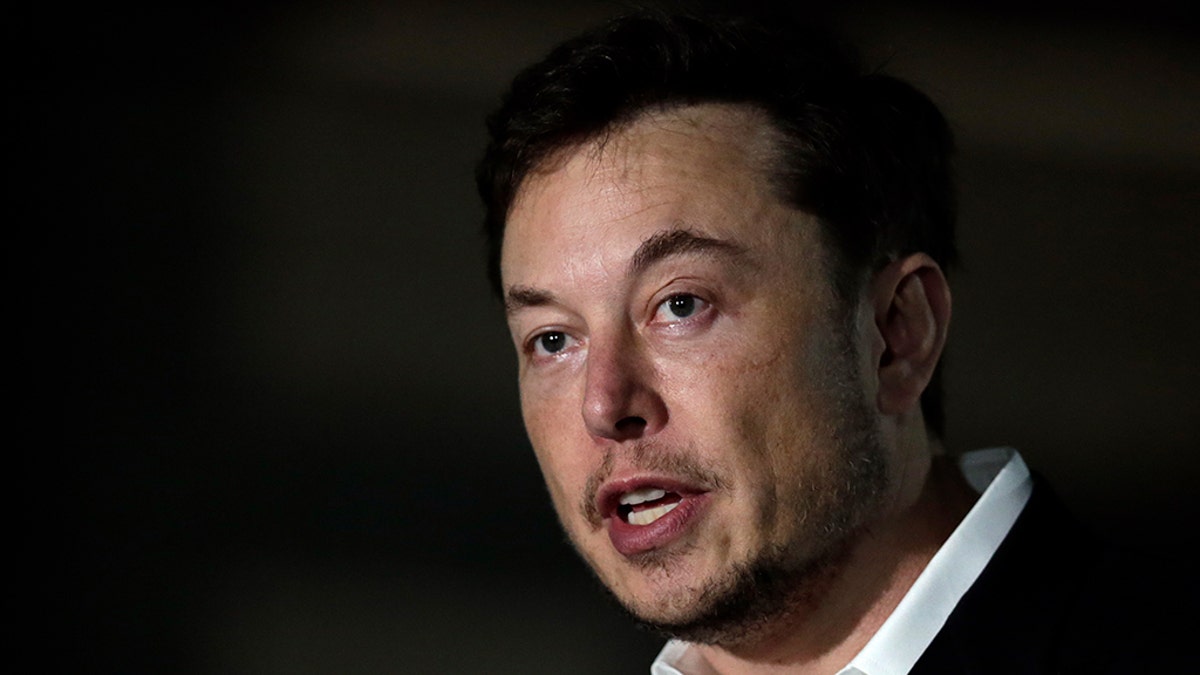 Tech billionaire Elon Musk sent a viral shockwave Sunday in a tweet apparently accusing a British diver who helped rescue the 12 boys from a Thailand cave of being a pedophile.
Musk later reportedly doubled down on the unfounded claim, telling another Twitter user he'd bet money it was "true."
The war of words began after Vern Unsworth told CNN that he thought Musk's attempts to help out with the rescue of the youth soccer team represented nothing but a show for attention.
"It just had absolutely no chance of working. He had no conception of what the cave passage was like. The submarine I believe was about 5 feet, 6 inches long, rigid, so it wouldn't have gone round corners or round any obstacles," Unsworth said. "It wouldn't have made the first 50 meters into the cave from the dive start point. It was just a PR stunt."
In a series of tweets, since deleted, Musk unloaded on Unsworth.
"Never saw this British expat guy who lives in Thailand (sus) at any point when we were in the caves.
"Only people in sight were the Thai navy/army guys, who were great. Thai navy seals escorted us in — total opposite of wanting us to leave.
"Water level was actually very low & still (not flowing) — you could literally have swum to Cave 5 with no gear, which is obv how the kids got in. If not true, then I challenge this dude to show final rescue video.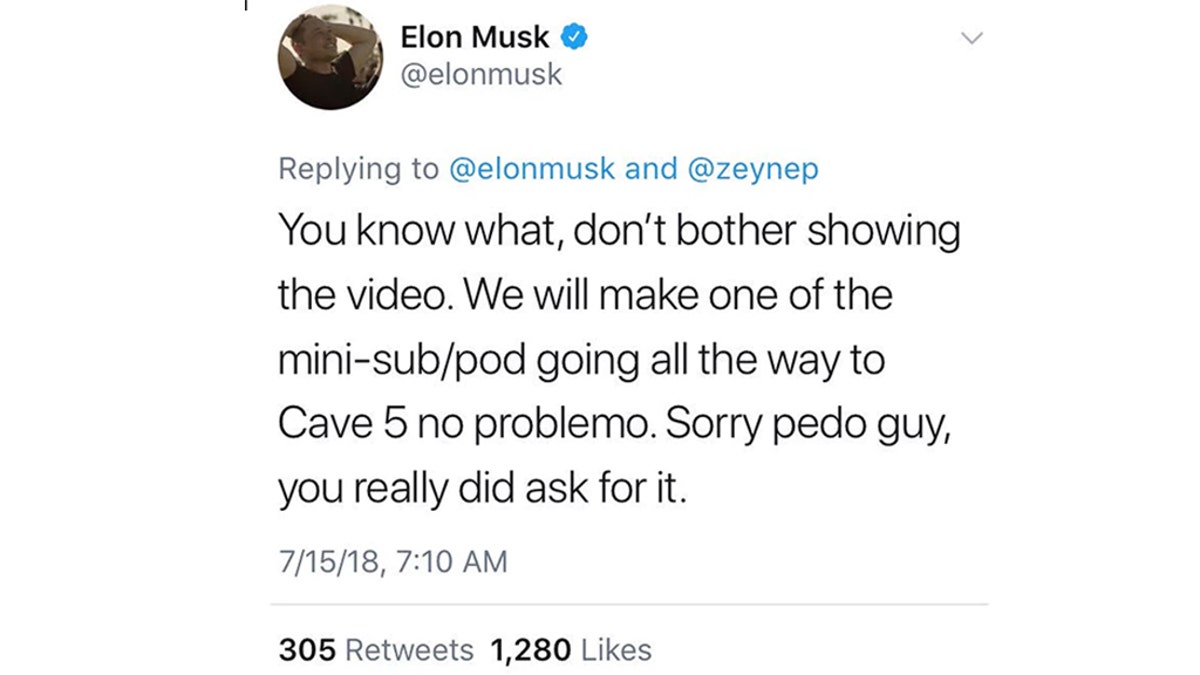 "Huge credit to pump & generator team. Unsung heroes here," Musk tweeted.
"You know what, don't bother showing the video," Musk tweeted. "We will make one of the mini-sub/pod going all the way to Cave 5 no problemo. Sorry pedo guy, you really did ask for it."
When a Twitter user pointed out that Musk was "calling the guy who found the children a pedo," as The Guardian reported, the tech entrepreneur responded: "Bet ya a signed dollar it's true."
Neither Musk nor Unsworth responded to Fox News' requests for comment.
Twitter users pointed out how "dangerous" and irresponsible his tweet was to make such a serious unproven allegation to his 22 million followers, as The Guardian stated.
Musk last week said he visited the flooded cave in northern Thailand and left a mini-submarine there for future use.
The billionaire tweeted Tuesday morning he'd "Just returned from Cave 3," referring to the rescuers' command center inside the sprawling cave. He posted photos of the cave interior and a video showing people working their way through chest-high water.
Musk had offered a "kid-sized" submarine, named Wild Boar after the kids' soccer team, to help in the rescue operation. He posted videos of the sub being tested in a swimming pool in California with simulated narrow passages like the cave.
In a news conference on Sunday, as Fox News reported, Public Health Minister Dr. Piyasakol Sakolsattayatorn said the boys and their 25-year-old coach were recovering well and eager to eat their favorite comfort foods after their expected discharge from a hospital on Thursday.
"All of the 13 people, their physical bodies are strong, and fit. Regarding infections, through the medical evaluations in the first days there may be some of them that had minor pneumonia, but now all is cleared, no fever," Piyasakol said.
Piyasakol gave a prognosis for the boys, and said, "Psychologists have been talking to the kids, with the kids, their mental well-being is good today."
The Associated Press contributed to this report.