Drone sparks extraordinary brawl at international soccer game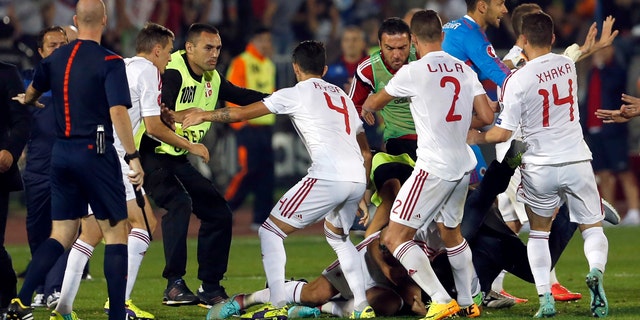 NEWYou can now listen to Fox News articles!
An international soccer game between Serbia and Albania was abandoned on Tuesday after a drone carrying a political banner caused a brawl between players from the two teams.
The European Championship qualifying match in the Serbian capital Belgrade was interrupted during the first half when a banner bearing pro-Albanian symbols was flown over the field by a drone, Sky Sports reports. The game, Albania's first in Serbia for 47 years, was played amid ongoing tensions between the two countries over Kosovo, which declared independence from Serbia in 2008. Albanian fans were banned from the game.
The banner reportedly displayed an Albanian flag and a map of so-called 'Greater Albania' comprising Albania and parts of Kosovo, Serbia, Montengro, Macedonia, and northern Greece. Images of two Albanian nationalist figures were also displayed on the banner.
The extraordinary scenes unfolded after Serbian player Stefan Mitrovic grabbed the banner, sparking a scuffle involving a number of players. Riot police became involved when around a dozen fans invaded the pitch and attempted to attack the Albanian players. The melee prompted English referee Martin Atkinson to take both teams off the field. After a 30-minute delay, the game, which was tied at 0-0, was abandoned.
In a bizarre twist, Belgrade media and Serbian officials accused Olsi Rama, brother of Albanian Prime Minister Edi Rama, of operating the drone from a VIP box at the Partizan stadium. The prime minister's brother vehemently denied the claims in an interview with the Associated Press, describing the allegations as "absurd."
"They want to justify the situation that went beyond their control," he said. "They seemed totally unprepared for an abnormal situation."
Rama also said that he was not detained by Serbian police, as Belgrade media reported, but said that his U.S. passport had been checked twice at the stadium.
Harry Been, a representative from European soccer's governing body UEFA, described the night's events as "a regretful situation" during a post-game press conference.
"The circumstances were such that we couldn't restart the match," he said noting that UEFA officials at the game will write a full report for the governing body. "UEFA will decide on what will happen further," he added.
Follow James Rogers on Twitter @jamesjrogers
The Associated Press contributed to this report.