Don't be evil, Google rivals remind search giant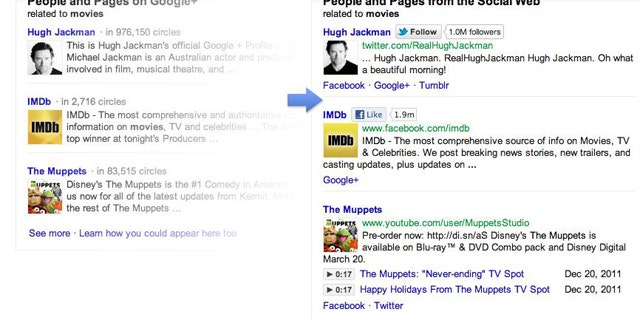 NEWYou can now listen to Fox News articles!
Google is famous for its "don't be evil" mantra. But how closely does the company still stick to that code?
The search giant altered its results page on Jan. 10 to spotlight information from the Google+ social network for some users -- but not information from Facebook, MySpace, Twitter, LinkedIn or the many other social networks. And those companies aren't taking the snub lightly: Twitter's general counsel Alex Macgillivray even called it a "bad day for the Internet."
A group of developers from that group of sites called foul on such self promotion over the weekend, banding together to create new code that alters the search engine's results in an effort to make them more inclusive.
"How much better would social search be if Google surfaced results from all across the web?" reads the website for the Focus on the User team, which released a "bookmarklet" Monday, Jan. 23, that "fixes" Google results to include information from all social sites based on Google's own relevance metrics -- and strips out the bias toward Google+ results.
Search Google for "movies," for example, and the search engine will list Hugh Jackman's Google+ profile, the IMDb Google+ page, and The Muppets' Google+ page to the right of the standard list of results, under a heading that reads "People and Pages on Google+."
If you drag the Focus on the User bookmarklet to your browser's toolbar -- it's knowingly titled "don't be evil" -- a click can add links to Jackman on Facebook and the Tumblr blog platform, the Muppets on Twitter, and more.
"The results speak for themselves," the Focus on the User site explains.
"We created a tool that uses Google's own relevance measure -- the ranking of their organic search results -- to determine what social content should appear."
FairSearch.org, an advocacy group supported by a number of companies including Google rival Microsoft, said Google has used its dominance in search and advertising to bully its way into other markets.
"Google is the subject of government scrutiny around the world, but [it] isn't often that Google's competitors have the resources necessary to highlight Google's anticompetitive behavior and Google's harm to users. Today is a great example of businesses in vertical search standing up for users."
Spokesman for Twitter and Facebook confirmed that some of the site's engineers contributed to the project, but declined to comment further. Google did not immediately respond to FoxNews.com requests for comment.