Cyber-Skirmishes, Street Protests, Rage Over WikiLeaks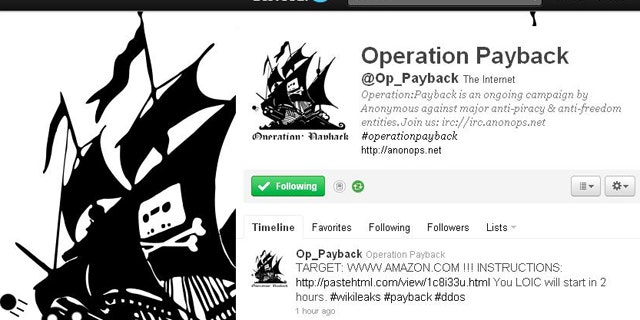 Arguments over stolen diplomatic cables posted online by WikiLeaks have spawned a multi-front battle that has spilled off the web and onto the streets, leading to physical protests and even arrests around the globe.
Online retailer Amazon and financial firm Paypal were the latest cyber attack targets Thursday, as hackers pledged their support for WikiLeaks. The site has been under intense pressure since it began publishing some 250,000 secret U.S. diplomatic cables, with attacks on its websites and threats against its founder, Julian Assange, who is now in a British jail fighting extradition to Sweden on sex crime allegations.
"Anonymous," a group who claimed responsibility for attacks on MasterCard, PayPal and Visa, announced the move on Twitter, writing, "Target: www.amazon.com locked on!!!" It also gave a link to instructions on how to attack the website. The group quickly switched its target to PayPal shortly thereafter; an anonymous person claiming to represent the group told tech news site Mashable, "We have a hive of nearly 5,000 users right now."
The U.N.'s top human rights official raised the alarm over officials' and corporations' moves to cut off WikiLeaks' funding and starve it of server space -- something she described as a "potentially violating WikiLeaks' right to freedom of expression."
Navi Pillay also expressed surprise at the scale of the online attacks that have targeted major American financial players -- in some cases denying access to their websites for hours at a time.
"It's truly what media would call a cyber-war. It's just astonishing what is happening," Pillay told reporters in Geneva.
Meanwhile the flow of online support has also sparked some solidarity on the streets. A protest in Australia -- the first of a series planned there and in Britain -- sent about 250 demonstrators into the streets of Brisbane, while in the central Pakistani city of Multan, dozens of people took to the streets to burn U.S. and British flags to protest Assange's detention.
Dutch police have made the first arrest in connection with an ongoing series of cyber attacks that have targeted a wide range of sites perceived as "enemies" of WikiLeaks and its founder, Julian Assange.
According to a report in Dutch newspaper De Telegraaf, a 16-year-old boy was arrested in the Netherlands in connection with the online attacks on Visa, MasterCard and other organizations. Dutch authorities have not ruled out further arrests, the newspaper said.
The hackers launched "Operation Payback" Tuesday -- a series of denial of service attacks (DDoS), after various groups blocked funding to the WikiLeaks site.
The group said thousands of volunteers had joined their operation in defense of WikiLeaks and Assange. The Australian is being detained in London pending an extradition request from Sweden, where he is wanted for questioning over sexual assault allegations.
The Swedish government's website was shut down for several hours overnight during a cyber attack, while a website bearing Justice Minister Beatrice Ask's name was set up and visitors were redirected to the WikiLeaks site, Sweden's Aftonbladet newspaper reported.
Sarah Palin, Visa and MasterCard came under attack Wednesday when Anonymous hacked their websites, causing them to briefly go offline or slow down.
A spokesperson for Visa Europe told Sky News that cardholders' data was not vulnerable and transactions and purchases were not stopped. "We apologize for any inconvenience this may cause, however there is no impact whatsoever in making a payment with Visa either online or in store," Visa said.
MasterCard's spokesperson said it had made "significant progress" in restoring full service to its corporate website. "Our core processing capabilities have not been compromised and cardholder account data has not been placed at risk."
The website and e-mail service of the lawyer representing two Swedish women at the center of sexual assault allegations against Assange were also hacked Tuesday.
A WikiLeaks supporter, calling himself Coldblood, told the BBC on Thursday: "This is a war of data, we are trying to keep the Internet open and free for everyone, just the way the internet has been and always was ... Some of the main targets involve Amazon, Mastercard, Visa and PayPal."
Although Coldblood had said he was a spokesman for Anonymous, the group wrote on Twitter that he was not one of its spokespeople.
PayPal's website, which was first hit by an attempted DDoS attack on Monday morning, was now fully operational, a spokesperson said, adding, "The attack slowed the website itself down for a short while, but did not significantly impact payments."
Assange's supporters have vowed his arrest would not halt the flow of WikiLeaks' release of the diplomatic cables.
WikiLeaks supporters in Switzerland and Germany have threatened lawsuits against U.S. financial companies who have cut their ties to the website, while judicial authorities in France have put the breaks on the French government's effort to purge WikiLeaks from the country's computer servers.
The Germany-based Wau Holland Foundation, which has described itself as WikiLeaks' main backer, on Thursday protested PayPal's decision to cut ties with WikiLeaks and said about euro10,000 ($13,000) in donations had been frozen in the company's account.
The foundation rejected PayPal's allegation it was supporting illegal activity and said its lawyer had demanded that PayPal restore access to the account.
WikiLeaks' payment processor, DataCell ehf, said it was preparing to sue Visa and MasterCard over their refusal to process donations to WikiLeaks. DataCell CEO Andreas Fink said he would seek damages from the U.S. credit card companies over it, saying "it is simply ridiculous to think WikiLeaks has done anything criminal."
Protest organizer Tariq Naeemullah called for the Assange's immediate release.
"The brave man was arrested because he was exposing the real face of the big powers," he said.
More pro-WikiLeaks protests are planned for Friday in Brisbane and Monday in London.
Newswires contributed to this piece