Buy a Toshiba Ultra HD TV and get a free home theater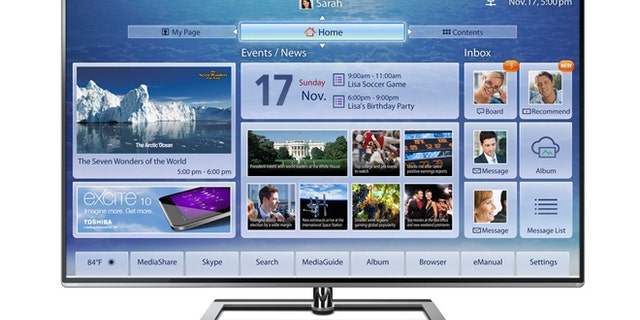 With the debut of its three-model L9300U-series lineup, Toshiba is no longer a wallflower at the Ultra HD TV dance. And for a limited time, the company is bundling the higher-resolution sets with a free 4K upscaling Blu-ray player and a sound-bar speaker.
Toshiba will offer three Utra HD screen sizes. A 58-inch model ($4,000), a 65-inch set ($5,500) and—like LG Electronics, Samsung, and Sony—a supersized model, in this case an 84-inch set ($17,000). The Toshiba TVs, which have gun-metal trim and a matching stand, are now available at select retailers.
Not surprising, these premium-priced TVs are loaded with features, including a quad-core processor, the company's CEVO 4K upscaling processor, a 240Hz refresh rate, and Cloud TV Internet service. The sets have Wi-Fi and WiDi connectivity for connecting to your network and accessing content from other devices. The sets ship with HDMI 1.4 inputs, but the company says they'll be upgraded to HDMI 2.0 specifications via a free firmware update in December.
For the time being, if you buy one of the Toshiba Ultra HD TVs, you'll also get the company's BDX6400 4K Upscaling Symbio Blu-ray player and SBX5065 Sound Strip sound bar free. The retail price for the pair is about $600. The addition of the sound bar is a positive: While Toshiba LCD TVs have performed well in our tests, they have consistently had among the worst sound of any TV brand.
Our TV Ratings include several Ultra HD TVs, and we expect to test more of them from additional brands over the next few months, so check back for updates.
—James K. Willcox
Copyright © 2005-2013 Consumers Union of U.S., Inc. No reproduction, in whole or in part, without written permission. Consumer Reports has no relationship with any advertisers on this site.