Biggest Internet IPO in U.S. History Planned by Chinese Firm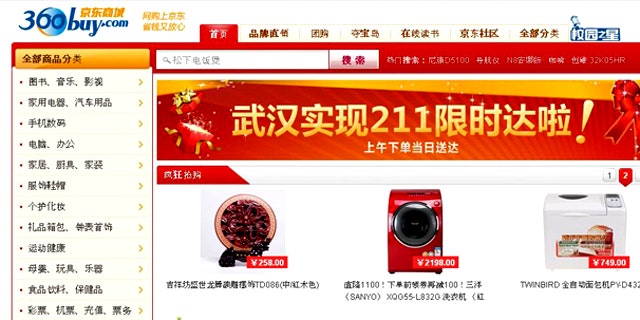 A Chinese retailer nicknamed "the Asian Amazon.com" plans a $5 billion initial public offering in the U.S. -- while American firms like Facebook and Groupon have delayed or dropped plans to go public.
It could be a big risk, as many industry analysts believe the recent dotcom bubble is over. But it's easier, for a number of reasons, for a tech firm to go public in China than in the U.S. these days.
360Buy.com, owned by Beijing Jingdong Century Trading Co., sells cameras, cell phones, computers and the like to the billion-strong Chinese market. And just as in the go-go 1990s, big investors are salivating at its potential market value: The Walton family (think Wal-Mart) recently invested in the site.
"It will be the biggest tech IPO ever," Tim Keating, former managing director of investment bank Bear Stearns International and now CEO of Denver-area investment fund Keating Capital told FoxNews.com.
Meanwhile, leading U.S. tech firms are struggling with their IPO plans.
* Facebook has pushed off its IPO plans to at least late next year, despite recent private valuations that peg the company at more than $60 billion.
* The popular daily deals site Groupon delayed its IPO as accounting irregularities led to a plunge in revenues.
* Zynga, the maker of popular games like Farmville, recently delayed its hotly anticipated IPO due to "market turbulence."
And though 360Buy.com is valued at $10 billion -- the company is only putting half of its valuation up for sale -- it's far from China's largest online retailer.
"Consider that the market leader, Taobao Mall, had 370 million registered users in 2010," Tom McHale, a former technology journalist in Beijing, told FoxNews.com. "Jingdong today claims 15 million users, and that makes Jingdong difficult to find on any list of Internet business leaders in China."
But that hasn't stopped the company, which has been in meetings with leading Wall Street firms in Beijing this month with dollar signs in their eyes: Google raised $1.9 billion with its IPO, after all.
"The four remaining powerhouse investment banks on Wall Street … are the only venture captial firms in the world big enough to pull off a deal of this scope," Keating said. Or take this kind of risk, he added.
Company officials did not return calls from FoxNews.com.
Is the U.S. Tech IPO Market Dead?
Research by Keating's firm shows an average of 520 U.S. IPOs annually during the pre-bubble years of 1991 through 1995, compared to an unimpressive 126 per year for the post-bubble period of 2001 through 2009.
Ultimately, that means fewer technology jobs are being created here -- one major reason for the high U.S. jobless rate today, Keating said.
"Hong Kong now has the world's largest IPO market," in terms of number of transactions, he said. "It dwarfs Wall Street."
Volatility in the U.S. stock market has generally impacted American companies' IPO plans, industry sources say.
Several proposals are floating through Congress to relax the regulations -- and paperwork -- for firms that want to go through with an IPO in the U.S. with American investment banks. A rewrite of the Sarbanes-Oxley law, as well as congressional oversight of federal regulation of the markets, is under consideration in Congress, Keating said.
Firms attracting billions of dollars of funding, like 360buy.com, don't worry about these kinds of regulations. They can afford teams of lawyers to handle the scrutiny of the SEC and other regulators, experts tell FoxNews.com.
Problems with the integrity of Chinese firms' financial reporting, like the recent delisting of Longtop, the financial software maker, from the NYSE, could impact these major tech deals, experts say. But the allure of China as a lucrative opportunity for investors remains.
"China is a big market and a huge opportunity," McHale said. "But it's a complicated place to do business and a tough place to make a buck."