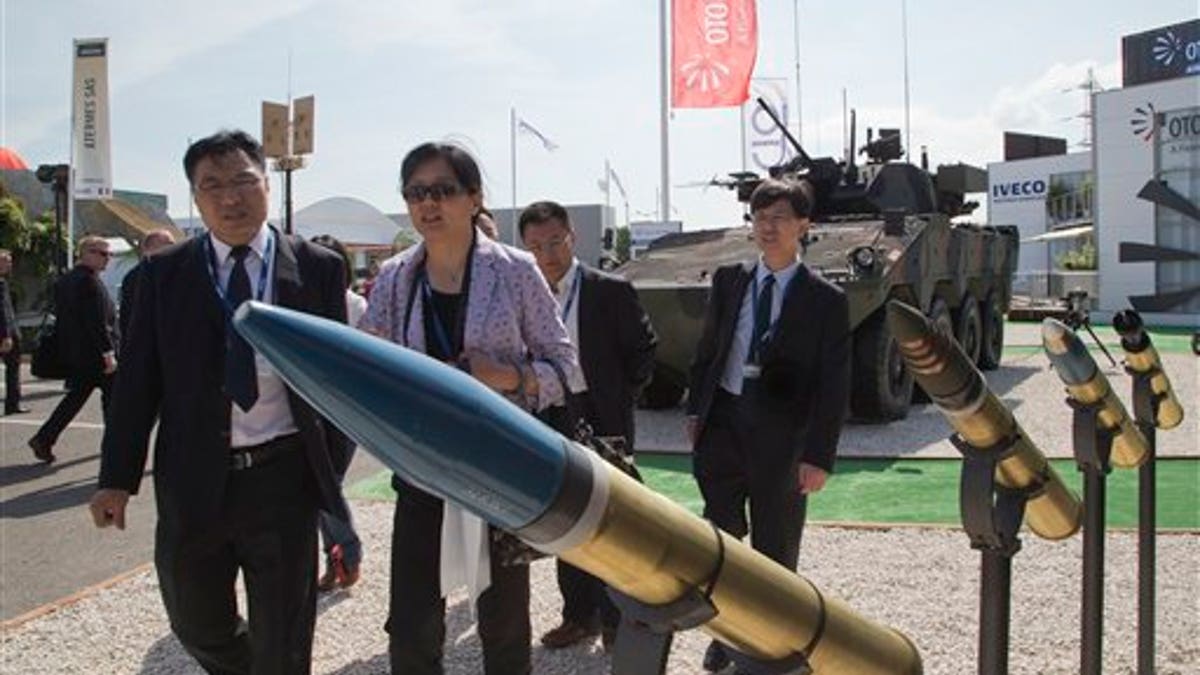 There's some heavy duty hardware on show at Eurosatory this week.
The five-day defense and security trade show, which takes place every other year in Paris, showcases the latest in land warfare technology from around the world.
Defiant in the face of reduced defense budgets, a few companies chose to go big this year and bring in new firepower – and it is paying off.
These biggies are drawing crowds of visiting forces looking both to increase their firepower and to see what other militaries are acquiring.
CAESAR Artillery
The buzz on the floor this year included debate over whether CAESAR, French-based Nexter System's 155mm/52 caliber wheeled self-propelled artillery system, "reigns supreme."
At least four countries seemed to agree that it does, since they placed orders for the system.
As you'd expect from its name, the self-propelled howitzer is neither small in size nor in capability. It weighs more than 17 tons, holds 18 rounds and can be operated by a crew of three to five.
It has a firing range of about 26 miles using an Extended Range Full Bore (ERFB) shell. If fed rocket-assisted shells, then its range can be greater than 30 miles.
Its fire control systems can be customized and fitted with a number of options, including a protected cab. The French SANG CAESARs utilize the Thales ATLAS computerized fire control system.
Indonesia ordered 37 CAESARs, plus a complete suite of 155mm ammunition for training and use by two battalions. Nexter plans to get them to Indonesia quickly; the first ones are expected to arrive this year.
The French Army is also a solid fan of the hardware. It has 72 CAESARS and has deployed them for use in Afghanistan, Lebanon and Mali.
Eventually, the French Army plans to replace all its remaining 155mm TR series towed guns and 155mm AUF1-TA tracked self-propelled guns with additional CAESARs.
The Royal Thai Army acquired six CAESARs, and an undisclosed Middle East customer – speculated to be the Saudi Arabian National Guard – has acquired a whopping 136 of them.
The French, Thai and Indonesian CAESARs are based on a Renault Trucks Defense Sherpa 5 that has a 6x6 cross-country truck chassis.
Those for the Middle East buyer are also based on 6x6, but on a German Mercedes-Benz Unimog instead.
Nexter is looking to gain further ground in the emerging markets. Working with Larsen & Toubro, the manufacturer is customizing the howitzer for the Indian market using a higher payload 6x6 Ashok Leyland Defence.
Going forward, Nexter is looking to improve cross-country mobility, offer more ammunition capabilities and enhance protection. It's considering using the 8x8 Tatra chassis to achieve these objectives.
Robotic Trucks with Better Range
The new version of the Autonomous Truck Mounted System, or ATMOS, made its big reveal at Eurosatory.
Made by Israeli-based Elbit Systems, the 155mm, 52cal self-propelled howitzer is a new variant with a Tatra vehicle chassis. The Tatra 6x6 truck has a speed of about 50 miles per hour and, with a V-12 engine, a range of more than 600 miles.
How has it advanced? When ATMOS' upgraded howitzer uses Extended Range Full Bore – Base Bleed ammunition and propellant charges, it can reach targets about 25 miles away.
With its new load assist tech, its gun can fire six rounds per minute, and its semi-automatic loading system reduces its required crew size to five or six.
The gun can fire all types of 155mm ammunition and projectiles.
While it currently uses a Tatra truck, it's adaptable to a 6x6 or 8x8 chassis that would give it more agility. The flexibility to fire and immediately move to a new position to avoid counter-fire could be a useful advantage.
Next year, Elbit will be delivering $30 million worth of ATMOS to an undisclosed army in the Far East.
SPEAR for lethal shelling
Another Elbit product – a fully autonomous, mobile, soft-recoil mortar system called SPEAR – also made its first appearance in Paris this week.
SPEAR is designed to provide maximum tactical mobility and lethality with accurate mortar fire.
The U.S. Army, the Israeli Defense Force and NATO use a similar combat-proven soft-recoil mortar that is muzzle loaded, but SPEAR leverages a system that dramatically reduces the 120mm barrel's firing loads from 120 tons to less than 10 tons. This means it can be mounted on a range of light combat all-terrain vehicles, including jeeps and Humvees, and it takes only two or three people to operate.
These advances make it better able to engage a wide range of targets and maneuver rapidly.
Its rate of fire is up to 15 rounds per minute, using all types of qualified 120mm smooth bore mortar systems and ammunition. It has a high level of accuracy, with approximately 30 meters of circular error probability.