Apple Watch Nike+ coming soon, ups fitness ante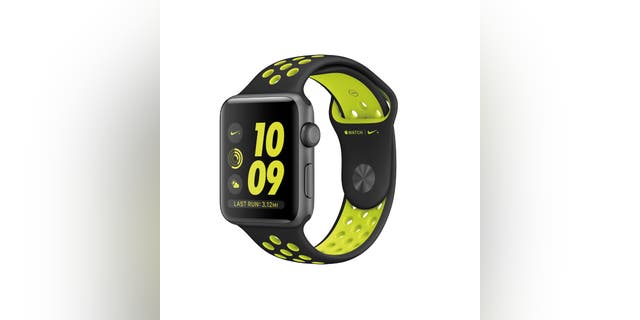 Apple will debut a Nike-branded Apple Watch next Friday in a bid to highlight the device's fitness creds.
Apple is mostly making a fashion and branding statement with Apple Watch Nike+ via a special band and color schemes. The core features of the special version of the watch are the same as other Series 2 models, including a built-in GPS to track your pace, distance, and route.
But independent GPS tracking is a critical fitness upgrade for a product co-branded with Nike, because it gives you the option to untether your iPhone when exercising. That is not possible on the first-gen watch, which needs the iPhone's GPS.
Apple also needs to do this to match the competition. Fitbit, the wearables' market leader, offers the Fitbit Surge with built-in GPS at a price considerably lower than the Apple Watch Series 2. Though the Surge is not a full-featured watch like Apple's, it starts at $250, compared to the Nike version of the Apple Watch 2 that has a starting price of $369.
Basic wearables, like most of FitBit's offerings, are still "a clear value proposition for end-users," Ramon Llamas, an analyst at IDC, said in a statement when the company announced second-quarter global wearable shipment tallies last month.
That said, the Apple Watch Nike+, via its exclusive watch faces, can typically show off more metrics on the same screen -- including distance, duration, heart rate, and pace -- than a basic Fitbit wearable.
Features exclusive to the Apple Watch Nike+
There are nice-to-have add-ons you get with Apple Watch Nike+. First and foremost is the band, which is probably its signature feature. Apple calls it light, flexible, and breathable, with perforations that reduce weight and boost ventilation. And the Nike Volt lime color scheme (what Nike calls "bright green-yellow") matches the groundbreaking Nike FuelBand.
The Nike+ version also comes with an exclusive Nike watch face, which adds the iconic Volt color in digital and analog styles.
In the app department, there's Nike+ Run Club. While you're tracking your runs, you can get coaching and workouts created by Nike "master trainers." And, like other Watch models, you can connect with friends for encouragement. For example, you can receive reminders triggered by your friends' shared activity and share run results on leaderboards.
Like all Watch 2 models, the Nike+ version can be used for shallow-water activities like swimming in a pool or ocean. The Apple Watch Series 2 has a water resistance rating of up to 50 meters under water, but it is not recommended for scuba diving or waterskiing, or other activities involving "high-velocity" water.
And, like all Watch 2 models, it packs a faster processor (dual processing cores) and brighter display than the first-generation Watch.
The Apple Watch Nike+ also comes in Space Gray Aluminum Case with Black/Cool Gray Nike Sport Band and a Silver Aluminum Case with Flat Silver/White or Flat Silver/Volt Nike Sport Band.