Apple, Google tell Obama he's wrong about encryption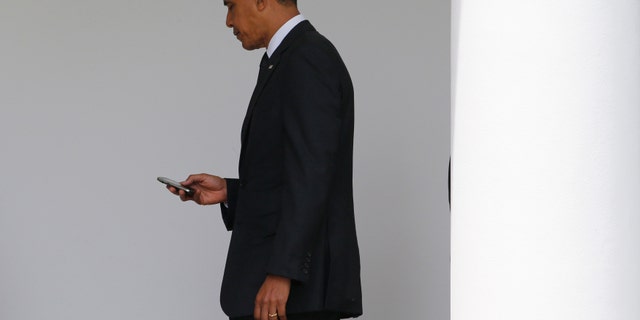 A who's who of Silicon Valley tech giants, computer-security experts and advocacy groups asked President Barack Obama to reject police "backdoors" for smartphone and computer encryption in an open letter sent May 19.
"We urge you to reject any proposal that U.S. companies deliberately weaken the security of their products," said the letter. "We request that the White House instead focus on developing policies that will promote rather than undermine the wide adoption of strong encryption technology."
Signatories include Apple, Google, Facebook, Hewlett-Packard, Microsoft, Twitter and Yahoo, plus more than 40 other companies and trade groups. Joining in were nearly 40 mostly left-leaning and libertarian public-advocacy groups, including the American Civil Liberties Union and the Electronic Frontier Foundation, and nearly 60 technology experts.
MORE: How to Encrypt Your Files and Folders
The letter is the strongest tech-industry response yet to renewed demands by the Justice Department and the FBI that law-enforcement personnel retain a secret method — a police "backdoor" theoretically unavailable to ordinary citizens and, presumably, criminals and foreign spies — of reading commercially encrypted messages and data. Otherwise, officials fear, police may lose access to suspects' files and communications, a phenomenon known as "going dark."
"Encryption threatens to lead all of us to a very dark place," FBI Director James B. Comey said in a speech in Washington last October, citing Apple and Google smartphone encryption that not even those companies could decrypt.
"We're making it increasingly difficult for us with lawful authority, especially in our criminal work, to be able to intercept the communications of drug dealers, organized criminals, of bad people of all sorts," Comey said at a security conference in New York in January. "We're encountering devices that we cannot get access to even with lawful authority."
The technology companies and their supporters counter that customers demand uncrackable encryption, especially now that American technology is viewed with suspicion overseas following Edward Snowden's leaks about the National Security Agency's abilities. Already, Apple's iMessage service is not known to be crackable, and police have trouble decrypting phones protected by Google's optional Android encryption.
"Strong encryption is the cornerstone of the modern information economy's security," today's letter states, and "protects us from innumerable criminal and national security threats. This protection would be undermined by the mandatory insertion of any new vulnerabilities into encrypted devices and services."
"Introducing mandatory vulnerabilities into American products would further push many customers," it adds, "to turn away from those compromised products and services."
Obama has said that he understands the need for strong encryption, but has also repeatedly said that law enforcement always needs a way in.
"If we find evidence of a terrorist plot," he said in January, according to The Wall Street Journal, "and despite having a phone number, despite having a social media address or email address, we can't penetrate that, that's a problem."
"I'm a strong believer in strong encryption," Obama told Re/Code's Kara Swisher in February, but added that "our law enforcement is expected to stop every plot. Every attack. Any bomb on a plane. The first time that attack takes place in which it turns out that we had a lead and we couldn't follow up on it, the public's going to demand answers."
However, even some former government official disagree. Among the letter's signatories are Richard A. Clarke, a national-security adviser to President Bill Clinton and both Presidents Bush, and Paul Rozensweig, a Department of Homeland Security official under President George W. Bush.
Clarke told The Washington Post that Comey was "the best FBI director I've ever seen," but added that "he's wrong on this."
The Post said the letter's signatories were recruited by Kevin Bankston of the New America Foundation, a Democratic-leaning but solidly mainstream public-policy group, and the letter is posted on the foundation's website.
The New America Foundation's website says that its board is chaired by Eric Schmidt, who is also executive chairman of Google. The foundation's president is Anne-Marie Slaughter, a Princeton professor who served as a State Department official under former Secretary of State Hillary Clinton. Apple co-founder Steve Jobs' widow, Laurene Powell Jobs, was until recently a member of the New America Foundation's board.