Jeff Bezos made a pitch for Amazon Web Services and his space venture Blue Origin in front of a receptive audience on Wednesday.
During an appearance at the Air Force Association's annual conference, the world's richest man told the assembled officers and Pentagon officials that he plans to invest $1 billion next year in his rocket company to develop a heavy lift launch vehicle, known as New Glenn, scheduled to fly in late 2020.
"As far as I know we're one of the only launch companies actually building and manufacturing on the space coast," Bezos said, according to Space News. "I want people in this audience to know how committed we are to this," he said. "We're in."
The mogul also emphasized Blue Origin's New Shepard rocket as a more cost-effective, reusable launch vehicle.
AMAZON SET TO ROLL OUT THOUSANDS OF AMAZON GO STORES BY 2012, REPORT SAYS
"We don't take the thing apart and inspect it between flights," Bezos, worth an estimated $159 billion according to Forbes, said. "We fly it over and over. If you build a space vehicle that you have to inspect in an intense way and disassemble and refurbish between flights, that's going to be more expensive than an expendable vehicle. It has to be real operational reusability."
The Amazon founder, who also owns The Washington Post, responded to a question from the moderator by noting that it's crucial for the U.S. military to use commercial solutions if possible.
"We're now seeing fantastic growth from both companies and government institutions, the CIA, the DOD, using our compute cloud instead of building their own systems," Bezos said. "And the reason these companies are doing that … is because the capabilities they get keep improving, kind of automagically [sic], without any effort."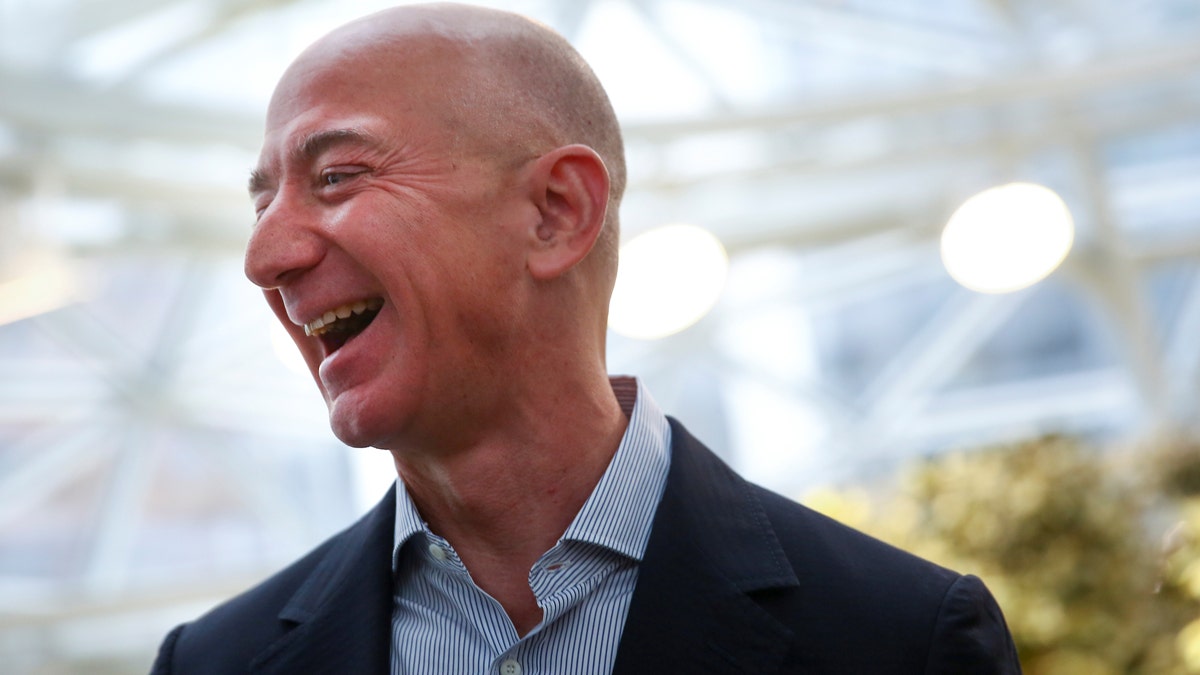 8 NEW ALEXA DEVICES PLANNED, INCLUDING A MICROWAVE, REPORT SAYS
Amazon is seen as a front-runner for the Department of Defense's yet-to-be-awarded $10 billion cloud computing contract—which would come on top of an existing $600 million deal Amazon Web Services has with the Central Intelligence Agency.
Bezos also emphasized that the U.S. should maintain its "space dominance" in the face of adversaries, who are "getting very sophisticated."
He added: "You never want a fair fight. Outside the boxing ring, a fair fight is just bad strategy, it means you didn't prepare properly."
Space News reports that Bezos spent most of the keynote talk doling out life and business advice.