Amazon unveils new products, including new Echo speaker, Fire TV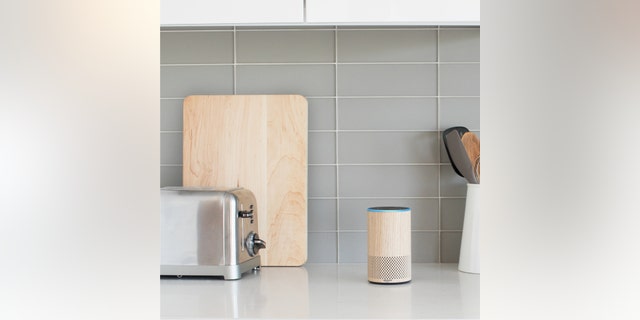 Amazon unveiled a slew of new products on Wednesday, including a new Echo speaker and a new Fire TV aimed at Apple's newest Apple TV.
At an event at the company's headquarters, Amazon unveiled a new version of its Echo smart speaker. The speaker, which will go on sale Wednesday, is designed to compete with Apple's HomePod. It will cost $99 and will have a bass tweeter for better sound, with a slightly smaller design than the original Echo. Customers can also buy additional shells to customize the new Echo.
Amazon added that customers will get a $50 discount if they purchase three of them.
WILL YOU WEAR ALEXA? AMAZON GLASSES COULD ARRIVE SOON
The Jeff Bezos-led company also announced a new version of the Fire TV (a dongle that connects to a TV's HDMI port), along with the accompanying Alexa Voice Remote that has microphones built inside so that Alexa can respond to commands from across the room. The new Fire TV, which starts at $69, will also support 4K UHD video and is available for pre-order immediately.
Also unveiled was the $130 Echo Spot, which has a 2.5-inch display and looks similar to the Echo Dot and a $149 smart home hub, known as the Echo Plus.
In addition to the aforementioned products, Amazon showed off the Echo Connect, which lets you make voice calls with your landline (including 911). The new device will cost $34.99 and is available for pre-order immediately.
"With these new products from Amazon, they're really trying to swim in both directions to attract all sorts of customers for the home market," Michael Levine, VP of Marketing at Photon told Fox News via email. "Their Echo Spot and Dot's are going downstream to attract the lower-income household, while the new Echo and Echo Plus are more in-line with their Prime shopper."
Amazon also touted the potential of adding Alexa to non-Amazon products. In a new partnership, the Seattle tech giant added that it would be bringing Alexa, its voice assistant, to BMW cars, starting in 2018. In recent months, Alexa has been added to non-Amazon products, including LG TVs and refrigerators.
In perhaps one of the more quirky product announcements in recent memory, Amazon said Alexa would live inside Big Mouth Billy Bass, according to news reports.
There's also a new API for Alexa-enabled gadgets as well as new Echo buttons that have Alexa that allow you to play trivia and games. The new Echo buttons will cost $20 for a pack of two.
Amazon has been busy updating its hardware portfolio in recent months. In April, the company announced the $199 Echo Look, a new camera and style assistant. During the event, Amazon added that the Echo Look is now available in the U.K. and Germany.
In May, it added the $229 Echo Show to its hardware lineup. The Echo Show has a 7-inch display enabling users to get news clips, videos, photos and more from Amazon's digital assistant, Alexa.
AMAZON'S LACK OF INCOME TAX PAID HAS BECOME AN 'UNCOMFORTABLE QUESTION'
Amazon's product announcements come after Apple's latest product launch earlier this month.
In addition to refreshing the iPhone lineup with the iPhone 8 and the highly-anticipated iPhone X, Apple also updated its Apple TV lineup, announcing the Apple TV 4K. It also announced the Apple Watch Series 3.
Google is slated to follow suit next month, when it is expected to announce the Pixel 2 smartphone and perhaps another version of its Google Home smart speaker.
Follow Chris Ciaccia on Twitter @Chris_Ciaccia. This story has been updated to reflect that the new Fire TV is a dongle and not a set-top box and the microphone is in the remote, not the Fire TV.