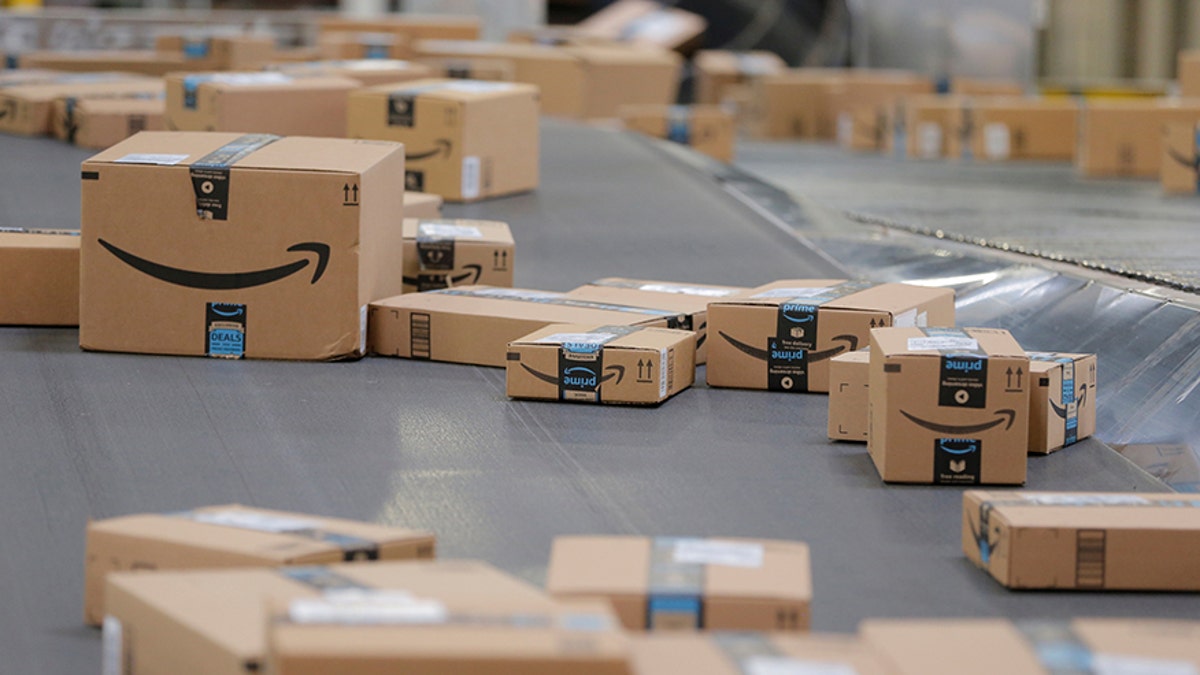 A Massachusetts couple who keep receiving mystery packages from Amazon fear they are the next victims in what is believed to be an elaborate fake reviews scam that is impacting the e-commerce giant.
Mike and Kelly Gallivan, of Acton, told The Boston Globe the first package arrived in October. They have continued to arrive at a rate of one or two a week, about 25 in all. The cheap items inside the boxes range from USB-powered humidifiers to rechargeable dog collars.
"We're just plain, ordinary people," Kelly Gallivan told the newspaper. "We don't want any part of this. But the packages just keep coming."
AMAZON PATENTS WRISTBAND TO TRACK WAREHOUSE WORKERS
The couple, both retired nurses, say it was fun at first when they started receiving the packages from Amazon that they hadn't ordered. Now they think it's annoying and want it to stop, and fear they are being used in a scam, the newspaper says.
The Gallivans say Amazon told them the merchandise was paid for with a gift card with no sender's name. But two former Amazon employees say the Gallivans are likely unwittingly being used in a ruse to manipulate Amazon buyer reviews. The anonymous sender is likely writing glowing reviews of their own product.
Here's how the scam works: a seller trying to boost the ratings of their own merchandise sets up a fake email account to create an Amazon profile, then purchases the items with a gift card and ships them to the address of a random person. Once the package is delivered, the owner of the Amazon account is then listed as a "verified buyer" of the product and can write a positive review of it that gets higher placement on product pages because of their status, James Thomson, a former business consultant for Amazon, told the Boston Globe.
AMAZON SHOWS OFF ITS BUBBLE GREENHOUSES AT
SEATTLE HQ
"The key is to get something delivered somewhere," Thomson said, noting that Amazon gives products with a greater number of verified reviews a higher ranking in search results, making them more noticeable to shoppers.
Mike Gallivan said the packages are being delivered to his home in a white van and they have no invoices or receipts inside. He told the Boston Globe that one of the packages had a return address to Xiamen Paji Trading Co. in Fujian, China.
The Gallivans' home isn't the only address where random Amazon deliveries are piling up.
AMAZON GO, AMAZON'S CHECKOUT-FREE GROCERY STORE, IS HERE
Student union centers at seven universities across Canada also have been receiving mystery packages since the fall, according to the CBC.
Shawn Wiskar, University of Regina Students' Union vice-president of student affairs, says his facility has received at least 15 random packages with products ranging from iPad cases to male sex toys. He said his staff "very discreetly" went door to door in their offices and in other student centers to see if anyone had ordered the items.
"The kind of the question that we have is, is this going to stop and why are these packages coming?" he said. "Our first guess was perhaps this was an elaborate hoax from one of our partner universities, but it seems like an awful lot of money to be spending on this elaborate prank."
TECH Q&A: EAVESDROPPING ECHO, FLAMMABLE LAPTOPS, SWITCHING TO ANDROID AND MORE
A student union president at Ryerson University in Toronto – another recipient of the mystery packages – told the CBC that Amazon would not say who is sending the items, citing privacy reasons.
"We are investigating inquiries from consumers who have received unsolicited packages as this would violate our policies," the company told the Boston Globe in a statement. "We remove sellers in violation of our policies, withhold payments, and work with law enforcement to take appropriate action."
The Associated Press contributed to this report.