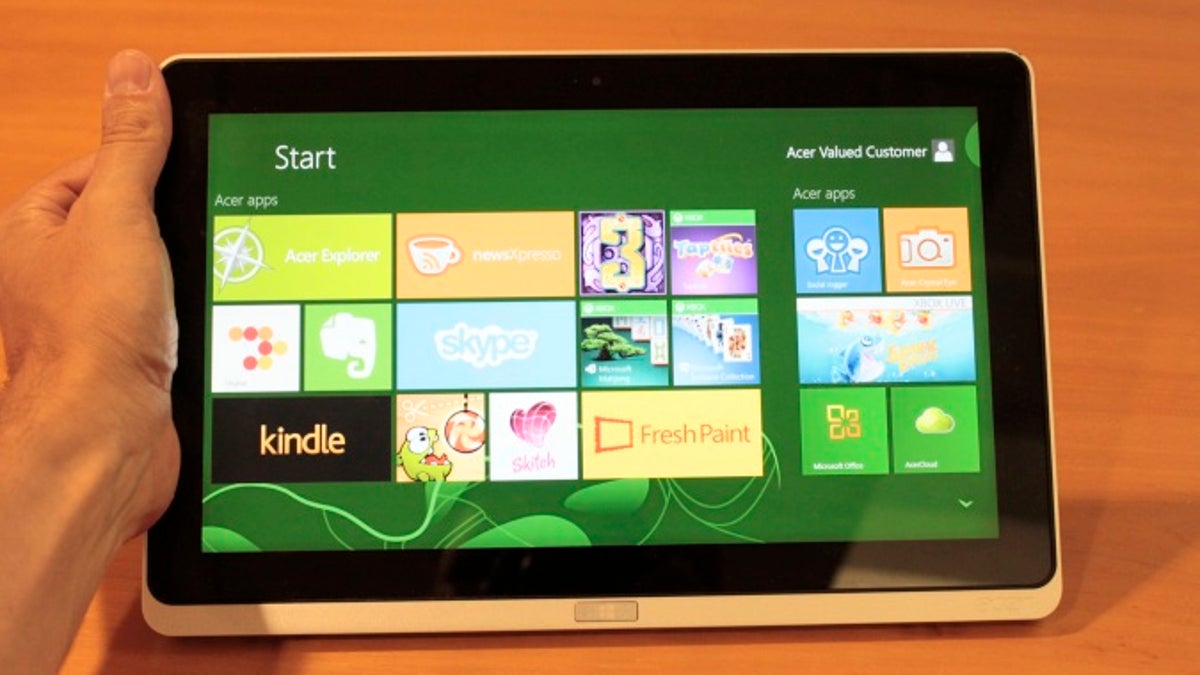 Think of it as an Ultrabook without the keyboard. The Acer Iconia W700, the company's new 11-inch Windows 8 tablet, starting at $799, packs all the internals of a sleek ultraportable in a more hand-friendly design.
The aluminum back definitely made the W700 felt sturdy, but you really feel the full weight of this 2.3-pound system when you're holding it. Its 11.6 x 7.5 x 0.47-inch size makes it seem as large--and as heavy--as the Aspire S7-191, the 11-inch Windows 8 Ultrabook Acer recently announced.
We like that the W700's 11.6-inch IPS display has a resolution of 1920 x 1080; this means sharper text and icons, and should be great for kicking back with a movie. We also like the fact that the W700 will come with a keyboard, case, and an HDMI-to-VGA adapter.
The $999 configuration of the W700 (W700-6465) is the top-of-the-line model, and will have a 1.7-GHz Intel Core i5-3317U processor--the same we're seeing in a number of Ultrabooks, including the S7--4GB of RAM, and a 128GB SSD. The least expensive configuration, the W700-6607, will cost $799, and have an Intel Core i3-3217U processor and a 64GB SSD. In between, the $899 version will come with a 1.7-GHz Intel Core i5-3317U processor and a 64GB SSD.
All models will have a 1080p display, as well as a front-facing 1MP camera and rear-facing 5MP display. Acer estimates that battery life will be around 7 hours if you're browsing the Web.