7 amazing things your smartphone's camera can do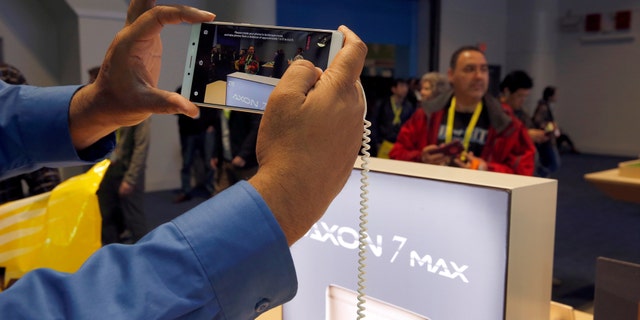 Camera phones are changing the landscape of photography. Professionals are carrying them instead of hefty DSLRs, and indie filmmakers are using them to shoot everything from music videos to feature-length dramas. With advanced features and tons of free editing software, they are becoming more sophisticated every year. Your smartphone may contain the lens of the future.
Tip in a Tip: Apple's camera app is good, but there are better free apps to capture and share your memories. Click here for nine great photo apps you'll use time and time again.
But that little camera in your phone is useful for so much more than snapshots and videos. If you ever dreamed of having a scanner, game system and universal translator in your pocket, these apps have made that fantasy a reality.
Here are seven amazing things your smartphone can do.
1. Consult a virtual decorator
A few years ago, IKEA developed a wild new feature that lets customers raise their phones or tablets in a room at home and then plant a piece of furniture in the picture. The 3D image adjusts to the screen's POV, looking extremely realistic, even though the furniture isn't really there. This "augmented reality" feature helps customers imagine how an item will look before they buy it.
Hot on IKEA's heels is Amikasa, an iOS app that not only helps you design interior spaces, but also inserts imaginary décor in real-life settings. You can add faucets and cabinets, and even change the wallpaper. Click here to try the future of interior design now. Not an iOS user? Try Home Design 3D for a similar design experience (minus the augmented reality).
2. Scan documents
Scanning paper documents as PDFs is convenient, but using scanners themselves can be a real ordeal. The ones on traditional printers can be slow and cumbersome, and scanning large bundles at a print shop can cost you a pretty penny. But there are apps, such as Genius Scan and Evernote Scannable, that use your smartphone's camera to convert hard copies into a digital format. You can even scan multiple pages and include them in the same document, a convenience that used to be nigh on the impossible.
Meanwhile, Adobe just launched a stellar app that scans physical documents with your smartphone's camera uses optical character recognition (OCR) software to save them as PDF files. Click here to check it out.
Android users have another option: The Google Drive app has document scanning capabilities.
3. Shop in three dimensions
When you flip through a magazine, some ads are so vivid and colorful that they seem to leap off the page. With the ROAR app, the ads actually do leap off the page, at least in the display of your camera phone. You can quickly scan a photo of a cute sundress, for example, and within seconds your display will show that outfit in three dimensions.
ROAR also lets you take photos of meals and beverages and instantly find out their ingredients. You can scan items in a store to compare the price with what other retailers are charging. If you pass an eye-catching movie poster, you can capture its image and instantly order movie tickets. Click here to give this amazing app a whirl.
4. Translate language
When the Word Lens app hit the market a few years ago, users were astonished by its ability to "read" signs in foreign languages. The app even used the same font and style in its visual translation.
This magical technology was later scooped up by Google, which has made it part of the broader Google Translate app.
Other services use the same gimmick, helping you translate menus and signage from wildly different writing systems, all using your camera phone. But the standard, for now, is still the free Google app. Click here for more about Google Translate.
5. Learn Your Wines
Wine is a complicated beverage. There is so much to know about a given year, vintner and vintage. In the past, wine aficionados had to memorize all that information or refer to a book. But now you can learn about a particular label at a glance, thanks to the Vivino app.
Just scan the label on a bottle of wine, and you'll find out everything there is to know, including personalized recommendations. Vivino has a database of more than 3 million wines, so you'll be hard-pressed to find a bottle that isn't included. Click here to learn more about Vivino.
6. Augmented reality games
Unless you were living in a submarine last year, you are probably familiar with the global obsession that was Pokémon Go. This game sent millions of players running through their neighborhoods in search of little creatures, guided by the motto, "Gotta catch 'em all!"
This was just the beginning of the phenomenon known as augmented reality games, which create real-time, real-world backdrops for in-game objects. For example, when you play ARBasketball, you can find a virtual hoop anywhere you go. Or play with the Bowmaster, which inserts targets in your physical surroundings.
If you are a fan of the undead, you will probably get your thrills from Zombies Everywhere!, which turns your real world into an apocalyptic zombie battleground. You will never look at your neighborhood sidewalk or office cubicle the same way again. For Android, check out TableZombies for a similar augmented reality game. Click here to move beyond Pokémon Go with five other augmented reality apps you will love.
7. Security camera
When you upgrade to a new smartphone, you usually face a difficult question: What do you do with your older model? Well, one option is to repurpose it as motion-activated security camera. The Manything app uses your smartphone camera to monitor your pets, your home, your kids or whatever else needs a watchful eye.
Manything has programmable motion detection zones, cloud-based DVR, time-lapse and live streaming. All you need is another device with Manything installed (to use it as your remote viewer
and controller) and you will have a low-cost, around-the-clock surveillance system. Click here for steps on how to set it up.
What are some other nifty tricks you can perform on your smartphone? Be sure to listen to or download my podcasts, or click here to find it on your local radio station. You can listen to the Kim Komando Show on your phone, tablet or computer. From buying advice to digital life issues, click here for my free podcasts.
Copyright 2017, WestStar Multimedia Entertainment. All rights reserved. Learn about all the latest technology on the Kim Komando Show, the nation's largest weekend radio talk show. Kim takes calls and dispenses advice on today's digital lifestyle, from smartphones and tablets to online privacy and data hacks. For her daily tips, free newsletters and more, visit her website at Komando.com.