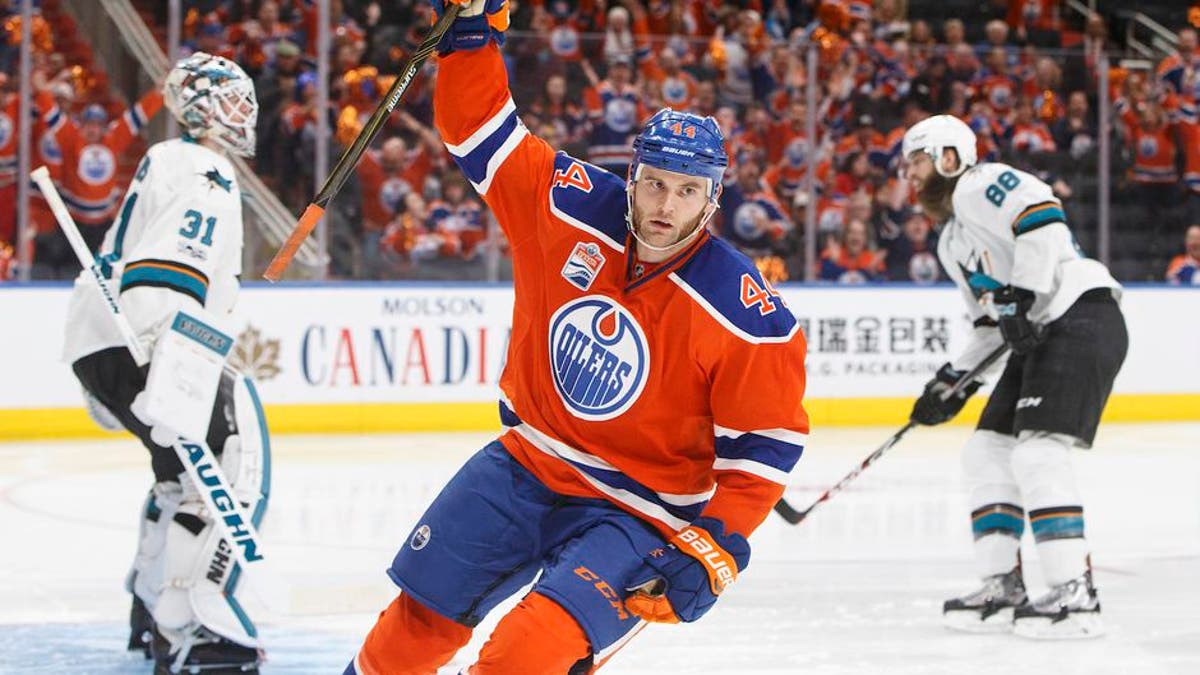 The NHL's Stanley Cup playoffs are still less than a week old but one of the best stories to this point has been the redemption of Zack Kassian in Edmonton.
The 26-year-old Oilers forward, who has already played on four teams in the league, saw himself labeled a bust and gone public with his battle with alcoholism,has been a force through the first three games of the team's opening-round series against the San Jose Sharks. Once a doubt to ever reach his potential, he's emerging as an unlikely hero on a teamthat has plenty of well-establishedtalent in the lineup.
Mostly recognized for his grit and tenacity, it's not completely unsurprising that Kassian has been a bit of a wrecking ball early in the series. The winger has been a punishing presence and did his best to injecta ton energy into Rogers Place during the Oilers' first two home games to startthe playoff series, their first in over a decade.
But Kassian has also been a factor in Edmonton's offensive game. Through the first three games, Kassian leads the Oilers with two goals -- ahead ofConnorMcDavid,Leon Draisaitl, Jordan Eberle and everyone else. One of those goals came during Sunday's Game 3, and it was the only one of the game.
The late-game tally gave Edmonton a big win on the road and a series lead, two games to one. After the game, Kassian said he got lucky, but his teammates wouldn't stand for such humility.
"You can't say enough about him right now," said Oilers goalie Cam Talbot. "He's playing on a new level right now."
Lucky or not, it's hard to ignore the impact that Kassian has had on the series to this point, and it's even harder to ignore how good of a story it is.
Kassian's NHL career has been quite the bumpy road to this point.It's easy to forget that the winger was once a first-round pick (13th overall) in 2009,viewed as a potentialtough, dynamic power forward who could bruise his way to being a productive NHL player.
Things didn'twork out exactly as expected. Flash forward to 2017 and Kassian has bounced around, already on his fourth NHL club. Through parts of seven seasons, he showed flashes of that potential but has yet to put it together on a consistent basis.
His career has been defined by off-ice struggles just as much, if not more so, ashis production in the league.
While with the Montreal Canadiens in 2015, Kassian was under the influence when a car he was riding in struck a tree just a few days prior to the season. Kassian, who had just been traded to Montreal in the offseason, wasn't driving the vehicle but he broke his nose and foot in the accident.
Canadiens general manager Marc Bergevin publicly called Kassian out, saying the incident showed a "lack of character and judgment." Shortly thereafter, the forward was suspended without pay and placed in the NHL's substance abuse program.
A few months later, just hours after it was announced that Kassian had completed the program, the Canadiens placed him on waivers. He was told not to report to their AHL affiliate, and a few days later he was traded without ever playing a game for the Canadiens.
That tradedestination wasEdmonton -- a place that didn't exactly hold much love for Kassian. Oilers fans knew Kassian: In 2013, then with the Canucks, Kassian broke the jaw of Oilers forward Sam Gagner with a reckless high stick.
Months later, Kassian solidified his place as enemy to the Oilers when the two teams met again, and he mocked Gagner for wearing a face shield to protect that same jaw he broke.
Not only was Kassian faced with winning over a fanbase that didn't care for him much, he also recognized it was probably his last shot to prove that he deserved a spot in the league.
He admitted to being an alcoholic and was openand candid about his alcoholism, as well as his sobriety.
Some days are great, some days are tough," Kassian said earlier this season, via the National Post. "But there are no ifs, and or buts. Ive made my mind up. I definitely dont want to go back to the way I was."
For now, he's dishing out big hits like these and earning the cheers of Oilers fans:
I'd be remiss if I didn't point out that both of those hits werearguably illegal and could have been penalized, but neither were -- much to the joy of Edmonton's faithful.
MaybeKassian's heightened impact oprobably isn't sustainable and this is just a particularly high point for a role player. But maybe it's him finally starting to realize his full potential, a glimpse at the player that he was believed to be when he was taken in the first-round.
Regardless, there's no doubt that the Oilers' commitment to Kassian -- and Kassian's commitment to himself -- is paying off at an absolutely crucial time. And it's hard not to feel good about that.